The zinc oxide market size was valued at US$ 4,506.51 million in 2021 and is projected to reach US$ 6,338.82 million by 2028; it is expected to grow at a CAGR of 5.0% from 2021 to 2028.
Zinc oxide is an inorganic compound with the formula ZnO. It is a white powder that is insoluble in water, and it is widely used as an additive in numerous materials and products. Further, ZnO is used for the vulcanization of rubber to increase its durability. The tire industry further uses this vulcanized rubber for the manufacturing of tires. The rubber industry consumed more than half of the ZnO produced worldwide due to the growing production of tires. Further, increasing the production of smart devices and the utilization of zinc oxide in cosmetic products and personal care products, including makeup, baby lotions, powders, and bath soaps, are the key drivers of the zinc oxide market. It is also used as a bulking agent, a colorant, and a skin protectant in OTC drug products, such as sunscreen.
Further, zinc oxide is widely used as an additive for lubricating oils of automotive engines to reduce oxidation corrosion and wear. Zinc oxides are used to manufacture various types of lubricants, such as extreme-pressure lubricants, seizure-resistant lubricants, and greases. Thus, the above-mentioned products are high in demand, and respective industries are growing positively. For instance, in 2021, the cosmetic industry garnered around US$ 81 billion in revenue worldwide and registered around 8% growth compared to the previous year, as per the study by Statista. Similarly, in 2021, automotive lubricants have recorded 70.2 billion revenues, an increase of around 5% compared to 2020, as per the Statista report. Thus, the wide array of applications of zinc oxide is increasing its consumption rate and subsequently driving market growth.
Strategic Insights
Report Coverage - Zinc Oxide Market
Report Coverage
Details
Market Size Value in
US$ 4,506.51 Million in 2021
Market Size Value by
US$ 6,338.82 Million by 2028
Growth rate
CAGR of 5.0% from 2021 to 2028
Forecast Period
2021-2028
Base Year
2021
No. of Pages
173
No. of Tables
84
No. of Charts & Figures
81
Historical data available
Yes
Segments covered
Process, Grade, and Application
Regional scope
North America, Europe, Asia Pacific, Middle East & Africa, South & Central America
Country scope
US, Canada, Mexico, UK, Germany, Spain, Italy, France, India, China, Japan, South Korea, Australia, UAE, Saudi Arabia, South Africa, Brazil, Argentina
Report coverage
Revenue forecast, company ranking, competitive landscape, growth factors, and trends
Free Sample Copy Available
Impact of COVID-19 Pandemic on Zinc Oxide Market
The COVID-19 pandemic caused considerable disruptions in the growth of various industries globally. Similarly, the COVID-19 pandemic had a major impact on the zinc oxide market in 2020, when the supply chain of the zinc oxide raw material got hampered due to the restriction of goods transport. Eased lockdown norms in several countries and the growing pharmaceutical industry sustained global demand for zinc oxide. In addition to this, the rapid COVID-19 vaccinations program and rise in adoption of zinc oxide for medicinal products globally are flourishing the growth of the zinc oxide market, and manufacturers of zinc oxide are witnessing significant growth in their business.
Global Zinc Oxide Market Share Breakdown –By Region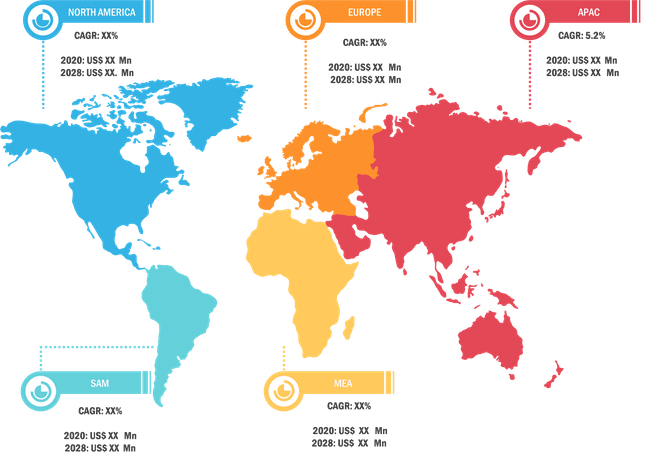 Get more information on this report :
Market Insights
Growing Demand for Green Zinc Oxide Nanoparticles in Agriculture
With the growing demand for chemical-free foods globally, green zinc oxide nanoparticle consumption is increasing since it is a safe alternative to conventional chemical methods without leaving any air pollutants. Zinc oxide nanoparticles are effective for germination and improve the development of plants. It also helps boost the growth rate of stem and roots without extracting soil nutrients. The demand for green zinc oxide nanoparticles gradually increases due to their soil reviving properties and increased crop yield.
Process Insights
Based on process, the global zinc oxide market is segmented into french process, wet process, american process, and others. The french process segment led the global zinc oxide market in 2020. The french process is also known as the indirect process; in this process, zinc is melted in a furnace and vaporized at 910 degrees. The immediate reaction of the zinc vapor with oxygen from the air produces zinc oxide.
Zinc Oxide Market, by Process - 2020 and 2028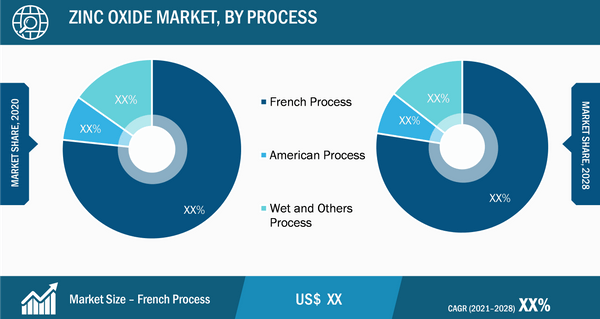 Get more information on this report :
Grade Insights
Based on grade, the zinc oxide market is segmented into standard grade, food grade, USP grade, and others. The standard grade segment led the global zinc oxide market in 2020. Standard grade zinc oxide is widely used in labs, research, and development sector as a reference standard while experimenting. The standard grade zinc oxide is high-quality and pure zinc oxide.
Application Insights
Based on application, the global zinc oxide market is segmented into rubber, agriculture, chemicals and lubricants, glass and ceramic, paint and pigment, pharmaceutical, and others. The rubber segment led the global zinc oxide market in 2020. Rubber is being widely used in manufacturing various products such as tires and scrap tubes; the increasing use of rubber increases the market demand for zinc oxide. Zinc oxide is used in the rubber industry to prevent discoloration and maintain heat stability and product transparency.
EverZinc; L. Brügge­mann GmbH & Co.; U.S. Zinc; Zochem, Inc.; Umicore; Grillo-Werke AG; Rubamin; JG Chemicals Pvt. Ltd.; Pan-Continental Chemical Co., Ltd.; and Akrochem Corporation are some players actively focusing on developing more innovative zinc oxide for various applications.
Report Spotlights
Progressive zinc oxide market trends to help players develop effective long-term strategies
Business growth strategies adopted by developed and developing markets
Quantitative analysis of the zinc oxide market from 2019 to 2028
Estimation of global demand for zinc oxide
Porter's analysis to illustrate the efficacy of buyers and suppliers operating in the zinc oxide industry
Recent developments to understand the competitive market scenario
Market trends and outlook as well as factors driving and restraining the growth of the zinc oxide market
Assistance in the decision-making process by highlighting market strategies that underpin commercial interest, leading to the market growth
The size of the zinc oxide market at various nodes
Detailed overview and segmentation of the market, as well as the zinc oxide industry dynamics
Zinc oxide market size in various regions with promising growth opportunities
Frequently Asked Questions