The 3D sensors market was valued at US$ 4,805.7 million in 2018 and is projected to reach US$ 71,914.2 million by 2027; it is expected to grow at a CAGR of 32.5% during 2019–2027.
3D sensors use active-range sensors that provide depth images at high frame rates. These cameras are equipped with an IR light source that illuminates the field, and a CMOS/CCD sensor that captures the reflected IR light. The depth measurement is based on the ToF principle; thus, the depth is proportional to the time spent by the IR signal to reach the object or filed of observation and come back. The depth measurements obtained for each pixel of the sensor together produce a depth image. The fast acquisition of depth images is of great use in a wide range of end-user verticals, such as robotics, human–machine interaction, and scene modeling. Unfortunately, many of the currently available ToF cameras have low resolutions and are affected by different measuring errors, including noise caused by sensors, systematic wiggling error due to the difficulty of generating sinusoidal signals, a non-linear depth offsets dependent on reflectivity and integration-time, and the flying pixels generated by the superposition of signals at depth inhomogeneities (edges). As a result, ToF sensors provide accurate and precise depth measurements. The currently available multi-ToF sensor systems focus on combining depth images to build 3D reconstructions by relying on occupancy probability grids or registering the point clouds generated from different views, etc.


The ToF techniques have been in use for more than a decade for ranging purposes. SONAR and RADAR are the two techniques that exploit sound and radio signals of ToF principles, particularly in aerospace and aeronautic end-user verticals. More recently, with the improvement and the maturity of electronic devices, it has been possible to employ light signals for ToF systems. End-user verticals using such a system are numerous, especially in industrial and consumer fields. In general, there are two techniques of measuring distance with modern ToF sensors: pulsed-modulation or continuous-wave (CW) modulation. Advanced ToF systems deploy multi-frequency technologies, combining more modulation frequencies.
Lucrative Regions for 3D Sensors Market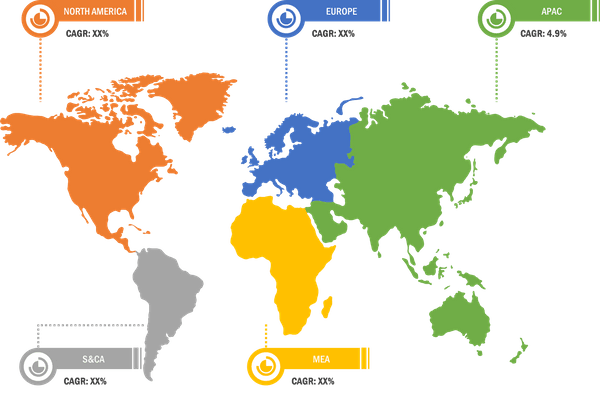 Get more information on this report :
Market Insights–3D Sensors Market
Increased Demand for Smart Consumer Electronics
The consumer electronics industry is witnessing immense growth in both developed and developing countries, and advancements and smart features that are offered by the manufacturing companies have been the major contributors to this growth.


Currently, various consumer electronics devices are used by individuals for a plethora of tasks. Consumer electronics such as smartphones, tablets, PCs, TVs, washing machines, fridge, and music players have become integral part of routine lives. All these devices are becoming smarter with the ongoing technological advancements and integration of Internet of Things (IoT) and Artificial Intelligence (AI). The advancements in the sensor technology has paved the way for remarkable growth of IoT and AI in most of the technological arenas including the automotive sector. The market for consumer electronics devices is constantly growing with the manufacturers coming up with advanced technologies and features in their devices on a regular basis and rising disposable incomes of users in the developed and developing economies.


Some of the prominent smartphone manufacturers have pioneered the integration of 3D ToF sensors into their smartphone models. Leading global smartphone manufacturers such as Huawei, Samsung, Oppo, LG, and Apple are the pioneers in the integration of 3D ToF sensors into various models. Huawei P30 Pro, Samsung Galaxy S10 5G, Oppo RX17 Pro, Honor View 20, LG G8 ThinQ, and iPhone 2020 models have integrated or have planned to integrate the 3D ToF sensors into the models.
End-User Verticals Segment Insights
Based on end-user verticals, the 3D sensors market is segmented into healthcare, aerospace, industrial, automotive, consumer electronics, and others. Gadgets that were once bulky are now becoming more lightweight and miniaturized, with sensors that can gauge shapes in real time. A large number of new applications are coming up in the market due to speedy technological advancements. These technologies are now offering huge opportunities across different industry verticals, such as automotive, defense, healthcare, aerospace, robotics, electronics consumables, semiconductors, and retail, where 3D sensors can be used. Companies are now creating partnerships and increasing their collaborative efforts to bring more 3D applications.
Technology Segment Insights
Based on technology, the 3D sensors market is bifurcated into stereo vision, time-of-flight, and structured light. 3D sensors play a pivotal role in depth sensing to link devices in the real world. Continuous advancements in 3D sensors through comprehensive R&D have fueled creativity in the market for 3D sensors. Apart from being adopted in automotive, healthcare, robotics, and defense, 3D sensors are widely used in consumer electronics such as televisions, smartphones, and laptops. 3D sensors are also incorporated in wearable devices in addition to nanotechnology. Moreover, smartphone manufacturers are trying to incorporate 3D sensing technology in gaming and face recognition, among others. In the healthcare industry, 3D sensors assist in viewing the inner layers of skin, tumors, and veins. In the automotive industry, 3D sensors are widely used to get alerts in case of collision or imminent danger to avoid accidents. K-Series, iGPS, Laser line scanners, Laser Radar are among the products that are used in the aerospace and defense industry. The applications of 3D sensors will keep growing as there are novel inventions in electronics, automotive, and other industries.
Strategic Insights
Report Coverage - 3D Sensors Market
Report Coverage
Details
Market Size Value in
US$ 4,805.7 million in 2018
Market Size Value by
US$ 71, 914.2 million by 2027
Growth rate
CAGR of 32.5% from 2019 to 2027
Forecast Period
2019-2027
Base Year
2019
No. of Pages
150
No. of Tables
48
No. of Charts & Figures
62
Historical data available
Yes
Segments covered
Technology, End-user Verticals
Regional scope
North America, Europe, Asia Pacific, Middle East & Africa, South & Central America
Country scope
US, Canada, Mexico, UK, Germany, Spain, Italy, France, India, China, Japan, South Korea, Australia, UAE, Saudi Arabia, South Africa, Brazil, Argentina
Report coverage
Revenue forecast, company ranking, competitive landscape, growth factors, and trends
Free Sample Copy Available
The market players focus on new product innovations and developments by integrating advanced technologies and features in their products to compete with the competitors.
2019: AMS AG introduces a new ASV technology product portfolio that enables manufacturers of consumer, computing and industrial products to implement face recognition and other 3D sensing applications more easily and at a lower cost. Based on extensive 3D experience, ams has added Active Stereo Vision technology products to the portfolio to address additional and different 3D sensing applications as well as reach lower price points in the mobile segment. Also, AMS AG announced its partnership with SmartSens Technology, with this partnership AMS further expands its portfolio of three 3D technologies such as Time-of-Flight (ToF), active Stereo Vision (ASV), and Structured Light (SL) as well as accelerating time to market its new products.
The Global 3D Sensors Market has been Segmented as Follows:
Global 3D Sensors Market – By Technology
Stereo Vision
Time-Of-Flight
Structured Light
Global 3D Sensors Market – By End-user Verticals
Healthcare
Aerospace
Industrial
Automotive
Consumer Electronics
Others
Global 3D Sensors Market – By Geography
North America

Europe

Germany
France
Italy
United Kingdom
Russia
Rest of Europe

Asia Pacific (APAC)

China
Australia
India
Japan
South Korea
Rest of Asia Pacific

Middle East and Africa (MEA)

Saudi Arabia
South Africa
UAE
Rest of Middle East and Africa

South America

Argentina
Brazil
Rest of South America (SAM)

Company Profiles
AMS AG
Infineon Technologies AG
Ifm Electronic Gmbh
Melexis
Sony Corporation
STMicroelectronics N.V.
Basler AG
Cognex Corporation
OmniVision Technologies, Inc.
LMI Technologies Inc.
Frequently Asked Questions
The leading type of 3D sensor is the Time-of-Flight (ToF) that has noted to account a CAGR of 41.9%. ToF is regarded as the sensor that has materialized as a promising three-dimensional (3D) sensing technology that can be manufactured economically in a compact size. In ToF, an infrared strobe emits a bright, short pulse, and a custom detector with a very fast shutter speed measures the time that the light travels before hitting an object. However, current state-of-the-art ToF sensors suffer from low spatial resolution due to physical limitations in the fabrication process
The Asia Pacific region led the 3D sensor market with a market share of 48.3%in 2018. The continuous economic growth in developed and developing countries like India and China, coupled with the presence of huge disposable incomes with individuals in countries like Japan and Australia, has facilitated the rapid growth of the automotive industry in this region. The Asia Pacific is one of the world's rapidly growing consumer electronic with China accounting for maximum 3D sensor device production. The rapid growth in industrialization and urbanization in the economy is positively impacting the growth of the 3D sensor market in the APAC region. Moreover, the market for the 3D sensor is expected to rise with the growth of end-user verticals industries.
Growing demand for the 3D sensor is a major breakthrough in technology. It is a deep sensing technology that enhances the capacity of a camera to recognize faces and objects. Major companies are using this technology for the development of face recognition in mobile phones and also to accelerate the development and commercialization of high resolution, low power active 3D depth-sensing camera system.