The global activated carbon market was valued at US$ 4,116.03 million in 2020 and is estimated to generate US$ 8,264.03 million by 2028, expanding at 9.6% CAGR during 2021–2028.
Activated carbon is widely used for water treatment, automotive processes, air & gas purification, and many other purposes owing to its adsorptive properties. In gaseous and liquid state, activated carbon help discard dissolved carbon, lead, mercury, and other odor-causing compounds. Besides, thermal and acoustic applications are other factors enhancing the consumption of activated carbon.
Newly introduced favourable government policies for treating wastewater promote the growth of the activated carbon market globally. Activated carbon filtration methods are easy and cost-effective. Regulations on mercury emissions have also propelled the utilization of activated carbon for air purification. China utilizes large quantities of activated carbon for manufacturing automotive parts involving carbon powdered cabin air filters. Major players operating in the global activated carbon market provide a wide range of product portfolios. They emphasize expanding their business in respective regions by developing high-quality and innovative products to fulfill customer requirements. For instance, Calgon Carbon Corporation, in 2020, announced the expansion of Pearlington Mississippi plant by collaborating a second virgin activated carbon production line.
Activated Carbon Market - COVID-19 Impact and Analysis
Interruption in supply chain, manufacturing, delivery schedules, and sales during COVID-19 pandemic adversely affected the global activated carbon market
The chemical and materials industry was severely hit by the COVID-19 pandemic resulting in the standstill of manufacturing processes and sales disruption. Production facilities across North America, Europe, Asia Pacific, South America, and the Middle East & Africa were drastically affected. Several companies announced delays in product delivery and slump in sales figures. Moreover, the worldwide travel bans across Europe, Asia Pacific, and North America worsened the condition by affecting business collaborations and partnership opportunities. The financial status of several firms got hampered, ceasing the global economy.
The operations of chemical industry were impacted, causing disruptions in the value chain due to sudden closure of national and international boundaries. However, the increasing demand for medicines during the lockdown to curb the spread of virus somehow sustained the global activated carbon market to an extent. The global market started resuming operations post lockdown phase witnessing a significant demand.
Activated Carbon Market Future Trends
Recently, a few cost-effective alternatives of commercial activated carbon emerged in the Activated Carbon Market. Exploring inexpensive and efficient carbon activation methods can contribute to environmental sustainability with several other benefits for future applications. For instance, activated carbon made from bioresources exhibits exceptional surface properties with a high degree of porosity. Also, the cost incurred in the process is lower than commercial carbon activation. The use of bioresources such as solid waste material for synthesis of activated carbon helps save the landfill space. Therefore, this alternative is likely to be upheld by several economies in future.
Activated Carbon Market Drivers
Growing Demand for Wastewater Treatment
The urban wastewater treatment plants (WWTP) play a vital role in water purification and overall sustainability. Since the last two decades, numerous factors have been responsible for the growing demand of wastewater treatment. Activated carbon is immensely crucial to the water treatment facilities. It can be easily extracted from bioresources and is less expensive as compared to other technologies. Powdered activated carbon discards impurities from water with simple filtration process. In developing countries, where wastewater treatment is required to be carried out at lower expenses, activated carbon filtration method has been the most effective alternative. Increasing water contamination due to agricultural, industrial, and household activities has become a major concern across most developing Asian economies.
The rapidly growing population and industrialization in Asia generate a huge quantity of urban and industrial wastewater. Therefore, several countries have been introducing well-defined policies and funding resources to build water treatment facilities and sewers. Most industries are urged to set up on-site capacity to treat wastewater before releasing into the water bodies.
Increasing Regulations on Mercury Emissions
Mercury emissions from coal-fired power plants are hazardous to environment and human health. Due to Global Mercury Partnership, the regulations and policies regarding toxic industrial release set by developed countries have been intensified. Advanced control technologies, including hardware and software are integrated to reduce mercury emissions. Activated carbon is the critical component of this hardware that supports air filtration. Besides, activated carbon impregnated with sulfur is used to curb mercury emissions. Several countries have revised their policies and regulations pertaining to mercury emissions. China has reinforced the efforts to restrict the heavy metal pollution with an aid of new laws, guidelines, and measurements. Infection Management and Environment Plan in India directed two major policies formulating the restrictions on mercury pollution. The Waste Management Act, Japan, dictates stringent standards for mercury concentration in dust and ash. Although the use of mercury in certain applications is restricted, it still stands essential in manufacturing several products. Hence, the industries making use of mercury for various processes prefer activated carbon for air and water treatment to abide by the mandatory regional laws.
Activated Carbon Market Restraints
Fluctuating Prices of Raw Material
Coal-based activated carbon is commonly used in several end-user industries. After mining out the coal, it is transported to industries and power plants by trucks, barges, or trains. These modes of transportation use diesel fuel subject to price variation. A surge in transportation cost triggers the delivery prices of the coal. Certain miscellaneous factors such as Chinese restrictions on Australian coal also manipulated the prices. Notably, the coal prices in Asia in 2022 are soaring in response to consistent demand and sluggish supply output due to mine safety checks. In India, the coal price hit US$ 193.20/tonne as of 2022. South Africa, Columbia, and Australia are among the terminal markets that determine coal prices worldwide. Economic and political status of the countries with major coal mines, disruption in the natural gas market, changing weather conditions, and low global inventories are among the substantial parameters fluctuating the coal prices and thereby restraining the global activated carbon market.
Strategic Insights
Report Coverage - Activated Carbon Market
Report Coverage
Details
Market Size Value in
US$ 4,350.6 Million in 2021
Market Size Value by
US$ 8,264.0 Million by 2028
Growth rate
CAGR of 9.6% from 2021 to 2028
Forecast Period
2021-2028
Base Year
2021
No. of Pages
155
No. of Tables
71
No. of Charts & Figures
76
Historical data available
Yes
Segments covered
Type, and Application
Regional scope
North America, Europe, Asia Pacific, Middle East & Africa, South & Central America
Country scope
US, Canada, Mexico, UK, Germany, Spain, Italy, France, India, China, Japan, South Korea, Australia, UAE, Saudi Arabia, South Africa, Brazil, Argentina
Report coverage
Revenue forecast, company ranking, competitive landscape, growth factors, and trends
Free Sample Copy Available
Activated Carbon Market Segmentation by Type
Low-Cost Availability and Suitable Particle Size Lead to Segment's Dominance
Based on type, the global activated carbon market is segmented into granular, powdered, and pelletized & others of which the powdered segment dominated the market in 2020. Powdered activated carbon, typically used in liquid phase adsorption applications, offers flexibility and lowers operating costs. It has a finer particle size and is less expensive than the granular type. It can be used on a throwaway basis without recycling, thus eliminating reactivation equipment costs.
The granular segment held the second largest share of the activated carbon market in 2020 with a considerable CAGR over the forecast period as it offers clean handling and lasts longer than powdered activated carbon. Besides, it can be reused and regenerated with improved strength.
Activated Carbon Market Segmentation by Application
Increasing Requirement for Water Treatment Facilities Surged the Segment's Share
According to application, the market comprises water treatment, food & beverages, pharmaceuticals, automotive, and others. Among these, the water treatment segment occupied the largest revenue share of the activated carbon market in 2020. Service water treatment, groundwater rehabilitation, and drinking water treatment processes largely use activated carbon. The removal of trace contaminants and endocrine disruptor compounds from municipal wastewater using activated carbon has becoming a standard procedure in developed countries.
Activated Carbon Market, by Application – During 2020–2028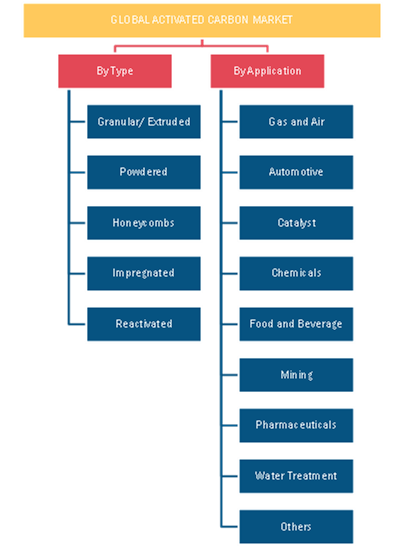 Get more information on this report :
Activated Carbon Market Regional Insights
Geographically, the global activated carbon market is segmented across North America, Europe, Asia Pacific (APAC), Middle East & Africa (MEA), and South & Central America (SCAM).
Asia Pacific dominated the global activated carbon market in 2020 with a revenue total of US$ 2,074.2 million and is projected to retain its dominance during the forecast period. Major Asian economies such as China and India are witnessing large-scale manufacturing and industrialization. These countries have high volumes of activated carbon manufacturing and consumption. The largely generated industrial wastewater requires suitable treatment, which, in turn, drives the regional activated carbon market business.
North America, the second-largest activated carbon market in 2020, is likely to show a substantial growth over the forecast period. Rapid urbanization and growing number of fast-food chains & restaurants in the region generate a huge quantity of wastewater subject to further treatment. Over 34 billion gallons of wastewater is treated in the US facilities every day, thereby driving the need for activated carbon.
The European activated carbon market is speculated to expand the dimensions with a considerable CAGR during the forecast timeframe. Several developed economies such as Germany, France, Italy, the UK, and Russia contribute to the growing market size primarily due to rising penetration of activated carbon in wastewater filtration processes coupled with environmental consciousness across the countries. Urban wastewater is collected, transported, and treated at purification facilities using chemical and biological treatment.
The Middle East & Africa region produces excess municipal wastewater posing a threat to environment, human health, and marine life. The per capita wastewater generation in the region is approximately 80–200 liters per day. However, the sewage generation across the region is growing at a remarkable rate of 25% every year. Such growth in water treatment facilities eventually bolsters the activated carbon market.
South & Central America comprising Brazil, Argentina, and the rest of SCAM still faces a dearth of water supply and sanitation provision. One-third of regional water is polluted due to inadequate sewage treatment. The garbage and waste from mining and agriculture and over 70% of sewage are dumped into the water bodies. These conditions surge the demand for water treatment facilities, thereby proliferating the demand for activated carbon.
Global Activated Carbon Market Breakdown – by Region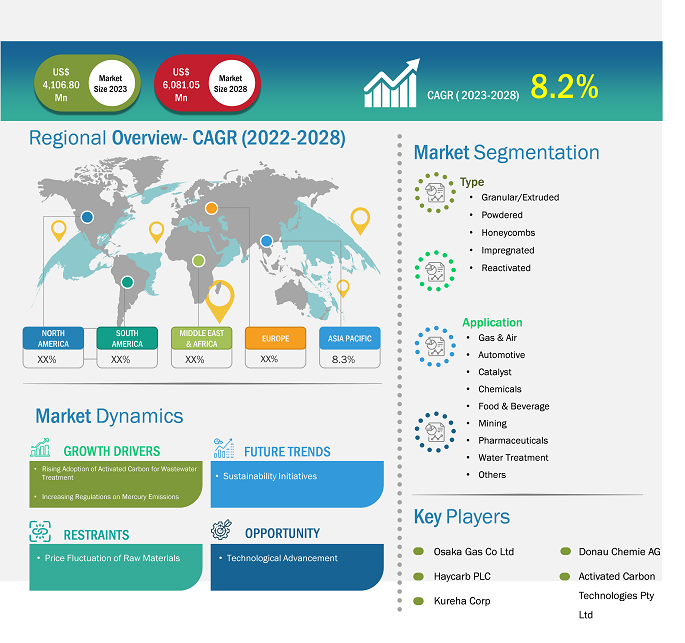 Get more information on this report :
Key Companies Covered:
Osaka Gas Chemical Co. Ltd (Japan)
KURARAY CO., LTD (Japan)
HAYCARB (PVT) LTD (Sri Lanka)
KUREHA CORPORATION (Japan)
CABOT CORPORATION (US)
Activated Carbon Technologies Pty Ltd (Australia)
Albemarle Corporation (US)
CPL ACTIVATED CARBONS (UK)
JACOBI CARBONS GROUP (Sweden)
CALGON CARBON CORPORATION (US)
James Cumming and Sons Pty Ltd (Australia)
Key Developments:
June 2020:

Calgon Carbon Corporation announced the expansion of its facility at Pearlington, Mississippi plant by collaborating a second virgin activated carbon production line with an estimated investment of US$ 185 million. The project is expected to add 38 jobs in the plant. Once done with the expansion, the company's virgin granular activated carbon capacity will exceed 200 million pounds per year.

September 2020:

Calgon Carbon Corporation announced to introduce an industrial reactivation furnace at its Chemviron operations in Feluy, Belgium. The Feluy site is the largest reactivation facility in the world, and this new furnace will add 11,000 MT (24 million pounds) a year to the total production capacity.
Report Coverage
The global activated carbon market research report provides a comprehensive market scenario in terms of qualitative and quantitative analysis of market size, share, trends, and forecasts. Besides, the report serves to be a perfect reference material to recognize and analyze the major market drivers, restraints, opportunities, segments, and industrial landscape. The impact of COVID-19 is thoroughly discussed with changed course of the market. The regional insights in the report feature the revenue share, market dominance & occupancy, annual growth rate, and forecasts with country-level analysis.
Frequently Asked Questions