[Research Report] The carbon fiber market is projected to reach US$ 3,597.28 million in 2022 and is projected to reach US$ 5,809.15 million by 2028; it is expected to register a CAGR of 8.3% from 2022 to 2028.
Carbon fiber is defined as a long thin strand of material that is made up of carbon atoms and has a diameter of ~0.005–0.010mm. Such fibers provide high tensile strength along with high-temperature tolerance and durability. Carbon fibers possess excellent corrosion resistance, higher stiffness and strength, and longer lifespans than other materials, such as aluminum and steel. Hence, these fibers find their application in broad end-use industries, which is further driving the carbon fiber market growth.
In 2022, Asia Pacific held the largest share of the global carbon fiber market and is estimated to register the highest CAGR during the forecast period. The growth of the automotive sector with surging demand for electric vehicles in the region is providing growth opportunities to the carbon fiber market. China in Asia Pacific is home to various industries, including automotive, aerospace, building & construction, electronics, and wind energy. The presence of a robust manufacturing sector in the country drives the demand for advanced materials, including carbon fiber-reinforced plastics, for efficient manufacturing. This factor is significantly driving the growth of the carbon fiber market. Thus, an increase in automotive production, developments in the aircraft industry, and adoption of carbon fiber are driving the Asia Pacific carbon fiber market growth.
Strategic Insights
Report Coverage - Carbon Fiber Market
Report Coverage
Details
Market Size Value in
US$ 3,457.74 million in 2022
Market Size Value by
US$ 5,605.57 million by 2028
Growth rate
CAGR of 8.3% from 2022 to 2028
Forecast Period
2022-2028
Base Year
2022
No. of Pages
201
No. of Tables
115
No. of Charts & Figures
111
Historical data available
Yes
Segments covered
Raw Material, Application, and End-Use Industry
Free Sample Copy Available
Impact of COVID-19 Pandemic on Carbon Fiber Market
The COVID-19 outbreak created disruptions in the operational efficiencies of industrial bases, which led to a halt in the expansion of manufacturing facilities in Europe. These sites recorded negligible production levels in the first half of 2020 due to the shortage of laborers, which resulted in the disruption of raw material supply chains. In addition, the automotive industry experienced a slowdown due to the lack of supply of various automotive parts and low demand for vehicles. However, several industries showed signs of resurgence in late 2021 due to the resolution of the supply constraints affecting these industries. According to the European Commission, construction output in the European Union increased by 3.9% in January 2022 compared to December 2021; similarly, construction-related manufacturing increased by 3.9% in Europe.
Carbon Fiber Market Breakdown, by Region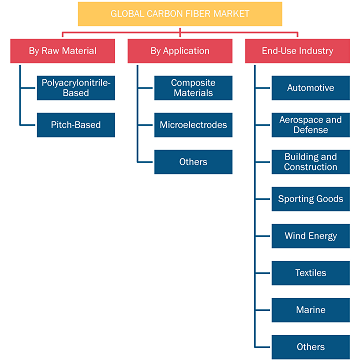 Get more information on this report :
Market Insights
Rising Demand for Carbon Fiber in Wind Energy Industry Drives Carbon Fiber Market
Growing demand to utilize renewable resources has led to a surge in the installation and demand for wind farms, with large tracts of land and coastal areas devoted to the operation of wind turbines. Wind turbine manufacturers strive to produce more efficient and longer blades that are lighter in weight. Advanced composite materials such as carbon fiber are widely used in wind turbines, specifically for manufacturing blades. The companies operating in the carbon fiber market have discovered that the longer the blades are on a turbine, the more energy can be generated. Carbon fiber plays a very important role in the wind energy industry. The high stiffness characteristic of carbon fiber reduces blade deflection, allowing a larger tower diameter for a given blade-to-tower clearance.
Raw Material Insights
Based on raw material, the carbon fiber market is bifurcated into polyacrylonitrile-based and pitch-based. The polyacrylonitrile-based segment held a larger carbon fiber market share during the forecast period. The pitch-based carbon fibers consist of ~80% carbon, along with the axially oriented graphene layer planes that have different transverse microstructures. The composition of pitch varies according to the processing conditions and source tar. Pitch-based carbon fibers can exist in the radial, flat layer, onion skin, radial folded, or random transverse structural forms. The texture of the pitch-based carbon fiber is developed during the mesophase spinning and is retained during the heat treatment and stabilization steps.
Carbon Fiber Market, by Raw Material – 2022 and 2028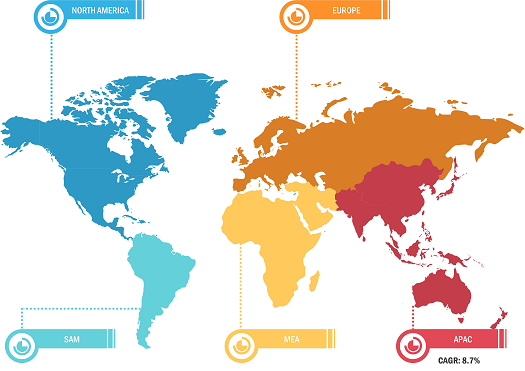 Get more information on this report :
Application Insights
Based on application, the carbon fiber market is segmented into composite materials, microelectrodes, and others. The composite materials segment held the largest market share during the forecast period, and is also projected to register the highest CAGR during the forecast period. Carbon fibers provide excellent mechanical and tensile strength to composite materials. They also enhance the thermal and chemical stability as well as the thermal and electrical conductivity of composites. Carbon-fiber reinforced composites are widely used across the aerospace, automotive, marine, wind energy, and building & construction industries owing to their lightweight and high flexibility. These properties of carbon fiber composites are driving their demand across various sectors across the globe, fueling the market growth.
End-Use Industry Insights
Based on end-use industry, the carbon fiber market is segmented into automotive, aerospace and defense, building and construction, sporting goods, wind energy, textiles, marine, and others. The automotive segment accounted for the largest market share in 2022. Carbon fiber-reinforced plastics (CFRP) have found a profound application in the automotive industry. Mercedes Benz, BMW, Lamborghini, and other key players operating in the automotive industry are focusing on increasing the implementation of CFRP components in their vehicles as they help in reducing its weight.
The major players operating in the carbon fiber market include SGL Carbon SE, DowAksa Advanced Composite Material Industries Ltd Co, Formosa Plastics Corp, Hexcel Corp, Hyosung Advanced Materials Corp, Kureha Corp, Mitsubishi Chemical Corp, Solvay SA, Teijin Ltd, and Toray Industries Inc. These companies are emphasizing on new product launches and geographical expansions to meet the growing consumer demand worldwide. They have a widespread global presence, which allows them to serve a large set of customers across the globe and subsequently increase their market share. These market players focus heavily on new product launches and regional expansions to increase their product range in specialty portfolios.
Report Spotlights
Progressive industry trends in the carbon fiber market to help companies develop effective long-term strategies
Business growth strategies adopted by the carbon fiber market players in developed and developing countries
Quantitative analysis of the market from 2022 to 2028
Estimation of global demand for carbon fiber
Porter's Five Forces analysis to illustrate the efficacy of buyers and suppliers in the carbon fiber market
Recent developments to understand the competitive market scenario
Market trends and outlook, as well as factors driving and restraining the growth of the carbon fiber market
Assistance in the decision-making process by highlighting market strategies that underpin commercial interest
Size of the carbon fiber market at various nodes
A detailed overview and carbon fiber industry dynamics
Size of the carbon fiber market in various regions with promising growth opportunities
Frequently Asked Questions