The cone beam computed tomography market is expected to reach US$ 2,278.41 million by 2028 from US$ 1,214.51 million in 2022; it is estimated to grow at a CAGR of 11.1% from 2022 to 2028.
Cone beam computed tomography is a modification of the traditional computed tomography (CT) system. The cone beam computed tomography systems used by dental professionals rotate around the patient, capturing data using a cone-shaped X-ray beam. These data are used to reconstruct a three-dimensional image of the dental (teeth); oral and maxillofacial region (mouth, jaw, and neck); and ears, nose, and throat.
The cone beam computed tomography market is segmented based on type, application, end user, and geography. Based on geography, the market is broadly segmented into North America, Europe, Asia Pacific, the Middle East & Africa, and South & Central America. The report offers insights and in-depth analysis of the market, emphasizing on market trends, technological advancements, and market dynamics. It also offers an analysis of the competitive landscape of the world's leading market players.
Strategic Insights
Report Coverage - Cone Beam Computed Tomography Market
Report Coverage
Details
Market Size Value in
US$ 1,214.51 million in 2022
Market Size Value by
US$ 2,278.41 million by 2028
Growth rate
CAGR of 11.1% from 2022 to 2028
Forecast Period
2022-2028
Base Year
2022
No. of Pages
199
No. of Tables
110
No. of Charts & Figures
80
Historical data available
Yes
Segments covered
Type, Application, and End User
Free Sample Copy Available
Lucrative Regions for Cone Beam Computed Tomography Market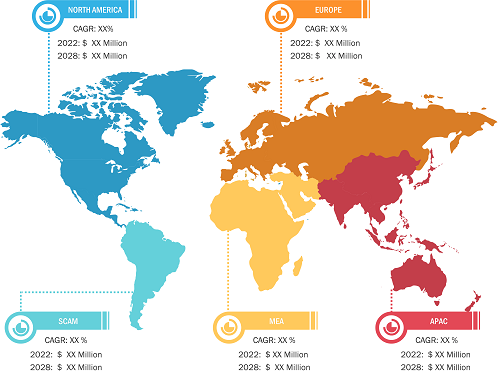 Get more information on this report :
Market Insights
Integration of Software Tools into CBCT Devices Boosts Market Growth
By integrating software tools into CBCT systems, users can automate and standardize complex diagnostic procedures, improve patient experience and diagnostic outcomes, and reduce the cost of care, along with improving the functionality of CBCT systems. Analyzing and interpreting CBCT scan data can be challenging, even for experienced clinical professionals. The software systems have been developed to offer dental laboratories, dentists, implant specialists, and surgeons maximum flexibility and precision. Software integration with CBCT would help physicians expand the scope of diagnosis and improve visibility into patients' underlying anatomical structures during treatment planning. The integration of picture archiving and communication systems (PACS) with CBCT systems helps capture and edit camera images, share images via the cloud, and provide efficient treatment planning. PACS is a medical imaging technology primarily used for storing and securely transmitting digital electronic images. It allows doctors in different locations to review the same data simultaneously. Digital health companies are investing in developing software for CBCT systems. Therefore, the integration of CBCT devices with software tools to simplify data analysis, interpretation, and archival is contributing to the growth of the cone beam computed tomography market.
Technological Advancements and R&D to Bring New Trends in CBCT Market
Technological advancements, particularly in digital imaging systems, have led to improvements in diagnostic and surgical procedures. This can be attributed to the ability of advanced imaging systems to provide detailed information to healthcare providers while reducing patients' exposure to radiation. With CBCT techniques, dentists have gained the ability to collect more data with lower doses of radiation. Earlier, physicians relied on two-dimensional imaging for diagnosis and treatment planning. However, 2D technology often requires multiple exposures. Therefore, 3D scanning has gained greater popularity in diagnostics.
A few of the advancements related to the CBCT market are mentioned below:
In March 2019, Planmeca Oy introduced an advanced Planmeca Viso G5 into their Planmeca Viso family, which offers high CBCT image quality.
In December 2021, RaySearch Laboratories AB introduced new features to Ray Station 11B for adaptive workflows, brachytherapy, and radiation therapy with ions. Ray Station 11B operates with the improved accuracy of dose calculation on daily images for photon therapy. Daily CBCTs provide a better representation of the patient's anatomy at the time of treatment than any conventional CT, which is taken early in the process and used to plan the complete treatment.
In April 2022, Carestream Dental launched the Neo Edition of CS 8200 3D Family, which made the CBCT scanning heavily intuitive. The Neo Edition is an evolved version of the CS 8200 3D, equipped with an optional Scan Ceph module that ensures ease of use, contributes to a better clinical experience, and leads to more successful outcomes. Practitioners that are already using the CS 8200 3D can easily upgrade to the new Neo Edition.
In June 2022, Xoran Technologies received a patent for a modular cone beam computed tomography system assembly.
Thus, such technological advancements by various market players are likely to bring new trends to the cone beam computed tomography market in the coming years.
End user Insights
Based on end user, the cone beam computed tomography market is divided into hospitals & clinics, diagnostic centers, and others. The hospitals & clinics segment held the largest share of the market in 2021, and the diagnostic centers segment is expected to register the highest CAGR during the forecast period. Diagnostic laboratories are equipped with full-service imaging facilities that provide the highest quality, comprehensive screening and diagnostics services to patients. Diagnostic centers have all the modern imaging modalities, such as CT scans, ultrasound, X-ray, and mammography. On-site radiologists in these facilities provide patients with a complete examination, followed by handing over reports to them within a few hours. Advances in imaging technologies, leading to quick and accurate results in low turnaround time, and a surge in the demand for early disease diagnosis are the factors favoring the growth of the cone beam computed tomography market for the diagnostic laboratories segment.
Cone beam computed tomography Market, by End User – 2022 and 2028

Get more information on this report :
Product launches and mergers and acquisitions are the highly adopted strategies by the players in the global cone beam computed tomography market. A few of the recent key product developments are listed below:
In May 2021, the PreXion Corporation launched the latest model the PreXion 3D Explorer PRO. This iteration of the machine features an integrated cephalometric X-ray arm.
In February 2021, Brainlab received an FDA clearance for the Loop-X Mobile Imaging Robot and the Cirq robotic surgical system. Following the CE mark approvals, Brainlab also received FDA clearance to launch these products into the US market. The Cirq is a robotic alignment module for spine procedures, and Loop-X is the first fully robotic intraoperative imaging device.
In November 2022, Canon strengthened its medical business with the establishment of Canon Healthcare USA, INC. By strengthening its presence in the highly influential American medical market, Canon aims to accelerate the growth of its medical business.
In Asia Pacific, the COVID-19 pandemic severely affected China and India. These countries already have many patients suffering from chronic disorders. Healthcare professionals in these countries canceled elective procedures to combat the pandemic situation. Moreover, patients and their family members avoided visiting hospitals protect themselves from infections—instead, they opted for online consultation. This resulted in a tremendous decrease in diagnostic procedures performed for chronic disorders. On the other hand, a surge in COVID-19 cases triggered the demand for X-rays and cone beam computed tomography systems, which were in use for checking the spread of infection into the lungs. CBCT imaging is used in thoracic radiotherapy daily to check changes in patient positioning and anatomy prior to treatment through a qualitative assessment of the appearance of lungs by radiographers. Considering this, various market players from Asia Pacific have launched new and innovative products to ease the overall diagnostic procedures. Thus, the COVID-19 pandemic has had a moderately positive impact on the cone beam computed tomography market.
Cone Beam Computed Tomography – Market Segmentation
Based on patient positioning, the cone beam computed tomography market is segmented into standing, sitting, and supine. By application, the market is segmented into dental, ENT, breast cancer, skull base, orthopedic, and others. In terms of end user, the cone beam computed tomography market is divided into hospitals & clinics, diagnostic centers, and others. Based on geography, the market is segmented into North America (US, Canada, and Mexico), Europe (France, Germany, UK, Spain, Italy, and Rest of Europe), Asia Pacific (China, India, Japan, Australia, South Korea, and Rest of APAC), Middle East & Africa (Saudi Arabia, UAE, South Africa, and Rest of MEA), and South & Central America (Brazil, Argentina, and Rest of South & Central America)
Company Profiles
Dentsply Sirona Inc
Newtom
Carestream Dental LLC
Fussen Group
PreXion
Brainlab AG
IDETEC MEDICAL IMAGING
Vatech Co., Ltd
Planmeca Oy
Canon Medical Systems
Frequently Asked Questions