The copper-nickel alloys market size is projected US$ 5,989.37 million by 2028; it is expected to grow at a compound annual growth rate (CAGR) of 5.7% from 2022 to 2028.
Copper-nickel alloys have excellent corrosion resistance. They also exhibit resistance to macrofouling due to the formation of a protective oxide layer on their surfaces. Copper-nickel alloys usually come in two varieties: Cu-Ni (90-10) and Cu-Ni (70-30). The Cu-Ni (70-30) alloy is stronger and has greater resistance to corrosion (caused by seawater) and macrofouling than Cu-Ni (70-30). However, Cu-Ni- (90-10) is more affordable than Cu-Ni (70-30) and has a better service life in many end-use applications. Copper-nickel alloys are experiencing strong demand in the marine, chemical processing, power generation, and oil & gas industries, which is primarily driving the copper-nickel alloys market growth.
Strategic Insights
Report Coverage - Copper-Nickel Alloys Market
Report Coverage
Details
Market Size Value in
US$ 4,282.62 Million in 2022
Market Size Value by
US$ 5,989.37 Million by 2028
Growth rate
CAGR of 5.7% from 2022 to 2028
Forecast Period
2022-2028
Base Year
2022
No. of Pages
177
No. of Tables
87
No. of Charts & Figures
105
Historical data available
Yes
Segments covered
Product Type, and Application
Regional scope
North America, Europe, Asia Pacific, Middle East & Africa, South & Central America
Country scope
US, Canada, Mexico, UK, Germany, Spain, Italy, France, India, China, Japan, South Korea, Australia, UAE, Saudi Arabia, South Africa, Brazil, Argentina
Report coverage
Revenue forecast, company ranking, competitive landscape, growth factors, and trends
Free Sample Copy Available
Impact of COVID-19 Pandemic on the Copper-Nickel Alloys Market
The social and commercial restrictions enforced by governments upon the onset of the COVID-19 pandemic led to a significant downfall in supply chains, including import–export operations, which impacted the prices of raw materials and hindered the operations of the shipbuilding industry. The oil & gas industry also experienced similar impacts of the pandemic as there was an unprecedented drop in the demand for crude oil in 2020, which resulted in a significant decline in its prices. According to the Bureau of Labor Statistics, in 2020, the oil demand decreased by 3 million barrels per day, which accounts for ~20% of the US' overall oil consumption. Thus, the severe impact of the COVID-19 pandemic on the maritime and oil & gas industries adversely impacted the demand for copper-nickel alloys. Moreover, due to the shutdown of manufacturing units, the production of copper-nickel alloys was suspended, which hampered the profitability of small and large-scale manufacturers.
In 2021, governments of various countries announced relaxations in the previously imposed restrictions and permitted manufacturers to operate at full capacity. As a result, the manufacturers of copper-nickel alloys revised their strategies for ramping up their production, which is expected to overcome the production shortfall and demand–supply gap. This factor is expected to boost the global copper-nickel alloys market during the forecast period.
Copper-Nickel Alloys Market Breakdown – by Region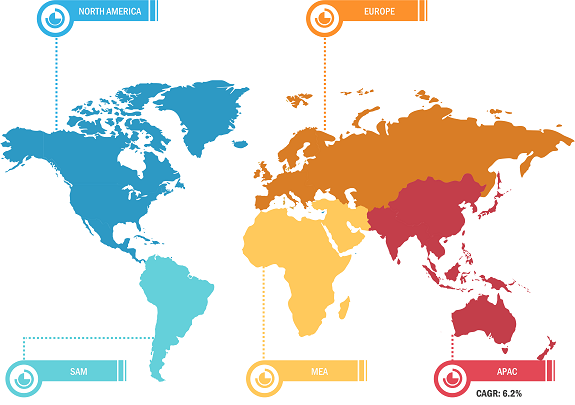 Get more information on this report :
Market Insights
Surge in Adoption of Copper-Nickel Alloys in Renewable Energy Projects to Introduce New Growth Trends in Copper-Nickel Alloys Market
Governments of various countries are encouraging people to use renewable energy sources to reduce the overall environmental impact. Turbines, paddles, heat exchangers (in concentrated solar power CSP systems) wind energy turbines, and many components used in renewable energy generation are made of copper-nickel alloys. According to the International Energy Agency (IEA), the use of renewable energy increased by 3% globally in 2020. The share of global power generation through renewable energy sources reached 29% in 2020 from 27% in 2019. The US, the European Union (EU), China, and India, among other countries, are taking various initiatives to drive investments in the production of clean energy for environment conservation and sustainable economic development. For instance, in March 2022, the European Union devised the "REPowerEU Plan" to produce clean energy and save energy to avoid dependency on Russian fossil fuel sources. The RePowerEU Plan aims to achieve a total renewable energy output of 1,236 Giga Watt by 2030. The European Commission stated that the implementation of REPowerEU plan, during 2022–2027, would require an additional investment of US$ 208.91 billion, which it expects to source from the EU member states and private sectors. Such government initiatives in different countries are expected to boost the renewable energy sector in the future, in turn, bolstering the growth of the copper-nickel alloys market.
Product Type Insights
Based on product type, the global copper-nickel alloys market has been segmented into rods & bars, wires, tubes, and others. The rods and bars segment held the largest market share in the market in 2021. Copper-nickel round bars are used in power steering, brake lines, distiller tubes, condenser plates, and pressure vessels owing to their unique properties such as macrofouling resistance, good tensile strength, and corrosion resistance. Moreover, copper-nickel rods with 10% and 30% nickel are commonly employed in condensers, distillers, evaporators, heat exchanger tubes, machined and forged valves, and pump parts used for seawater services.
Copper-Nickel Alloys Market, by Product Type – 2021 and 2028

Get more information on this report :
Corrotherm International Ltd, Fisk Alloy Inc, Lebronze Alloys SAS, Materion Corp, Aesteiron Steels LLP, Columbia Metals Ltd, American Elements Inc, Hexion Steel Ltd, Aviva Metals Inc, and Kalikund Steel and Engg Co are among the major players operating in the global copper-nickel alloys market. Companies in this market continuously focus on strategies such as investments in research and development activities and the launch of new products.
Report Spotlights
Progressive industry trends in the copper-nickel alloys market to help players develop effective long-term strategies
Business growth strategies adopted by companies to proliferate in developed and developing markets
Quantitative analysis of the copper-nickel alloys market from 2020 to 2028
Estimation of global demand for copper-nickel alloys
Porter's Five Forces analysis to illustrate the efficacy of buyers and suppliers in the industry
Recent developments to understand the competitive market scenario
Market trends and outlook, and drivers and restraints in the copper-nickel alloys market
Assistance in the decision-making process by highlighting market strategies that underpin commercial interest
Size of the copper-nickel alloys market size at various nodes
Detailed overview and segmentation of the market, as well as the copper-nickel alloys industry dynamics
Size of the copper-nickel alloys market in various regions with promising growth opportunities
Company Profiles
Corrotherm International Ltd
Fisk Alloy Inc
Lebronze Alloys SAS
Materion Corp
Aesteiron Steels LLP
Columbia Metals Ltd
American Elements Inc
Hexion Steel Ltd
Aviva Metals Inc
Kalikund Steel and Engg Co
Frequently Asked Questions