The global dental implants market was evaluated at US$ 4,824.96 million in 2021 and is speculated to generate US$ 8,075.98 million by 2028, expanding at a stellar annual growth rate of 7.6% during 2021–2028.
Dental implants are positioned between the jaws for supporting dental prosthesis. Generally, these implants or frames are surgically placed below the gums into the jawbone. A variety of these devices consists of plate-form and root-form dental implants, usually made of zirconium and titanium. Bridges and dentures support the implanted artificial teeth and prevent the slip or shift of teeth during speaking or eating. The global dental implants market growth is a function of tooth loss instances, growing demand for cosmetic dentistry, and technological advancements in dental implants. Besides, low production costs, rising concern for dental care, and growing healthcare infrastructure are also expected to influence the overall market expansion.
Regionally, North America is likely to exhibit lucrative growth over the forecast period due to high consumption of sugar products causing dental disorders, while Asia-Pacific and Europe have huge development potential due to increasing awareness towards dental procedures and surging demand for dental aesthetics. Prominent players reigning the global dental implants market have been emphasizing new product launches, expansions, and product upgrades to scale up their organizations.
COVID-19 Impact
Delays and Interruptions in Dental Surgical Procedures Ceased the Global Market
The global COVID-19 pandemic featured varying effects on several regional markets. In North America, the spread of novel coronavirus had caused the temporary closure and shutdown of clinics resulting in treatment disruptions and cancellation of dental appointments. The patients suffering from critical dental issues in dire need of complex procedures such as root canal obturation, root repair, and cavity surgeries faced delays and worsened their oral conditions. Since dental procedures directly involve working on oral fluids, they are more susceptible to hazardous COVID-19 infection. This risky scenario caused a severe decline in the per capita regional dental expenditure from US$ 442 in 2019 to US$ 430 in 2020.
In Europe, several hospitals canceled and postponed non-urgent operations, including dental implants. The government tried to alleviate patient's burden by opting for recovery plans and strategies to realign the surgical activities safely. According to the British Dental Association, only 36% of the dentists in the UK were ready to resume the practice during the pandemic. Moreover, around 64% of dental surgical procedures were halted with the rescheduling of more than half of the follow-up appointments. However, the dental practices resumed post first lockdown, but with little sluggish figures of just 7 to 10 patients per day, according to the Dental Surgeon Union. Despite decent statistics, the dental implants market in Asia-Pacific was significantly hampered during the pandemic. The immediate observance of lockdown in the first half of 2020 interrupted the dental care activities with a sharp drop in medical tourism occupancy. The Indian dental market was severely hit due to a three-month-long national closure.
Future Trends
Dental implants and associated components are the fastest-developing segments in the global dentistry market. Over 800,000 individual implants are worked upon in the US every year. Mini-implants gaining traction in recent years fostered the trend of tiny but precisely functioning implant components. The smaller size and structure make them less expensive as compared to conventional implants. Dentists operating with mini dental implants (MDIs) have explored that the delay in osseointegration process can be curtailed after the treatment. These MDIs, initially used as interim implants to support prostheses, are now recognized for their extraordinary long-term clinical benefits.
Drivers
Rising Cases of Tooth Loss
Despite improvements in dental care services, significant disparities related to tooth loss and insufficient dental care still exist across a few population groups. Periodontal diseases, injuries, tooth decay, and accidents are among the major causes of tooth loss. According to the WHO, oral problems affected over 3.5 billion people in 2020 worldwide. The FDI World Dental Federation states that approximately 2.3 billion people worldwide suffer from dental caries. As per the International Journal of Health Sciences, periodontal diseases affect almost 20–30% of the population in both developed and developing countries worldwide. Moreover, the incidences of deep bite malocclusion were considerably higher in Europe (37.4%) compared to other regions.
Elevating Demand for Dental Cosmetics
The dental cosmetic industry works on enhancing the aesthetic appearance of gums and teeth. Surgical procedures that involve smile correction and beauty enhancement drive the demand for cosmetic dental implants and accessories. Baby boomers and millennials are the prime contributors to the cosmetic dentistry business. Apart from restoring teeth functions, dental implants also go well with the trend of natural-looking teeth that can last as long as regular original teeth. Although dental implants are more prevalent among geriatric people, the trend of younger generation opting for dental implants instead of bridges has been increasing. Moreover, the dental cosmetic treatments are no longer confined to only the elite club population, but a large middle-class chunk also undergoes the procedure for enhanced aesthetic appeal.
Restraints
Lack of Standardization of Reimbursement Policies
In several countries, the insurance policy covers only a part of dental implant expenses. These policies differ with the companies and involve complex regulations. In India, dental implant procedures are reimbursed only in accident cases after producing the proofs of incidence, such as X-ray reports and consultation prescriptions. While, in case of non-accidental instances, the standard medical insurance does not reimburse dental implants, however, comprehensive insurance plans in India refund 90% of the total implantation charge. In some European countries, dental implants revenue underwent a drastic shift due to change in government reimbursement policies and coverage terms. Such uncertain changes in insurance covers lead to perplexity among the people opting for dental procedures.
Strategic Insights
Report Coverage - Global Dental Implants Market
Report Coverage
Details
Market Size Value in
US$ 4,824.96 Million in 2021
Market Size Value by
US$ 8,075.98 Million in 2028
Growth rate
CAGR of 7.6% from 2021 to 2028
Forecast Period
2021-2028
Base Year
2021
No. of Pages
169
No. of Tables
84
No. of Charts & Figures
76
Historical data available
Yes
Segments covered
Product, Material, and End User, and Geography
Regional scope
North America, Europe, Asia Pacific, Middle East & Africa, South & Central America
Country scope
US, Canada, Mexico, UK, Germany, Spain, Italy, France, India, China, Japan, South Korea, Australia, UAE, Saudi Arabia, South Africa, Brazil, Argentina
Report coverage
Revenue forecast, company ranking, competitive landscape, growth factors, and trends
Free Sample Copy Available
Market Segmentation
By Product
Improving the Aesthetic Appearance with Strengthening and Positioning of Tooth Surged the Segmental Demand
Based on product, the global dental implants market is split into dental bridges, dental crowns, denture, abutments, and others. The dental bridges segment dominated the market in 2021 with a largest revenue share. Dental bridge, a customized implant, helps fill the space or void created by missing teeth. Apart from strengthening a damaged tooth, these bridges also enhance the overall shape, appearance, alignment, and dental occlusion (bite). They also prevent the adjacent teeth from shifting into the gaps created by missing ones, thus, avoiding bad bites. A dental bridge is made of different materials such as gold, alloy, or porcelain.
The dental crowns segment was the second-largest occupant of the global dental implants market in 2021. These implants strengthen and align the tooth, improving its overall appearance. They primarily prevent a weak tooth from breaking and retain a cracked one in its position. Types of crowns depend on material, cost, dental procedure, and patient's requirements. Crown restoration has been one of the most common dental procedures dentists perform.
Dental Implants Market, by Product – 2021 and 2028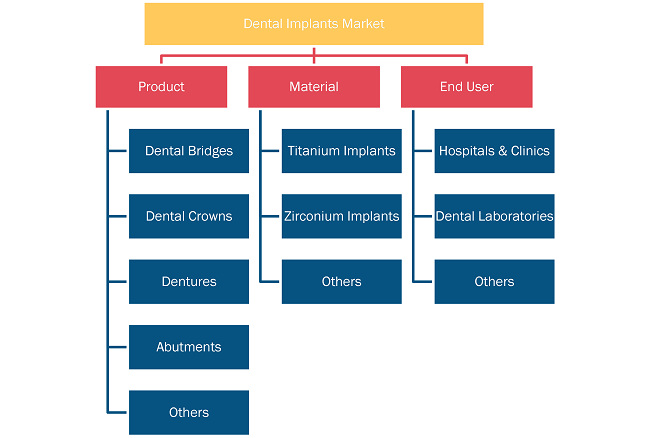 Get more information on this report :
By Material
Excellent Fusing Properties and long-Lasting Condition Post Surgeries Strengthened the Segment's Dominance
According to the material, the market is split into titanium implants, zirconium implants, and others, of which the titanium implants segment occupied the largest market share in 2021 and is speculated to retain its dominance throughout the forecast period. The titanium fuses well with human bones. Dentists often recommend titanium implants as they are light-weighted, strong, long-lasting, and durable. In several dental cases, they are observed in the finest condition and lasted for more than 30 years post implant procedures. The suitable mechanical properties such as weight-to-strength ratio and effective biological performance make these implants suitable for dental and orthopedic surgeries.
The dental domain in the US has been using zirconium implants since 2007. Zirconia, a metal-free crystal material, is used as a one-piece implant to be inserted into a jawbone, taking less time for surgery. No risk of allergy has been the major advantage of zirconium implants. Besides, the tooth-like color, mechanical properties, biocompatibility, and low plaque affinity make these implants compatible for oral surgeries.
Regional Insights
Geographically, the global dental implants market is segmented into North America, Europe, Asia Pacific, South & Central America, and Middle East & Africa.
North America, with the largest revenue share, dominated the global dental implants market in 2021. The oral care sector in North America has been witnessing rapid transformation in recent years. Several start-ups and reimbursement assistance have shaped the dynamics of dental care in the region. Technological advancement has also been one of the major factors fueling the regional dental implants market. The prevalence of dental disorders has been increasing. Oral care is becoming smart and advanced, with many private and government organizations providing reimbursement policies to enhance oral and dental care works. Leading companies are introducing innovative dental treatments involving less pain during and after surgeries, quicker recovery time, and low risk and hazards.
Asia Pacific dental implants market is projected to expand with the highest CAGR over the forecast period. Low production costs, rising disposable income, and growing concerns for dental care are the potential aspects elevating the regional dental implants market. Also, the expanding healthcare infrastructure has been equally influencing the overall market growth. The demand for dental implants is soaring due to growing population, increasing household income, and patient's awareness towards new and advanced oral care products. The most frequently cited reasons for dental visits are toothache, tooth extraction, and prosthetic treatments. Talking about specific regions, the dental treatment costs in India are 60–80% lower as compared to the similar procedures in the US and the UK. An estimated 150,000 patients travel to India every year for less expensive oral care procedures.
Lucrative Regions in Dental Implants Market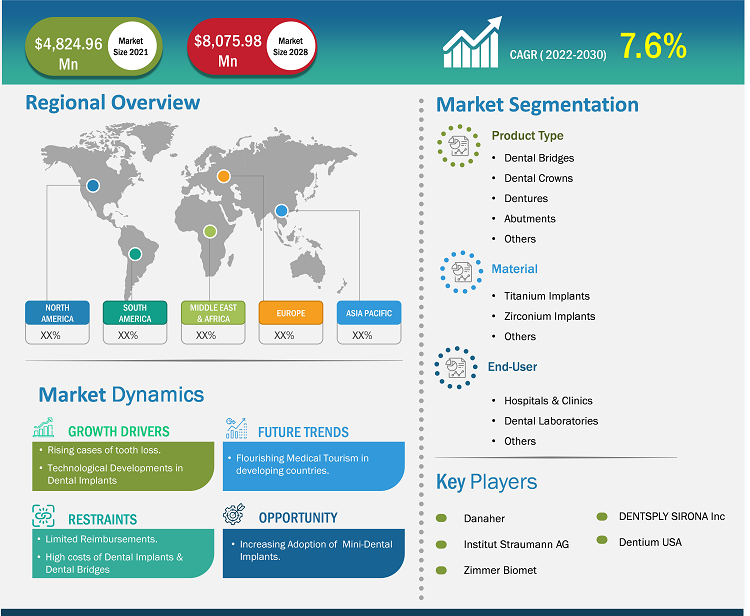 Get more information on this report :
Key Market Players:
Danaher (US)
Zimmer Biomet (US)
Institut Straumann AG (Switzerland)
Adin Dental Implant Systems Ltd (Israel)
DentiumUSA (US)
DENTSPLY SIRONA Inc (US)
DIO (Korea)
Osstem UK (UK)
Bicon, LLC (US)
AVINENT Science and Technology (Spain)
Key Developments:
June 2019:

Danaher announced the new dental company to be named Envista Holdings Corporation, comprising three operating companies within its dental segment, namely, Nobel Biocare Systems, KaVo Kerr, and Ormco.

December 2020:

Zimmer Biomet Holdings acquired A&E Medical Corporation, a Vance Street capital portfolio company, for US$ 150 million in cash at closing and US$ 100 million cash payable in 2021.

August 2021:

Straumann acquired Medical Technologies LLC, a well-established distributor of dental implant systems in Russia, to strengthen the local subsidiary base.

December 2021:

Dentsply Sirona and 3Shape expanded their partnership to include a secure and seamless integration of Sirona's connect case centre with 3Shape's dental system software.
Report Coverage
The global dental implants market research report provides detailed insights into the dental and oral care market in terms of size, share, trends, and forecasts. It delivers crisp and precise know-how about drivers, restraints, opportunities, segments, and industrial landscape. The COVID-19 impact analysis is discussed with the consequences followed in global and regional markets. A list of key market players with their respective developments in recent years has been reserved as a special mention.
Frequently Asked Questions