The Root Canal market is projected to reach US$ 1,388.29 million by 2028 from US$ 1,018.21 million in 2021; it is expected to grow at a CAGR of 4.5% from 2021 to 2028.
Factors such as rising prevalence of dental diseases, growing geriatric population, and increasing awareness regarding dental health are driving the market growth. However, limited reimbursements are likely to hamper the growth of the market.
Root canal management is intended to minimize or eliminate bacteria from the infected root canal, prevent reinfection of the tooth, and save the natural tooth. The common symptoms of tooth damage pulp include pain, heat sensation, and swelling in the gums. When one undergoes a root canal, the infected or inflamed pulp is removed, and the inside of the tooth carefully cleaned and disinfected, then filled and sealed.
This pandemic is affecting the business operation of various key players operating in APAC region. For instance, as per the Dental Tribune International, Dentsply Sirona among the market leader in the dental business is expecting a fall in its sales about US$60 million–US$70 million in the first quarter in the APAC countries such as China, Japan, South Korea, and Taiwan in the first quarter of this year.
Following the pandemic, dental clinics and hospitals across India have suffered a significant decline in patient traffic, prompting many dentists to close their private practices. Those that were able to keep their clinics and hospitals open have increased their fees to compensate for the loss of patients and to cover their regular expenses, in addition to the extra cost of taking safety precautions. Due to the nature of its profession, dentistry took a huge hit during the Covid-19 pandemic. Dentists work in close quarters with their patients, requiring face-to-face conversation and regular exposure to their saliva, blood, and other bodily fluids. Thus, these factors played a negative role in
root canal market
in the region due to COVID-19.
Lucrative Regions for Root Canal Market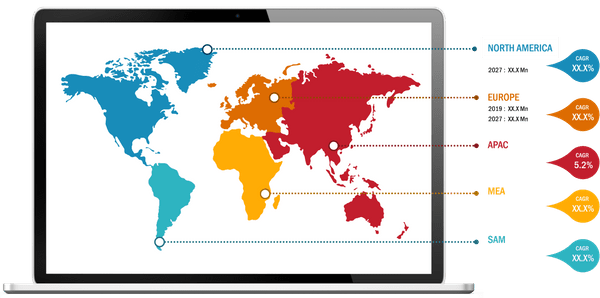 Get more information on this report :
Market Insights
Rising Dental Disease Prevalence
Dental diseases are the most common noncommunicable diseases that affect people at least once in their lifetime. Mere toothache causes discomfort, pain, and disfigurement, and in a worse case, it may even lead to death. According to a report of the Global Burden of Diseases Study 2016, published in September 2018, oral diseases have affected ~3.58 billion people worldwide. Dental caries was ranked 11th among the most prevalent dental disease in the world, and it is a severe periodontal disease that further results in tooth loss. Thus, the prevalence of dental and oral conditions is rising worldwide, and these issues might lead to tooth loss, root canal, dry mouth, cavities, biting difficulties, etc. Tooth decay, periodontal diseases, injuries, accidents, etc., are the conditions that might result in tooth loss. The World Health Organization (WHO) revealed that ~60–90% of children and ~100% of adults in the world have cavities. Moreover, according to the American College of Prosthodontists (ACP), 178 million Americans are missing at least one tooth. Additionally, on average, 40 million people in the US are suffering from tooth decay problems. The ACP estimated that this number is expected to rise over the next two decades owing to surging prevalence of cavity and tooth decay. According to the American Association of Endodontics, over 15 million root canals are performed every year, more than 41,000 root canals are performed every single day.
As per the WHO report on Tobacco and Oral Health 2018, the inequities of dental diseases still exist, and the burden of oral disease in European countries is rising. The report has also stated that a few of the APAC countries are reporting rise in oral cancer cases. Moreover, according to the Oral Health 2020 of the World Health Organization, ~3.58 billion people worldwide suffer from dental caries (tooth decay) in permanent teeth. Caries of permanent teeth affect an ~2.4 billion individuals worldwide, with 486 million youngsters suffering from the caries of primary teeth. As per the ACP's estimations, this number is expected to rise in the next two decades due to the increasing incidence of cavity and tooth decay. Therefore, governments are taking measures to control the growing burden of dental diseases, and the increasing support is propelling the numbers of endodontic treatments and other dental treatments. For instance, the Centers for Disease Control and Prevention (CDC) helps manage and guide the state and community programs; it also assists in planning, setting up, and evaluating school sealant programs and complement services provided by private dentists. Therefore, the rising prevalence of dental diseases is propelling the root canal market growth.
Product-Based Insights
Based on product, the root canal market is segmented into instruments and consumables. In 2021, the consumables segment held a larger share of the market. The consumables segment of root canal market is also expected to witness a faster CAGR during 2021–2028. The consumables segment by product for the root canal market is further divided into access cavity preparation, endodontic files, burs, drills, lubricants, obturations, and others. In 2021, the endodontic files segment held the largest share of the market, whereas the lubricants segment of instruments market is expected to witness growth in its demand at a fastest CAGR during 2021–2028..
Root Canal Market, by Product – 2021 and 2028

Get more information on this report :
End User -Based Insights
Based on end user, the market is segmented into hospitals, dental clinics, and others. In 2021, the dental clinics segment held the largest share of the market, whereas the hospitals segment is expected to grow at the fastest CAGR of during the coming years.
Strategic Insights
Report Coverage - Root Canal Market
Report Coverage
Details
Market Size Value in
US$ 1,018.21 Million in 2021
Market Size Value by
US$ 1,388.29 Million by 2028
Growth rate
CAGR of 4.5% from 2021-2028
Forecast Period
2021-2028
Base Year
2021
No. of Pages
177
No. of Tables
113
No. of Charts & Figures
81
Historical data available
Yes
Segments covered
Product ; End User , and Geography
Regional scope
North America, Europe, Asia Pacific, Middle East & Africa, South & Central America
Country scope
US, Canada, Mexico, UK, Germany, Spain, Italy, France, India, China, Japan, South Korea, Australia, UAE, Saudi Arabia, South Africa, Brazil, Argentina
Report coverage
Revenue forecast, company ranking, competitive landscape, growth factors, and trends
Free Sample Copy Available
Companies operating in the root canal market emphasize on adopting the product innovations strategy to meet the evolving customer demands across the world, which also permits them to maintain their brand name in the global market.
Root Canal Market – Segmentation
By Product
Instruments

Scalers
Apex Locators
Motors
Handpiece
Lasers
Machine Assisted Obturation Systems
Others

Consumables

Access Cavity Preparation
Endodontic Files
Burs
Drills
Lubricants
Irrigators
Others
By End User
Hospitals
Dental Clinics
Others
Root Canal Market– by Geography
North America
Mexico

Europe
France
Germany
Italy
UK
Spain
Rest of Europe

Asia Pacific (APAC)

China
India
South Korea
Japan
Australia
Rest of APAC

Middle East and Africa (MEA)

South Africa
Saudi Arabia
UAE
Rest of MEA

South and Central America (SCAM)

Brazil
Argentina
Rest of SCAM
Company Profiles
Coltene Group
Dentsply Sirona, Inc.
Envista Holdings Corporation
Brasseler USA
Diadent Group International
Ivoclar Vivadent Group
Mani, Inc.
3M
Septodont, Inc.
Ultradent Products, Inc.
Frequently Asked Questions