The seam welding machine market was valued US$ 1,142.87 million in 2022, it is estimated to grow at a CAGR of 4.0% from 2022 to 2028.
The expansion of the energy (wind power in particular), shipbuilding, and construction industries is generating huge demand for seam welding machines. In Asia Pacific, an increasing number of foreign direct investments have boosted the growth of oil & gas, aviation, and heavy machinery industries. Several foreign automobile companies have their manufacturing bases in developing economies, such as China and India. These trends have positively impacted the demand for seam welding equipment and consumables. Further, the growing demand for steel and other metal products in the shipbuilding and construction sectors is boosting the use of innovative seam welded steel, which fuels the seam welding machine market growth.
Several new technologies continue to emerge in automation and welding. New technologies such as digital control systems, welding management software, seam tracking systems, and gas control devices are expected to offer development in automated and semi automated seam welding machines. Technological advancements help companies address complex welding challenges to remain competitive in the industry. Automation technology in welding processes saves production costs and improves the efficiency of operations. Automated seam welding machines are easy to control and manage delivery of the product. They also reduce the product's production cycles, enabling rapid production and incorporating adaptive control systems in automated seam welding machines to help analyze welding data and make improvements and corrections based on the results. For example, welding robot's automatic seam detection can be done using deep learning solutions. In the U.S., MITUSA Inc. offers ERGO longitudinal seam welding designs for industrial applications.
Furthermore, the growing trend of collaborative welding systems in automation to compensate for the rising skilled labor shortage is projected to propel the demand for seam welding machines in the coming years. Collaborative welding systems are also growing in adoption as they are much more affordable than larger robotic systems.
Seam Welding Machine Market - Strategic Insights
Report Coverage - Seam Welding Machine Market
Report Coverage
Details
Market Size Value in
US$ 1,142.87 Million in 2022
Market Size Value by
US$ 1,444.41 Million by 2028
Growth rate
CAGR of 4.0% from 2022 to 2028
Forecast Period
2022-2028
Base Year
2022
No. of Pages
172
No. of Tables
83
No. of Charts & Figures
84
Historical data available
Yes
Segments covered
Mode, Operation, and Industry
Regional scope
North America, Europe, Asia Pacific, Middle East & Africa, South & Central America
Country scope
US, Canada, Mexico, UK, Germany, Spain, Italy, France, India, China, Japan, South Korea, Australia, UAE, Saudi Arabia, South Africa, Brazil, Argentina
Report coverage
Revenue forecast, company ranking, competitive landscape, growth factors, and trends
Free Sample Copy Available
Impact of COVID-19 Pandemic on North America Seam Welding Machine Market Growth
After the onset of the COVID-19 pandemic, many automotive component suppliers in China, Japan, and India alerted their OEM customers about possible irregularities in their ability to maintain supplies. In India, the lockdown caused an 88.0% decrease in commercial vehicle sales in April 2020, whereas, in China, there was an 80.0% decline in passenger vehicle sales in February 2020. Due to global supply chain disruptions, manufacturers and distributors faced difficulties replacing their inventory, equipment, or machinery. Importers and exporters of welding machines also found it challenging to bring in or deliver goods across international borders due to restrictions imposed on operations at ports and harbors, which are instrumental in the international exchange of goods. As a result, the COVID-19 pandemic hindered the growth of the seam welding machine market.
Lucrative Regions for Seam Welding Machine Market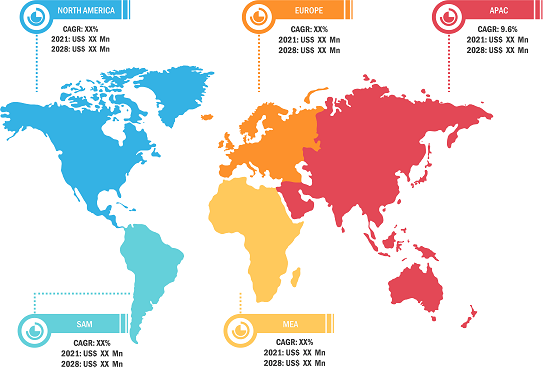 Get more information on this report :
Market Insights – Seam Welding Machine Market
Based on geography, the seam welding machine market is primarily segmented into North America, Europe, Asia Pacific (APAC), the Middle East & Africa (MEA), and South America (SAM). Asia Pacific is expected to account for the largest market share in 2022, and it is likely to retain its dominance during the forecast period. Further, the seam welding machine market in this region is expected to witness the highest CAGR during the forecast period.
Europe is expected to hold the second-largest share of the seam welding machine market in 2022, wherein Germany is expected to be the dominant contributor to the regional seam welding machine market. Europe is home to top automakers, including Mercedes, Volkswagen, Skoda, BMW, and Audi. According to the Policy Department for Economic, Scientific and Quality of Life Policies, the COVID-19 pandemic indirectly impacted over 1.1 million jobs due to the shutdown of automotive factories from March to May 2020. Moreover, vehicle sales plummeted across Europe in 2020, while original equipment manufacturers (OEMs) announced further delays in the reopening of their assembly plants. In addition to a drop in demand for passenger cars and LCVs, disruptions in raw material supply chains due to limitations on cross-border movements led to delays in the supply of equipment, such as welding machines. However, the COVID-19 pandemic and its repercussions encouraged manufacturing companies to digitize and automate their operations, which allowed them to revive their operations in late 2020. Such revival efforts by manufacturing companies are creating future growth opportunities for seam welding machine providers in Europe.
Operation-Based Insights – Seam Welding Machine Market
Based on operation, the seam welding machine market is segmented into manual, semiautomatic and automatic segment. The automatic segment accounted for the largest share of the seam welding machine market in 2021. The manual segment is projected to grow at a steady pace during the forecast period.
Players operating in the seam welding machine market are mainly focused on the development of advanced and efficient machines.
In 2022, Stealth, a global manufacturing expert in performance gear, launched a first-to-market, patented seam welding technology that removes the need for stitching. The technology results in warmer, tougher, and entirely durable seams for longer-lasting products that protect adventurers from the harshest elements.
In November 2019, Lincoln Electric launched the POWER MIG 360MP welder, a new MIG welding technology with an intuitive user interface and sophisticated welding functions. This equipment is suitable for light industrial applications, auto body repair and maintenance, and metal manufacturing.
Frequently Asked Questions