The aviation industry has been experiencing steady and significant growth since the beginning of the jet era in the 1950s. Stakeholders in the jet aviation industry continued to witness an increase in the requirement of newer aircraft models featuring greater carrying capacities and higher speeds with longer endurance. The aircraft engine and aerostructure manufacturers played the most vital role in the development of larger engines and lightweight materials to meet the evolving needs of customers. The fuel producers, on the other hand, have been consistent in the development of different types of jet fuels, including Jet A, Jet A1, Avgas, and Biofuel. These efforts of the stakeholders led the aviation industry to become a robust, multi-billion dollar business.
Traditional aviation fuels release enormous volumes of carbon dioxide. Therefore, in recent years, the aviation industry has started to emphasize the reduction of carbon footprint to adhere to the norms laid down by environmental organizations and government authorities. According to International Air Transport Association (IATA), the commercial aviation industry emits 2–3% of the globally produced carbon dioxide every year. The reduction of fuel intake yet delivering enhanced capabilities, development of electric aircraft, and modification in existing fuel-based engines are among the key strategies being adopted to reduce the carbon emission levels of aircraft models. Currently, several airlines, aircraft engine manufacturers, and aviation industry organizations are focusing on renewable aviation fuels, i.e., sustainable aviation fuel (SAF).
According to several sources from airlines, aircraft manufacturers, aircraft engine manufacturers, aviation industry experts, and fuel producers, SAF is expected to deliver an unparallel experience in reducing carbon footprints in a short time. Several airlines have been introducing SAF to their fleets and have witnessed a significant reduction in carbon emissions during the flights. A few of the essential facts sourced from the IATA concerning SAF are mentioned below:
Since 2016, SAF has been used in more than 37,000 flights.
SAF is capable of reducing carbon emissions of flights by 80% during their entire life cycle.
In 2021, SAF producers delivered ~100 million litre of fuel.
More than 45 airlines worldwide have experience operating their fleets with SAF in the current scenario
As of 2021, pre-purchase agreements of ~14 billion litre of SAF have been signed among the producers and airlines.
Seven technical pathways exist towards the development and feasibility of 100% SAF operated flights
Vast research is underway to ensure the viability of SAF on a full scale.
According to the International Civil Aviation Organization (ICAO), the sustainable aviation fuel market is currently in the nascent stage as more than 5,000 commercial airlines exist across the world, and only 45 out of them are experienced with this fuel type. However, with the increase in stringency of regulations about carbon emission levels, the adoption of SAF among other airlines is expected to rise massively in the coming years. According to various sources, the sustainable aviation fuel market is expected to increase at a rate of more than 55% over the next decade, as the electric aircraft models are expected to enter service post 2033.
The sustainable aviation fuel market encompasses different types of fuel, including biofuel, hydrogen fuel, and power-to-liquid fuel. Among these, the demand for biofuel is the highest, and it is also the most produced SAF in the current scenario. However, according to various industry experts, power-to-liquid is the most promising type of SAF, nonetheless, the type is in its infancy.
Various methods adopted by the sustainable aviation fuel market players for producing these fuel types include Hydroprocessed Fatty Acid Esters and Free Fatty Acid (HEFA-SPK); Fischer-Tropsch synthetic paraffinic kerosene (FT-SPK); FT-SPK/A; Hydroprocessing of Fermented Sugars – Synthetic Iso-Paraffinic Kerosene (HFS-SIP); and Alcohol-to-Jet Synthetic Paraffinic Kerosene (ATJ-SPK). The maximum blending ratio used in the HEFA-SPK and FT-SPK techniques is 50%. Thus, the fuel produced by these methods is high in demand.
SAF is being used on commercial airlines, military aircraft, and general aviation aircraft models. United Airlines, one of the commercial aviation industry giants, used SAF for the first time in the world in 2016, and since then, the airline has been using SAF on various models. In 2021, the airline signed an agreement with Alder Fuels to purchase 1.5 billion L of its SAF. Further, in 2016, US Navy conducted its MILSPEC certification activity on its Boeing EA-18G electronic attack aircraft with the ReadiJet SAF offered by Applied Research Associates, Inc. (ARA). As of now, several studies have been conducted on the use of SAF on military aircraft models. For instance, the UK ministry has laid down its strict regulations to use 50% SAF of military aircraft models such as F-35s, Typhoons, and Wildcat helicopters. The general aviation sector is still a niche market , Airbus is among the only aircraft manufacturers in the general aviation industry to introduce SAF . on its H225 helicopter in 2021,The H225 helicopter used Safran Makila 2 engine was used to introduce SAF. Further, in 2021, Rolls Royce completed its tests on the SAF-powered operation of Pearl 700 engines for use in business aviation aircraft models.
Several other recent developments in the sustainable aviation fuel market are as follows:
In 2021, United Airline operated its Boeing 737 MAX 8 jet with 100% SAF that flew from Chicago's O'Hare to Washington's Reagan National Airport with 115 individuals on board.
In 2021, Sikorsky executed its first flight with 100% SAF on its S-92 helicopter.
In 2021, Pratt & Whitney and Embraer partnered for a 100% sustainable aviation fuel flight demonstration.
In 2021, Airbus, Dassault Aviation, ONERA, the French Ministry of Transports, and Safran, collectively, launched the first in-flight study of a single-aisle aircraft running on unblended SAF. The fuel was supplied by Total Energies on one CFM-Leap1A engine. The study results are likely to be unveiled in 2022.
In 2021, Southwest Airlines and IAG (British Airways owner) agreed to purchase ~300 million gallons of SAF created by Velocys' Bayou Fuels from woody biomass.
As the demand for SAF continues to rise sharply, the sustainable aviation fuel market is witnessing a significant rise in the number of fuel producers. A few of the leading manufacturers of SAF include Shell, BP, Total Energies, Fulcrum BioEnergy, Alder Fuels, Neste, Zero Petroleum, Exxon Mobil Aviation, Gevo, Velocys' Bayou Fuels, Eni S.p.A., LanzaTech, Preem AB, and Gazprom Neft, among others.
REGIONAL FRAMEWORK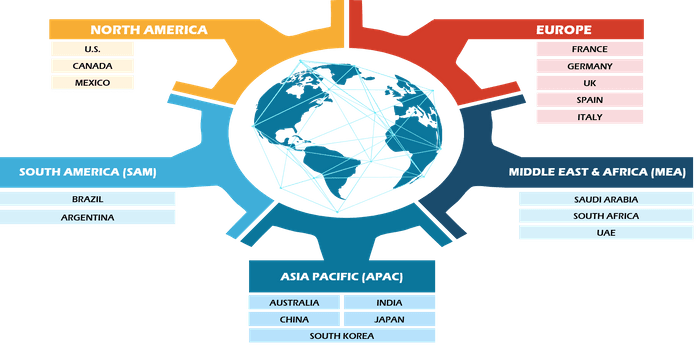 Have a question?

will walk you through a 15-minute call to present the report's content and answer all queries if you have any.

Speak to Analyst
Sample PDF showcases the content structure and the nature of the information with qualitative and quantitative analysis.
Request discounts available for Start-Ups & Universities
MARKET PLAYERS
Sample PDF showcases the content structure and the nature of the information with qualitative and quantitative analysis.
Request discounts available for Start-Ups & Universities

Report Coverage
Revenue forecast, Company Analysis, Industry landscape, Growth factors, and Trends

Segment Covered
This text is related
to segments covered.

Regional Scope
North America, Europe, Asia Pacific, Middle East & Africa, South & Central America

Country Scope
This text is related
to country scope.
Air BP
GEVO
ENI SpA
NESTE
SKYNRG
Fulcrum Bioenergy
Velocys Technologies Limited
Total Energies
Shell
World Energy
The Insight Partners performs research in 4 major stages: Data Collection & Secondary Research, Primary Research, Data Analysis and Data Triangulation & Final Review.
Data Collection and Secondary Research:
As a market research and consulting firm operating from a decade, we have published many reports and advised several clients across the globe. First step for any study will start with an assessment of currently available data and insights from existing reports. Further, historical and current market information is collected from Investor Presentations, Annual Reports, SEC Filings, etc., and other information related to company's performance and market positioning are gathered from Paid Databases (Factiva, Hoovers, and Reuters) and various other publications available in public domain.
Several associations trade associates, technical forums, institutes, societies and organizations are accessed to gain technical as well as market related insights through their publications such as research papers, blogs and press releases related to the studies are referred to get cues about the market. Further, white papers, journals, magazines, and other news articles published in the last 3 years are scrutinized and analyzed to understand the current market trends.
Primary Research:
The primarily interview analysis comprise of data obtained from industry participants interview and answers to survey questions gathered by in-house primary team.
For primary research, interviews are conducted with industry experts/CEOs/Marketing Managers/Sales Managers/VPs/Subject Matter Experts from both demand and supply side to get a 360-degree view of the market. The primary team conducts several interviews based on the complexity of the markets to understand the various market trends and dynamics which makes research more credible and precise.
A typical research interview fulfils the following functions:
Provides first-hand information on the market size, market trends, growth trends, competitive landscape, and outlook
Validates and strengthens in-house secondary research findings
Develops the analysis team's expertise and market understanding
Primary research involves email interactions and telephone interviews for each market, category, segment, and sub-segment across geographies. The participants who typically take part in such a process include, but are not limited to:
Industry participants: VPs, business development managers, market intelligence managers and national sales managers
Outside experts: Valuation experts, research analysts and key opinion leaders specializing in the electronics and semiconductor industry.
Below is the breakup of our primary respondents by company, designation, and region:

Once we receive the confirmation from primary research sources or primary respondents, we finalize the base year market estimation and forecast the data as per the macroeconomic and microeconomic factors assessed during data collection.
Data Analysis:
Once data is validated through both secondary as well as primary respondents, we finalize the market estimations by hypothesis formulation and factor analysis at regional and country level.
3.1 Macro-Economic Factor Analysis:
We analyse macroeconomic indicators such the gross domestic product (GDP), increase in the demand for goods and services across industries, technological advancement, regional economic growth, governmental policies, the influence of COVID-19, PEST analysis, and other aspects. This analysis aids in setting benchmarks for various nations/regions and approximating market splits. Additionally, the general trend of the aforementioned components aid in determining the market's development possibilities.
Various factors that are especially aligned to the country are taken into account to determine the market size for a certain area and country, including the presence of vendors, such as headquarters and offices, the country's GDP, demand patterns, and industry growth. To comprehend the market dynamics for the nation, a number of growth variables, inhibitors, application areas, and current market trends are researched. The aforementioned elements aid in determining the country's overall market's growth potential.
The "Table of Contents" is formulated by listing and analyzing more than 25 - 30 companies operating in the market ecosystem across geographies. However, we profile only 10 companies as a standard practice in our syndicate reports. These 10 companies comprise leading, emerging, and regional players. Nonetheless, our analysis is not restricted to the 10 listed companies, we also analyze other companies present in the market to develop a holistic view and understand the prevailing trends. The "Company Profiles" section in the report covers key facts, business description, products & services, financial information, SWOT analysis, and key developments. The financial information presented is extracted from the annual reports and official documents of the publicly listed companies. Upon collecting the information for the sections of respective companies, we verify them via various primary sources and then compile the data in respective company profiles. The company level information helps us in deriving the base number as well as in forecasting the market size.
3.4 Developing Base Number:
Aggregation of sales statistics (2020-2022) and macro-economic factor, and other secondary and primary research insights are utilized to arrive at base number and related market shares for 2022. The data gaps are identified in this step and relevant market data is analyzed, collected from paid primary interviews or databases. On finalizing the base year market size, forecasts are developed on the basis of macro-economic, industry and market growth factors and company level analysis.
Data Triangulation and Final Review:
The market findings and base year market size calculations are validated from supply as well as demand side. Demand side validations are based on macro-economic factor analysis and benchmarks for respective regions and countries. In case of supply side validations, revenues of major companies are estimated (in case not available) based on industry benchmark, approximate number of employees, product portfolio, and primary interviews revenues are gathered. Further revenue from target product/service segment is assessed to avoid overshooting of market statistics. In case of heavy deviations between supply and demand side values, all thes steps are repeated to achieve synchronization.
We follow an iterative model, wherein we share our research findings with Subject Matter Experts (SME's) and Key Opinion Leaders (KOLs) until consensus view of the market is not formulated – this model negates any drastic deviation in the opinions of experts. Only validated and universally acceptable research findings are quoted in our reports.
We have important check points that we use to validate our research findings – which we call – data triangulation, where we validate the information, we generate from secondary sources with primary interviews and then we re-validate with our internal data bases and Subject matter experts. This comprehensive model enables us to deliver high quality, reliable data in shortest possible time.