The aviation industry has been experiencing steady and significant growth since the beginning of the jet era in the 1950s. Stakeholders in the jet aviation industry continued to witness an increase in the requirement of newer aircraft models featuring greater carrying capacities and higher speeds with longer endurance. The aircraft engine and aerostructure manufacturers played the most vital role in the development of larger engines and lightweight materials to meet the evolving needs of customers. The fuel producers, on the other hand, have been consistent in the development of different types of jet fuels, including Jet A, Jet A1, Avgas, and Biofuel. These efforts of the stakeholders led the aviation industry to become a robust, multi-billion dollar business.
Traditional aviation fuels release enormous volumes of carbon dioxide. Therefore, in recent years, the aviation industry has started to emphasize the reduction of carbon footprint to adhere to the norms laid down by environmental organizations and government authorities. According to International Air Transport Association (IATA), the commercial aviation industry emits 2–3% of the globally produced carbon dioxide every year. The reduction of fuel intake yet delivering enhanced capabilities, development of electric aircraft, and modification in existing fuel-based engines are among the key strategies being adopted to reduce the carbon emission levels of aircraft models. Currently, several airlines, aircraft engine manufacturers, and aviation industry organizations are focusing on renewable aviation fuels, i.e., sustainable aviation fuel (SAF).
According to several sources from airlines, aircraft manufacturers, aircraft engine manufacturers, aviation industry experts, and fuel producers, SAF is expected to deliver an unparallel experience in reducing carbon footprints in a short time. Several airlines have been introducing SAF to their fleets and have witnessed a significant reduction in carbon emissions during the flights. A few of the essential facts sourced from the IATA concerning SAF are mentioned below:
Since 2016, SAF has been used in more than 37,000 flights.
SAF is capable of reducing carbon emissions of flights by 80% during their entire life cycle.
In 2021, SAF producers delivered ~100 million litre of fuel.
More than 45 airlines worldwide have experience operating their fleets with SAF in the current scenario
As of 2021, pre-purchase agreements of ~14 billion litre of SAF have been signed among the producers and airlines.
Seven technical pathways exist towards the development and feasibility of 100% SAF operated flights
Vast research is underway to ensure the viability of SAF on a full scale.
According to the International Civil Aviation Organization (ICAO), the sustainable aviation fuel market is currently in the nascent stage as more than 5,000 commercial airlines exist across the world, and only 45 out of them are experienced with this fuel type. However, with the increase in stringency of regulations about carbon emission levels, the adoption of SAF among other airlines is expected to rise massively in the coming years. According to various sources, the sustainable aviation fuel market is expected to increase at a rate of more than 55% over the next decade, as the electric aircraft models are expected to enter service post 2033.
The sustainable aviation fuel market encompasses different types of fuel, including biofuel, hydrogen fuel, and power-to-liquid fuel. Among these, the demand for biofuel is the highest, and it is also the most produced SAF in the current scenario. However, according to various industry experts, power-to-liquid is the most promising type of SAF, nonetheless, the type is in its infancy.
Various methods adopted by the sustainable aviation fuel market players for producing these fuel types include Hydroprocessed Fatty Acid Esters and Free Fatty Acid (HEFA-SPK); Fischer-Tropsch synthetic paraffinic kerosene (FT-SPK); FT-SPK/A; Hydroprocessing of Fermented Sugars – Synthetic Iso-Paraffinic Kerosene (HFS-SIP); and Alcohol-to-Jet Synthetic Paraffinic Kerosene (ATJ-SPK). The maximum blending ratio used in the HEFA-SPK and FT-SPK techniques is 50%. Thus, the fuel produced by these methods is high in demand.
SAF is being used on commercial airlines, military aircraft, and general aviation aircraft models. United Airlines, one of the commercial aviation industry giants, used SAF for the first time in the world in 2016, and since then, the airline has been using SAF on various models. In 2021, the airline signed an agreement with Alder Fuels to purchase 1.5 billion L of its SAF. Further, in 2016, US Navy conducted its MILSPEC certification activity on its Boeing EA-18G electronic attack aircraft with the ReadiJet SAF offered by Applied Research Associates, Inc. (ARA). As of now, several studies have been conducted on the use of SAF on military aircraft models. For instance, the UK ministry has laid down its strict regulations to use 50% SAF of military aircraft models such as F-35s, Typhoons, and Wildcat helicopters. The general aviation sector is still a niche market , Airbus is among the only aircraft manufacturers in the general aviation industry to introduce SAF . on its H225 helicopter in 2021,The H225 helicopter used Safran Makila 2 engine was used to introduce SAF. Further, in 2021, Rolls Royce completed its tests on the SAF-powered operation of Pearl 700 engines for use in business aviation aircraft models.
Several other recent developments in the sustainable aviation fuel market are as follows:
In 2021, United Airline operated its Boeing 737 MAX 8 jet with 100% SAF that flew from Chicago's O'Hare to Washington's Reagan National Airport with 115 individuals on board.
In 2021, Sikorsky executed its first flight with 100% SAF on its S-92 helicopter.
In 2021, Pratt & Whitney and Embraer partnered for a 100% sustainable aviation fuel flight demonstration.
In 2021, Airbus, Dassault Aviation, ONERA, the French Ministry of Transports, and Safran, collectively, launched the first in-flight study of a single-aisle aircraft running on unblended SAF. The fuel was supplied by Total Energies on one CFM-Leap1A engine. The study results are likely to be unveiled in 2022.
In 2021, Southwest Airlines and IAG (British Airways owner) agreed to purchase ~300 million gallons of SAF created by Velocys' Bayou Fuels from woody biomass.
As the demand for SAF continues to rise sharply, the sustainable aviation fuel market is witnessing a significant rise in the number of fuel producers. A few of the leading manufacturers of SAF include Shell, BP, Total Energies, Fulcrum BioEnergy, Alder Fuels, Neste, Zero Petroleum, Exxon Mobil Aviation, Gevo, Velocys' Bayou Fuels, Eni S.p.A., LanzaTech, Preem AB, and Gazprom Neft, among others.
REGIONAL FRAMEWORK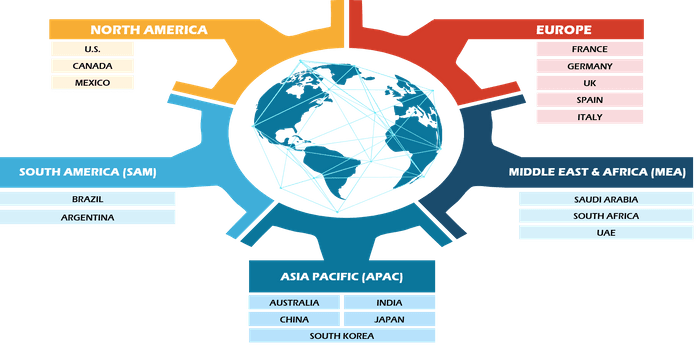 MARKET PLAYERS