The bioinformatics market is expected to grow from US$ 12,609.39 million in 2021 to US$ 34,749.78 million by 2028; it is estimated to grow at a CAGR of 15.7% from 2022 to 2028.
Bioinformatics, as associated with genetics and genomics, is a scientific subdiscipline involving computer technology to collect, store, analyze, and disseminate biological data and information, such as DNA and amino acid sequences or observations about those sequences. Bioinformatics is essential for the management of data in modern biology and medicine. Scientists and clinicians use databases that organize and guide biological information to increase the understanding of health and disease and, in certain cases, as part of medical care.
Bioinformatics Market - Strategic Insights
Report Coverage - Bioinformatics Market
Report Coverage
Details
Market Size Value in
US$ 12,609.39 Million in 2021
Market Size Value by
US$ 34,749.78 Million by 2028
Growth rate
CAGR of 15.7% from 2022 to 2028
Forecast Period
2022-2028
Base Year
2022
No. of Pages
206
No. of Tables
133
No. of Charts & Figures
81
Historical data available
Yes
Segments covered
Product, Application, and Sector
Regional scope
North America, Europe, Asia Pacific, Middle East & Africa, South & Central America
Country scope
US, Canada, Mexico, UK, Germany, Spain, Italy, France, India, China, Japan, South Korea, Australia, UAE, Saudi Arabia, South Africa, Brazil, Argentina
Report coverage
Revenue forecast, company ranking, competitive landscape, growth factors, and trends
Free Sample Copy Available
The bioinformatics market is segmented based on product, application, sector, and geography. By geography, the market is broadly segmented into North America, Europe, Asia Pacific, the Middle East & Africa, and South & Central America. This report offers insights and in-depth analysis of the market, emphasizing on parameters, such as market trends and dynamics, and the competitive analysis of the globally leading market players.
Lucrative Regions for Bioinformatics Market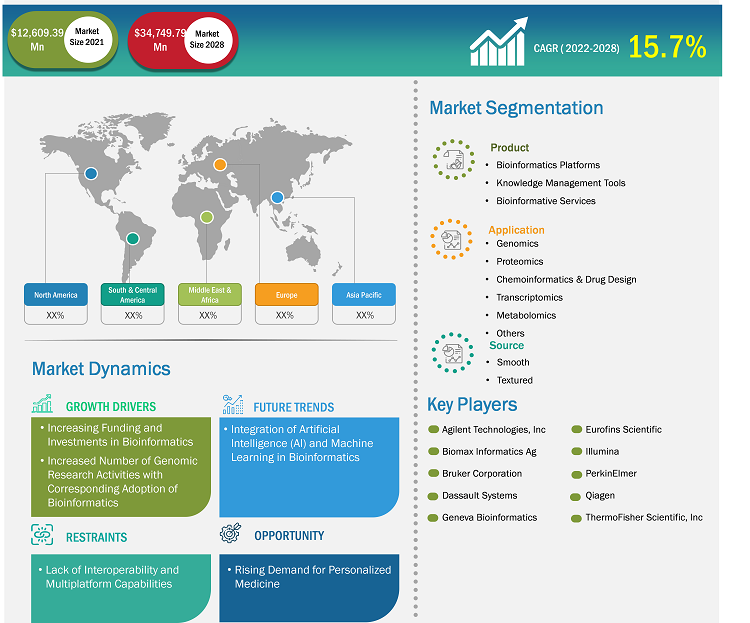 Get more information on this report :
Market Insights
Increasing Funding and Investments in Bioinformatics
Many private organizations and government bodies around the globe are progressively investing in the field of bioinformatics. These investments have largely resulted in data and technological advancements in bioinformatics services, which have developed the quality of bioinformatics services. For instance, in 2016, the European Molecular Biology Laboratory (EMBL), an intergovernmental organization and pioneer in bioinformatics research, received funds from various organizations such as British Heart Foundation, Biotechnology and Biological Sciences Research Council, European Molecular Biology Organization, Cancer Research UK, the European Research Council, the European Commission, the Foundation of the National Institutes of Health, Bill & Melinda Gates Foundation, the Human Frontier Science Program, International Policy Governance Organization, the Medical Research Council, the National Institutes of Health, National Science Foundation, Parkinson's UK, Research Councils UK, and Wellcome, for R&D in the field of bioinformatics.
In 2021, the US government announced an investment worth US$ 1.7 billion to enhance monitoring, detection, and mitigation of SARS-CoV-2 variants and infrastructure development for future genomic sequencing needs. Also, in 2021, LifeArc (London) announced US$ 6.91 million in funding to support the Gen OMICC COVID-19 study, which will also support the bioinformatics analysis of patients, costs of patient enrolment, sample acquisition, and sample processing. Moreover, many countries are investing in their national population sequencing programs to identify the link between genetics and diseases. Government organizations are sequencing the genomes of millions of citizens to advance research and help develop better techniques to diagnose and treat cancer, rare diseases, and other conditions. Thus, the funding and investment in bioinformatics are boosting the market growth.
Bioinformatics Market - Product Insights
Based on product, the bioinformatics market is segmented into bioinformatics platforms, knowledge management tools, and bioinformative services. The bioinformatics platforms segment holds the largest market share in 2021. The knowledge management tools segment is anticipated to register the highest CAGR during the forecast period. The bioinformatics platform helps generate massive patient information datasets, mapping their entire genome—as opposed to a single panel of DNA to provide improved diagnosis and more targeted and effective treatments. The rapid development of next-generation sequencing technology has dramatically increased the amount of available microbial genomes, boosting bioinformatics platforms' adoption.
Bioinformatics Market, by Product – 2022 and 2028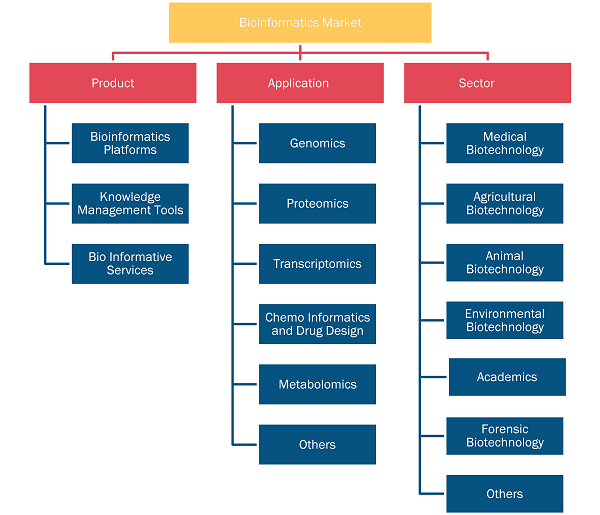 Get more information on this report :
Bioinformatics Market - Application Insights
Based on application, the bioinformatics market is segmented into genomics, proteomics, chemoinformatics & drug design, transcriptomics, metabolomics, and others. The genomics segment holds the largest market share in 2021. Furthermore, the chemoinformatics & drug design segment is expected to record a fastest CAGR from 2022 to 2028. Genetics is currently one of the most dynamic sciences in medicine, and genetic data plays a vital role in all areas of medicine. The data generated by genomics is probably analyzed by the same methods used by physicists and engineers who study financial markets and fiber optics but analyzing the data in a way that makes sense requires knowledge of biology. Thus, bioinformatics became an invaluable hybrid field of knowledge.
Bioinformatics Market - Sector Insights
Based on sector, the bioinformatics market is segmented into medical biotechnology, animal biotechnology, agricultural biotechnology, academics, environmental biotechnology, forensic biotechnology, and others. in 2021, the medical biotechnology segment holds the largest market share. Furthermore, the same segment is expected to register the highest CAGR from 2022 to 2028. Medical bioinformatics improves the efficacy of sequencing procedures and aids in the elimination of errors that can occur with standard sequencing methods. Agrigenomics, human diseases, animal livestock, and microbes all benefit from these services.
Inorganic developments such as mergers and acquisitions are highly adopted strategies by companies in the bioinformatics market. A few of the recent key market developments are listed below:
In January 2022, Thermo Fisher completed the acquisition of PeproTech on December 30, 2021, for a total cash purchase price of approximately US$ 1.85 billion. PeproTech is a privately held provider of bioscience reagents known as recombinant proteins, including cytokines and growth factors. Recombinant proteins are used in the development and manufacturing of cell and gene therapies, as well as in broader cell culture applications, especially for use in cellular research models.
In May 2022, Bruker Corporation and TOFWERK AG announced a strategic partnership for high-speed, ultra-sensitive applied and industrial analytical solutions, in conjunction with a Bruker minority investment in TOFWERK. The partnership provides a basis for technology collaborations to advance instrument capabilities and for the development of novel analytical applications where high speed and ultra-sensitivity matter.
Bioinformatics Market - Company Profiles
Agilent Technologies, Inc.
Biomax Informatics Ag
Bruker Corporation
Dassault Systems
Eurofins Scientific
Geneva Bioinformatics
Illumina
Perkinelmer
Qiagen
Thermofisher Scientific, Inc.
Frequently Asked Questions