[Resesarch Report] The digital signature market size is expected to grow from US$ 5.25 billion in 2022 to US$ 40.23 billion by 2030. The digital signature market is estimated to grow at a CAGR of 29.0% from 2022 to 2030.
Analyst Perspective:
The digital signature market has witnessed significant growth in recent years, driven by technological advancements and the huge adoption of e-signatures among various end users such as BFSI, E/M-Commerce, Healthcare, Defense, Information Technology (IT) and others, driving the digital signature market growth. Rising Digitization and an increasing need for paperless processes using e-signatures are anticipated to drive the digital signature market growth over the forecast period. Moreover, the rapid adoption of digital signatures by regulatory bodies and governments globally is influencing various businesses to adopt e-signatures in a big way. Furthermore, the integration of digital signatures into cloud-based solutions such as document management systems, electronic signature platforms, contract management software, and workflow automation tools is rapidly gaining popularity to eliminate the need for physical paperwork, which can be time-consuming and error-prone, is providing lucrative growth opportunities for the digital signature market growth.
Digital signatures have gained widespread acceptance in recent years as the world becomes increasingly mobile-centric. With the surge in the adoption of smartphone devices, more and more business professionals are using smartphones to conduct their daily tasks. This has increased demand for electronic signature solutions that can be easily accessed and used on mobile devices, regardless of the operating system.
Digital Signature Market Overview:
As the digital world advances at an unprecedented rate, traditional practices are being continuously replaced by digital solutions. Digital signatures are a type of electronic signature used to verify the authenticity and integrity of digital documents or messages. A digital signature is developed using a mathematical algorithm that generates a unique code named a digital signature attached to the document or message. This unique code can only be generated by the owner of the signature and cannot be forged or tampered with by anyone else. Digital signatures are commonly used in electronic transactions, such as e-commerce, online banking, and electronic contracts. Digital signatures provide a secure and efficient way to authenticate the identity of users involved in the transaction and ensure the integrity of the documents or messages.
Digital signatures offer a range of benefits for users. Digital signatures authenticate the user's identity in the transaction, ensuring that the transaction is legitimate. Digital signatures ensure the transaction's security, making it difficult for hackers or other parties to intercept or tamper with the transaction. In addition, digital signatures offer a secure, efficient, and cost-effective way of conducting various transactions while ensuring that the transaction is authentic and secure.
Digital signatures are increasingly used in e-commerce transactions, where speed and security are crucial, and are recognized as a legally binding method of signing documents in many countries. Digital signatures are also widely used to provide proof of authenticity, data integrity and nonrepudiation of communications and transactions conducted over the Internet. There are three different classes of digital signature certificates (DSCs) as follows: Class 1, Class 2, and Class 3. Class 1 signatures provide a basic level of security and are used in environments with a low risk of data compromise. Class 2 digital signatures are used in environments with moderate data compromise risks and consequences. Class 3 digital signatures are used for e-auctions, e-tendering, e-ticketing and court filings, and in other environments where threats to data or the consequences of a security failure are high.
Strategic Insights
Digital Signature Market Driver:
Growing Adoption of e-signatures in the E-Commerce Industry to Drive Growth of the Digital Signature Market
The E-commerce industry has revolutionized how people buy and sell goods and services. Online transactions have become more common worldwide, with billions of people using e-commerce platforms to purchase goods and services. However, this increasing use of online transactions raises concerns about security and authenticity. In such a scenario, digital signatures play a crucial role. Digital signatures ensure the authenticity and integrity of electronic documents and transactions. They are essentially electronic versions of a handwritten signature used to verify the signer's identity and ensure that the document has not been tampered with.
Furthermore, e-commerce has evolved substantially in recent years as it plays a prominent role in how consumers and businesses shop. For instance, according to Adobe, there are more than 26 million e-commerce websites globally. Approximately 2.64 billion consumers have completed at least one purchase online in 2023. Similarly, more than 2.6 billion consumers currently engage in e-commerce transactions. Such huge growth in the e-commerce industry increases the demand for digital signatures to protect online transactions' privacy, integrity, and authenticity and drives the digital signature market growth.
In addition to technological advancements, the future of digital signatures is also likely to be shaped by regulatory changes. Governments are increasingly recognizing the legal validity of digital signatures, and regulations are evolving to support their adoption in various situations, providing greater legal certainty and ensuring that digital signatures are recognized and enforceable in a wider range of contexts. For instance, more than 35 states of the US authorized remote online notarial services. Several Australian states have authorized broader applications of remote electronic witnessing. Due to such instances, digital signatures are gaining legal validation in financial institutes' workflow execution. Furthermore, the growing trend of remote work and the need for businesses to continue operations during the COVID-19 pandemic provided greater convenience for individuals and businesses while ensuring that the integrity of the signing process is maintained through trusted identities. All such factors contributed to the digital signatures market growth.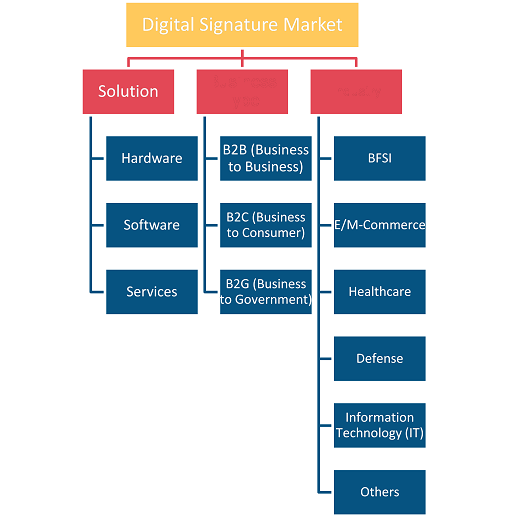 Digital Signature Market Segmental Analysis:
The digital signature market is segmented into hardware, software, and services based on the solution. A digital signature hardware is a hardware security module (HSM) that includes a piece of physical computing device developed specifically for carrying out cryptographic operations (such as generating keys, encrypting and decrypting data, creating and verifying digital signatures and managing the encryption keys related to those operations. In addition, they can be utilized to enforce access controls and security regulations strongly. HSMs are frequently referred to as roots of trust to safeguard extremely important and sensitive keys and assets. This indicates that the infrastructure of applications, users, and systems with access to the HSM may rely on the high integrity of the keys and other cryptographic information it receives from the HSM. HSMs offer a secure environment crucial for creating and safeguarding the cryptographic keys used to secure and validate sensitive data, which is used in digital signing and electronic signature authentication. As a result, various organizations employ hardware security modules (HSMs) to safeguard the private keys used in secure Digital signatures.
Digital Signature Market Regional Analysis:
The North American digital signature Market was valued at US$ XX billion in 2022 and is projected to reach US$ XX billion by 2030; it is expected to grow at a CAGR of XX% during the forecast period. North America holds one of the largest global digital signature Market shares. High technology adoption trends in various industries in the North American region have fueled North America's digital signature market growth. Furthermore, the rise of e-commerce and increased government backing are some of the factors driving the digital signature market in North America. The digital signature is legal in every US state and territory and is being increasingly used. In addition, the US has the presence of a large number of digital signature market players who have been increasingly focusing on the development of innovative solutions. Some of the key players in the digital signature market are. These digital signature market players have been witnessing constant demand from consumers. All these factors contribute to the growth of the digital signature Market in the US.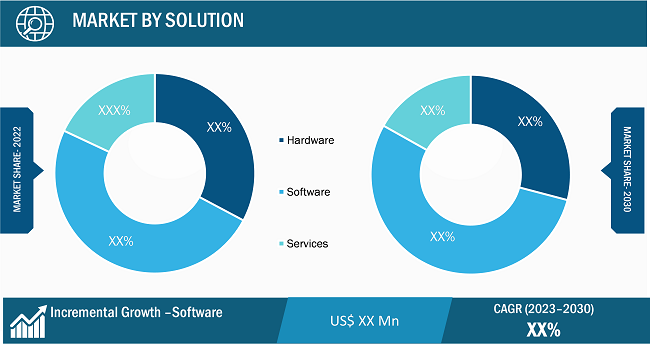 Digital Signature Market Key Player Analysis:
The digital signature Market analysis consists of players such as Adobe Systems Inc.; Ascertia Limited; Citrix Systems. Inc; Entrust Datacard Corporation; Gemalto, Inc (Thales Group); Identrust, Inc; Kofax Inc; Microsoft Corporation; Oracle Corporation.; Topaz Systems, Inc., among others, are the key digital signature Market players profiled in the report.
Digital Signature Market Recent Developments:
Inorganic and organic strategies such as mergers and acquisitions are highly adopted by companies in the digital signature Market. A few recent key digital signature market developments are listed below:
In July 2023, DocuSign announced the launch of its enhanced identity verification offering, Liveness Detection for ID Verification. Part of DocuSign's Identify portfolio, this new feature uses artificial intelligence (AI)-enabled biometric checks to confirm signers are who they say they are. Developed in partnership with Onfido, the new feature is tightly integrated with DocuSign's popular eSignature workflow, eliminating the need for users to use multiple platforms to complete secure agreements.
In January 2023, TechnoBind and DocuSign announced a partnership to offer the best e-signature technology in India. This partnership helped TechnoBind's partners to leverage the market opportunity in India's journey of Digitization.
In July 2023, The U.S. National Institute of Standards and Technology selected an algorithm co-developed by Thales as a post-quantum cryptography standard for digital signatures, specifically for its ability to withstand future attacks from quantum computers. The algorithm will be included in the post-quantum cryptography standards NIST will define in the next two years. This will further help to flourish digital signature market growth.
In September 2022, Adobe announced the launch of an important new feature called the Digital Identity Gateway (DIG). The DIG allows organizations to deploy a wide variety of pre-configured third-party digital identity providers (IDP) in their signing workflows to get agreements signed as quickly and safely as possible while managing risk and protecting their organization.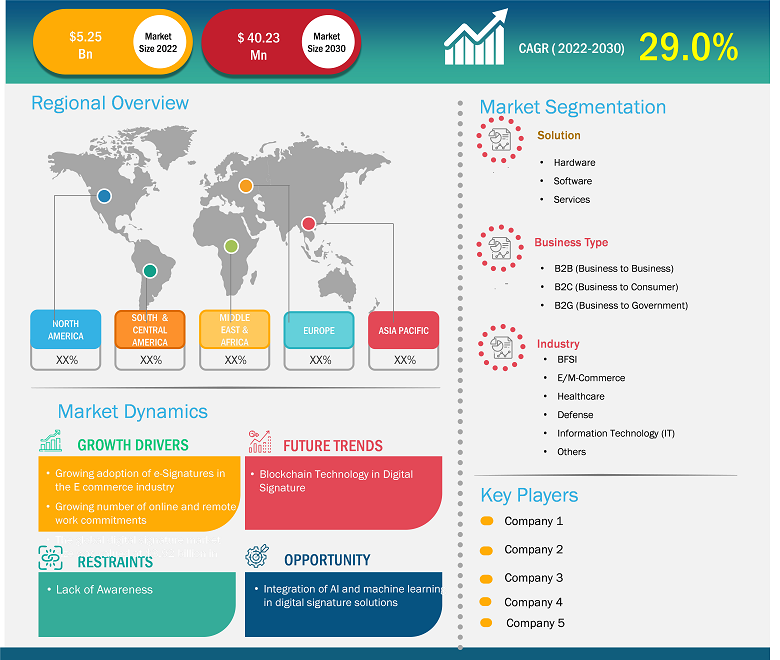 Sample PDF showcases the content structure and the nature of the information with qualitative and quantitative analysis.
Request discounts available for Start-Ups & Universities
REGIONAL FRAMEWORK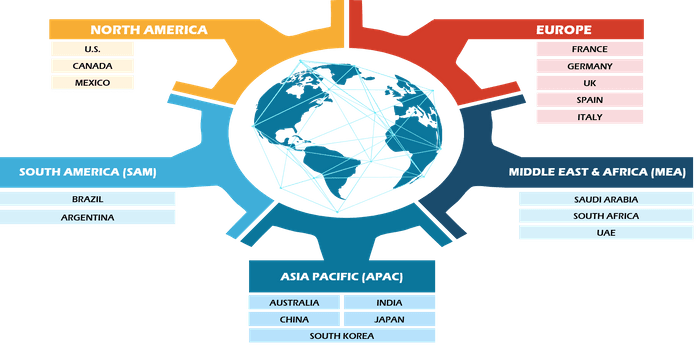 Have a question?

will walk you through a 15-minute call to present the report's content and answer all queries if you have any.

Speak to Analyst
Sample PDF showcases the content structure and the nature of the information with qualitative and quantitative analysis.
Request discounts available for Start-Ups & Universities
MARKET PLAYERS
Sample PDF showcases the content structure and the nature of the information with qualitative and quantitative analysis.
Request discounts available for Start-Ups & Universities

Report Coverage
Revenue forecast, Company Analysis, Industry landscape, Growth factors, and Trends

Segment Covered
Solution, Business Type, Industry, and Geography

Regional Scope
North America, Europe, Asia Pacific, Middle East & Africa, South & Central America

Country Scope
This text is related
to country scope.
The List of Companies

1. ADOBE SYSTEMS INC.
2. ALANKIT LIMITED.
3. CITRIX SYSTEMS, INC.
4. DOCUSIGN INC.
5. Gemalto Inc. (THALES GROUP)
6. GLOBALSIGN
7. HelloSign
8. Multicert
9. ONESPAN INC.
10. ZOHO CORPORATION PVT. LTD.
The Insight Partners performs research in 4 major stages: Data Collection & Secondary Research, Primary Research, Data Analysis and Data Triangulation & Final Review.
Data Collection and Secondary Research:
As a market research and consulting firm operating from a decade, we have published many reports and advised several clients across the globe. First step for any study will start with an assessment of currently available data and insights from existing reports. Further, historical and current market information is collected from Investor Presentations, Annual Reports, SEC Filings, etc., and other information related to company's performance and market positioning are gathered from Paid Databases (Factiva, Hoovers, and Reuters) and various other publications available in public domain.
Several associations trade associates, technical forums, institutes, societies and organizations are accessed to gain technical as well as market related insights through their publications such as research papers, blogs and press releases related to the studies are referred to get cues about the market. Further, white papers, journals, magazines, and other news articles published in the last 3 years are scrutinized and analyzed to understand the current market trends.
Primary Research:
The primarily interview analysis comprise of data obtained from industry participants interview and answers to survey questions gathered by in-house primary team.
For primary research, interviews are conducted with industry experts/CEOs/Marketing Managers/Sales Managers/VPs/Subject Matter Experts from both demand and supply side to get a 360-degree view of the market. The primary team conducts several interviews based on the complexity of the markets to understand the various market trends and dynamics which makes research more credible and precise.
A typical research interview fulfils the following functions:
Provides first-hand information on the market size, market trends, growth trends, competitive landscape, and outlook
Validates and strengthens in-house secondary research findings
Develops the analysis team's expertise and market understanding
Primary research involves email interactions and telephone interviews for each market, category, segment, and sub-segment across geographies. The participants who typically take part in such a process include, but are not limited to:
Industry participants: VPs, business development managers, market intelligence managers and national sales managers
Outside experts: Valuation experts, research analysts and key opinion leaders specializing in the electronics and semiconductor industry.
Below is the breakup of our primary respondents by company, designation, and region:

Once we receive the confirmation from primary research sources or primary respondents, we finalize the base year market estimation and forecast the data as per the macroeconomic and microeconomic factors assessed during data collection.
Data Analysis:
Once data is validated through both secondary as well as primary respondents, we finalize the market estimations by hypothesis formulation and factor analysis at regional and country level.
3.1 Macro-Economic Factor Analysis:
We analyse macroeconomic indicators such the gross domestic product (GDP), increase in the demand for goods and services across industries, technological advancement, regional economic growth, governmental policies, the influence of COVID-19, PEST analysis, and other aspects. This analysis aids in setting benchmarks for various nations/regions and approximating market splits. Additionally, the general trend of the aforementioned components aid in determining the market's development possibilities.
Various factors that are especially aligned to the country are taken into account to determine the market size for a certain area and country, including the presence of vendors, such as headquarters and offices, the country's GDP, demand patterns, and industry growth. To comprehend the market dynamics for the nation, a number of growth variables, inhibitors, application areas, and current market trends are researched. The aforementioned elements aid in determining the country's overall market's growth potential.
The "Table of Contents" is formulated by listing and analyzing more than 25 - 30 companies operating in the market ecosystem across geographies. However, we profile only 10 companies as a standard practice in our syndicate reports. These 10 companies comprise leading, emerging, and regional players. Nonetheless, our analysis is not restricted to the 10 listed companies, we also analyze other companies present in the market to develop a holistic view and understand the prevailing trends. The "Company Profiles" section in the report covers key facts, business description, products & services, financial information, SWOT analysis, and key developments. The financial information presented is extracted from the annual reports and official documents of the publicly listed companies. Upon collecting the information for the sections of respective companies, we verify them via various primary sources and then compile the data in respective company profiles. The company level information helps us in deriving the base number as well as in forecasting the market size.
3.4 Developing Base Number:
Aggregation of sales statistics (2020-2022) and macro-economic factor, and other secondary and primary research insights are utilized to arrive at base number and related market shares for 2022. The data gaps are identified in this step and relevant market data is analyzed, collected from paid primary interviews or databases. On finalizing the base year market size, forecasts are developed on the basis of macro-economic, industry and market growth factors and company level analysis.
Data Triangulation and Final Review:
The market findings and base year market size calculations are validated from supply as well as demand side. Demand side validations are based on macro-economic factor analysis and benchmarks for respective regions and countries. In case of supply side validations, revenues of major companies are estimated (in case not available) based on industry benchmark, approximate number of employees, product portfolio, and primary interviews revenues are gathered. Further revenue from target product/service segment is assessed to avoid overshooting of market statistics. In case of heavy deviations between supply and demand side values, all thes steps are repeated to achieve synchronization.
We follow an iterative model, wherein we share our research findings with Subject Matter Experts (SME's) and Key Opinion Leaders (KOLs) until consensus view of the market is not formulated – this model negates any drastic deviation in the opinions of experts. Only validated and universally acceptable research findings are quoted in our reports.
We have important check points that we use to validate our research findings – which we call – data triangulation, where we validate the information, we generate from secondary sources with primary interviews and then we re-validate with our internal data bases and Subject matter experts. This comprehensive model enables us to deliver high quality, reliable data in shortest possible time.