The global robotic process automation market generated US$ 431.9 million in 2017 and is anticipated to account for US$ 11,792.8 million by 2025, expanding at a CAGR of 50.9% during 2018–2025.
The increased opportunities at the early stage within the BPO and shared services, cost benefits offered by RPA, and the product innovation by technology providers attracting myriad end-user industries are the key parameters accelerating the global robotic process automation market growth. Contrastingly, frequent alterations in operating procedures and business rules and lack of impactful potential for small & medium businesses (SMBs) hurdles the market expansion.
Robotic process automation distinguishes itself from traditional IT automation by its ability to capture and interpret specific processes in existing software applications. It can manipulate data, trigger responses, initiate new actions and communicate with other systems autonomously. Large and small enterprises have been able to reap benefits from RPA by expediting all back-office and middle-office tasks across insurance, finance, procurement, supply chain management (SCM), accounting, customer relationship management (CRM), and human resource.
Regionally, North America dominated the global robotic process automation market in 2017 with amassing the optimal revenue share and is anticipated to retain its lead till 2025 with substantial growth. Meanwhile, the Asia Pacific (APAC) is rising rapidly with the highest CAGR throughout the forecast period.
Future Trends
Advanced Capabilities in Automated Processes
The global robotic process automation market is anticipated to step into the new category of software vendors developing advanced analytics and data mining capabilities. The scope of automation is likely to increase across more multifaceted processes with variable degree of unstructured data/content including freeform emails. The robotic process automation market in future will experience a shift towards smart process automation to deliver optimal ROI to the enterprises. Eventually, the business processes would turn smarter in terms of data handling and decision making, enabling the enterprises to take noteworthy strides in the automation of business-oriented processes.
Drivers
Increased Opportunities at the Early Stage Within BPO & Shared Services
Robotics and automation are disruptively transforming the way businesses function. More than half of the business process outsourcing (BPO) service providers worldwide are engaged into mere replication of client processes at reduced costs. Even the end-clients are also considering automation of processes while selecting BPO service providers. These BPO services have attained significant improvisations in their productivity levels and noteworthy gains in financial statistics. Implementation of RPA at an early stage helped them foresee growth opportunities, reduce debts and evade unwanted costs. In the year 2014, UiPath and Capgemini worked on advanced RPA technology for cost reductions. In coming years, more BPO, shared services, and captive operation initiatives are expected to adopt RPA services to negate human interventions. Such refurbished business model of BPOs incorporating RPA assistance is speculated to fuel the global robotic process automation market growth.
Cost Benefits Offered by RPA
The robotic process automation offers in-source and off-shore managed services, enabling enterprises to exercise control over processes without any surplus cost. RPA deployment provides robust return on investment (ROI) that primarily lures the businesses. Predicting the operational costs, refining overall management, and deploying the staff on higher and strategic value roles becomes easier. As RPA is gradually shifting to mainstream, several organizations worldwide find it comfortable to transition from traditional incumbent services to modern automated operations. The burgeoning pressure on enterprises to sustain profitability, tackle regulatory issues, and manage increasing offshoring cost compel them to invest in profitable RPA driven deals.
Restraints
Frequent Alterations in Operating Procedures and Business Rules
The effectiveness of RPA gets hampered when the incidences of alterations in business regulations occur frequently.In the processes where alteration of rules is a regular practice, the tedious task of reprogramming the robots and re-work to integrate the changes increases. Also, the cost of coding, testing, and redeploying the robots in line pose challenges. Overall, the efficiency and productivity get hampered, often requiring human intervention to manage exclusions and robot reprograms.
Strategic Insights
Report Coverage - Global Robotic Process Automation (RPA) Market

| Report Coverage | Details |
| --- | --- |
| Market Size Value in | US$ 431.9 million in 2017 |
| Market Size Value by | US$ 11,792.8 million by 2025 |
| Growth rate | CAGR of 50.9% from 2017 to 2025. |
| Forecast Period | 2017-2025 |
| Base Year | 2017 |
| No. of Pages | 147 |
| No. of Tables | 19 |
| No. of Charts & Figures | 75 |
| Historical data available | Yes |
| Segments covered | Component, Service, and Verticals |
| Regional scope | North America, Europe, Asia Pacific, Middle East & Africa, South & Central America |
| Country scope | US, Canada, Mexico, UK, Germany, Spain, Italy, France, India, China, Japan, South Korea, Australia, UAE, Saudi Arabia, South Africa, Brazil, Argentina |
| Report coverage | Revenue forecast, company ranking, competitive landscape, growth factors, and trends |
| Free Sample Copy Available | |
Lack of Impactful Potential for SMBs
In the past few years, large enterprises reaped remarkable returns and full time equivalent (FTE) cost saving facilitated by RPA solutions. However, the small and medium businesses in the robotic process automation market lack the similar impacts. This is primarily because the RPA vendors give limited or negligible attention to the enterprises operating in niche market having less global exposure and system connectivity. Most SMBs worldwide, lack the understanding of RPA implementation. They face the common pitfalls such as poor work responsibilities, lack of IT ownership, processes with insignificant business impacts, scalability and maintenance issues post implementation. These curtailing factors prevalent in small and medium enterprises impede the global robotic process automation market growth.
Market Segmentation
By Component
Utility in Software Implementation Catalyzed the Segmental Growth
The global robotic process automation market, by component, is split into software and services. The latter occupied the largest market share in 2017 and is likely to retain its dominance over the forecast period. The exclusive services offered by RPA providers play a vital role in software implementation. The robotic process automation market comprises training, knowledge, and professional services. The training services emphasize skill enhancement of the organizations whereas, the professional ones include consulting, integration & development, and support & maintenance. However, it is observed that in the next few years, the professional services would outrun the training services reign over the RPA services market.
The software segment follows services in terms of market position. The RPA software facilitates improved data security, business efficiency, and automating business processes without hampering the on-going system and infrastructure. Software constitutes a variety of components and tools for capturing digital data, image recognition, and screen scraping. It is particularly useful for the organizations that have different complicated systems interacting together. The RPA software has slightly matured over the past decade, and are now implemented across several industries for addressing the business process complexities.
By End-User
Large-Scale Deployment in Systems Fueled the Segmental growth
According to the end-user, the global robotic process automation market is segmented into BFSI, retail, telecommunication, manufacturing, transportation & logistics, and others. In 2017, the telecommunication segment led the robotic process automation market with optimal revenue share. With the adoption of RPA, the telecom industry enables the companies to exercise huge data handling, develop new and advanced services, cost curtailing, and enhance business productivity. RPA facilitates the management of back-office responsibilities and large data volumes of monotonous and rule-based operational processes. In telecom industry, the RPA is deployed in business support systems (BSS) and operation support systems (OSS).
The BFSI segment is likely to dominate the robotic process automation market by 2025. It houses the financial bodies operating large volumes of data. To maintain the quality of various products and services, BFSI is adopting reliable process automated systems. The RPA adoption in BFSI facilitates rule-based decisions with minimum variance, high volume work, less manual processes, and error elimination. RPA in banking offers ATM testing by automating the account transactions and sweep operations. In insurance industry, RPA allows to handle the collection of claims document, policyholder records, and other endorsing data.
Regional Insights
Geographically, the global robotic process automation market is segmented into North America, Europe, Asia Pacific (APAC), South America (SAM), and Middle East & Africa (MEA).
North America housed the largest robotic process automation market share in 2017 and is projected to continue leading till 2025. The demand for efficient systems and the presence of silicon-valley are among the prominent reasons leading to the rapid advancement of automation industry in North America. The BFSI organizations in the region have been increasingly deploying RPA software since 2010 for business process improvement. Besides, the evolution of novel manufacturing units and factories in the suburbs of North America stoked the demand for several back and front-end process automation including stock merchandising, inventory management, economic order amount management, and commercial documentation.
The European robotic process automation market has been witnessing a tremendous growth due to increasing demand for efficient business process automations and intelligent process handling. Apart from BFSI, the healthcare and logistics sector in Europe are propelling the demand for RPA in processes. Also, the warehouses in automotive industry are equipped with automated robots with machine vision systems performing various tasks such as inspection, verification, reading character blocks on engine, and others.
Lucrative Regions for Robotic Process Automation Market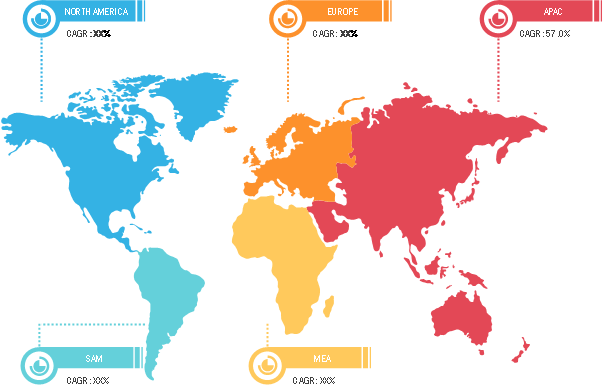 Get more information on this report :
Key Market Players:
Blue Prism Group Plc. (UK)
WorkFusion (US)
UiPath (US)
Thoughtonomy Ltd (UK)
Nice Systems Ltd (US)
Automation Anywhere Inc (US)
Softomotive (UK)
Pegasystems Inc (US)
Redwood Software (Netherlands)
Kryon Systems (Israel)
Key Developments:
March 2018:

Blue Prism Group collaborated with Fujitsu Limited to deliver RPA offering to the clients worldwide and to entrench and operate company's RPA-related activities.

January 2018:

WorkFusion partnered with IBA Group to develop smart application for email processing in RPA solutions for assisting customer support centers.

November 2017:

UiPath collaborated with Celonis to enable customers screen and visualize their processes automatically in the areas with significant automation potential, and eventually create and implement RPA in a structured and accelerated fashion.

April 2018:

Thoughtonomy released fully inclusive advanced AI functionality within its SaaS platform for its iteration of thoughtonomy virtual workforce.
Report Coverage
The global robotic process automation market research report provides detailed insights into the market in terms of size, share, trends, and forecasts. It delivers crisp and precise know-how of drivers, restraints, opportunities, segments, and industrial landscape. A list of key market players with their respective developments in recent years has been reserved as a special mention.