The black truffles market size is projected to grow from US$ 295.7 million in 2022 to US$ 496.6 million by 2028; it is expected to grow at a CAGR of 9.0% from 2022 to 2028.
Black truffles (Tuber melanosporum), also known as the Perigord truffle or black winter truffle, are found in the wild throughout Europe from November through February, though the season can vary slightly. Recently, black winter truffles have been successfully cultivated in Australia and New Zealand. Black truffles are ectomycorrhizal fungi, so they are usually found in close association with tree roots. Black truffles are majorly used in Italian and French cuisine. Black truffles have unique flavors and aromas. The taste of black truffle has earthy notes with a hint of mint, pepper, and hazelnut. Black truffles are preferred by many gourmets due to their unique flavor profile. Often, chefs call black truffle the "Diamond of the Kitchen."
Impact of COVID-19 Pandemic on Black Truffles Market
In 2020, various industries had to slow down their operations due to disruptions in value and supply chains caused by the shutdown of national and international boundaries. The COVID-19 pandemic adversely affected economies and industries due to lockdowns, travel bans, and business shutdowns. Disruptions in the supply chains of key raw materials and irregularities in manufacturing processes due to restrictions imposed by government authorities had a direct impact on the food & beverages industry. These factors negatively impacted the black truffles market during the COVID-19 pandemic. However, in 2021, the marketplace witnessed a positive recovery as the governments announced the relaxation of previously imposed restrictions. The manufacturers were permitted to work at full capacity, leveraging their profitability. This factor is expected to drive the market in the coming years.
Strategic Insights
Report Coverage - Black Truffles Market
Report Coverage
Details
Market Size Value in
US$ 295.7 million in 2022
Market Size Value by
US$ 496.6 million by 2028
Growth rate
CAGR of 9.0% from 2022 to 2028
Forecast Period
2022-2028
Base Year
2022
No. of Pages
167
No. of Tables
85
No. of Charts & Figures
79
Historical data available
Yes
Segments covered
Category, Application, and End Use
Free Sample Copy Available
Market Insights
Product Innovation Initiatives by End Users
Black truffle manufacturers are significantly investing in research & developments, partnerships, and collaborations to launch innovative products to attract a large consumer base. Food and beverage vendors are launching new truffle-based products, such as sauces and oils, that lead to the consumption of black truffles in the global market. In 2018, deRosario, the US-based manufacturer, launched a range of truffle condiments made with truffles, including black truffle oil and extra virgin olive oil. In 2020, PS Gourmet Pe launched its black truffle oil in Singapore. In November 2022, TRUFF, an Australia-based manufacturer, entered into the seasoning space with "TRUFF Black Truffle Salt." The condiment option features a mix of fine and coarse sea salt with a purposeful amount of black truffles. Such product launches help companies establish long-term relationships with end-use consumers.
Type Insights
Based on category, the black truffles market is segmented into organic and conventional. The organic segment is projected to register a higher CAGR during the forecast period. Organic black truffle is cultivated in soil free from chemical fertilizers (such as synthetic nitrogen, phosphate, and potash) and genetically modified ingredients. Herbicides and synthetic pesticides are also avoided in organic black truffle farming. Instead, growers use organic growth stimulators to cultivate organic black truffles. Generally, organic black truffles are more expensive than conventional truffles due to their superior quality. Companies are focusing on achieving organic certifications to address the rising demand for organic black truffles in the market.
Application Insights
Based on application, the black truffles market is segmented into culinary; oil; sauces, spreads, & butter; and others. The culinary segment held the largest share of the market in 2021. Black truffles are grated into wine or cream-based sauces or shaved onto cooked pasta, scrambled eggs, or potato dishes. Black truffles are added as toppings to various food products to improve their flavor and give them a more opulent appearance. Moreover, black truffles are added as garnishing ingredients to meat meals and to give a strong flavor to food. They are also used for producing truffle salt and truffle honey. Some types of specialty cheese contain black truffles as well. These factors are fueling the demand for black truffles in culinary applications.
Black Truffles Market, by Application – 2022 and 2028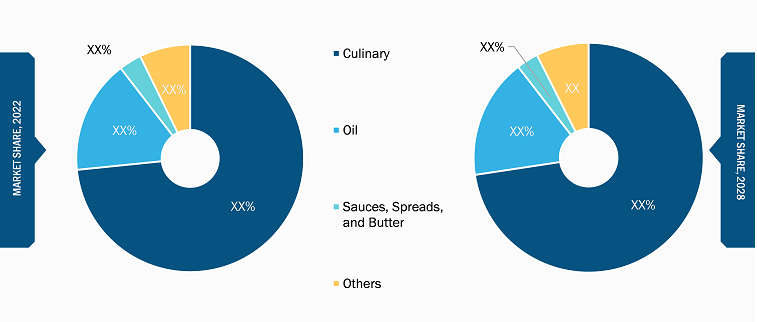 Get more information on this report :
The key players operating in the black truffles market include Trufo, TRUFFUS SAS, L'Aragonais Food Supplies SL, SABATINO NA LLC, LAUMONT TRUFFLES SLU, Arotz SA, Les Freres Jaumard SaRL, Perigord Truffles of Tasmania Pty Ltd, Great Southern Truffles Pty Ltd, and Old World Truffles. These players focus on providing high-quality products to fulfill customer demands. They also focus on strategies such as investments in research and development activities and new product launches.
Report Spotlights
Progressive industry trends in the black truffles market to help players develop effective long-term strategies
Business growth strategies adopted by companies to secure growth in developed and developing markets
Quantitative analysis of the black truffles market from 2019 to 2028
Estimation of global demand for black truffles
Porter's Five Forces analysis to illustrate the efficacy of buyers and suppliers of black truffles
Recent developments to understand the competitive market scenario
Market trend and outlook, along with factors driving and restraining the black truffles market growth
Assistance in the decision-making process by highlighting market strategies that underpin commercial interest
The size of the black truffles market at various nodes
Detailed overview and segmentation of the market, as well as the food & beverages industry dynamics
Size of the black truffles market in various regions with promising growth opportunities
Company Profiles
Trufo
TRUFFUS SAS
L'Aragonais Food Supplies SL
SABATINO NA LLC
LAUMONT TRUFFLES SLU
Arotz SA
Les Freres Jaumard SaRL
Perigord Truffles of Tasmania Pty Ltd
Great Southern Truffles Pty Ltd
Old World Truffles
Frequently Asked Questions