The E-house market is valued US$ 1,614.70 million in 2022; It is estimated to grow at a CAGR of 5.7% from 2022 to 2028.
E-houses are also known as electrical houses or integrated power assemblies. They are pre-assembled, walk-in modular outdoor enclosures that store low- and medium-voltage switchgear and various ancillary equipment, such as utility-grade switchgear, paralleling switchgear, and custom controls. E-houses can be easily mounted on a skid/wheel and trailer; it takes only a few minutes to set up. Also, E-houses are sustainable alternatives to traditional on-site structures. A few major applications of E-houses are disaster response, rapid transmission capacity expansion, and temporary power supply for unplanned repairs.
Other uses of E-houses involve grid coupling, balancing fossil and renewable energy sources at plants, and housings for electrical energy storage systems. Before the delivery process, fundamental components, such as bus bars, components, power management systems, and HVAC, are thoroughly monitored and tested, thus leading to a lower risk of failure at the work site. The entire E-house installation and relocation procedure is simple and cost-effective because of its mobility. Adding to this, E-houses can be positioned near significant loads to minimize the length and size of power and control connections.
Moreover, E-houses are designed and constructed per various European and American standards (IEC/EN/BS) or American Standards (ANSI/NEMA/ASTM/AWS). They are also tested and certified for the different markets: UL/CE/GOST&EAC. These factors help boost E-house market growth, thus leading to increased revenue generation potential in the coming years.
E-House Market - Strategic Insights
Report Coverage - E-House Market
Report Coverage
Details
Market Size Value in
US$ 1,614.70 Million in 2022
Market Size Value by
US$ 2,253.46 Million by 2028
Growth rate
CAGR of 5.7% from 2022 to 2028
Forecast Period
2022-2028
Base Year
2022
No. of Pages
166
No. of Tables
83
No. of Charts & Figures
83
Historical data available
Yes
Segments covered
Type, Component, and Application
Regional scope
North America, Europe, Asia Pacific, Middle East & Africa, South & Central America
Country scope
US, Canada, Mexico, UK, Germany, Spain, Italy, France, India, China, Japan, South Korea, Australia, UAE, Saudi Arabia, South Africa, Brazil, Argentina
Report coverage
Revenue forecast, company ranking, competitive landscape, growth factors, and trends
Free Sample Copy Available
Impact of COVID-19 Pandemic on E-House Market Size
North America is the foremost region in developing and accepting new technologies due to favorable government policy to boost innovation, a massive industrial base, and high purchasing power, especially in developed countries, such as the US and Canada. Hence, any impact on the development of industries is expected to affect the region's economic growth. In the Q1 and Q2 of 2020, many infrastructure projects were halted because of the spread of COVID-19, due to which the E-house market growth declined considerably.
However, when restrictions were lifted in 2021, most of the pending projects were resumed, and the E-house market size showed an upward trend as the need for the power supply was increasing on various projects in the oil & gas, mining, and construction industries. For instance, in August 2021, the Senate approved a US$ 1 trillion infrastructure bill to reconstruct the nation's deteriorating roads and bridges and also funded new climate resilience and broadband initiatives, a key component of President Biden's plan.
Lucrative Regions for E-House Market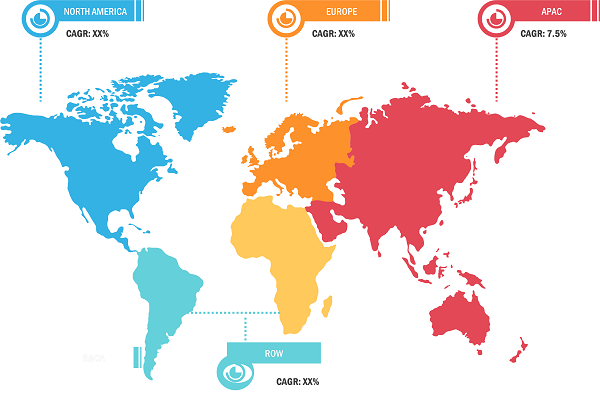 Get more information on this report :
Market Insights – E-House Market
The Asia Pacific E-house market is segmented into Australia, China, India, Japan, South Korea, and the Rest of Asia Pacific. In April 2021, Australia's government announced an investment of US$ 70.02 million (AU$ 90 million) for the country's 81 telecommunications infrastructure projects under the Regional Connectivity Program (RCP). Additionally, the Chinese government launched an initiative, 'Made in China 2025,' to support the country's manufacturing sector; this initiative will encourage companies operating in the manufacturing industry to initiate more projects.
Moreover, the Government of India is providing funds to improve the country's infrastructure under the 'Smart City Project.' Under this project, several infrastructure developments, such as metro rail lines and road construction, are under construction in the country. Further, the construction of such projects requires mobile substations for temporary electricity supply.
In January 2022, a new rail project was inaugurated in South Korea to connect the Donghae line between Jejin Station, Goseong, and Gangneung. The project is worth US$ 2.31 billion and is expected to be completed by 2027. This will require power supply systems for the installation of route lines and other operations for the construction of rail project. Thus, the growing construction of such projects and government initiatives to develop infrastructure across Asia Pacific countries are expected to boost the E-house market growth in the region.
Type-Based Insights
Based on type, the E-house market is segmented into fixed substations and mobile substations. The mobile substation segment led the E-house market in 2021, majorly due to the rising growth of the transportation and logistics industry, which ultimately led to the growth of the oil and gas sector. Mobile E-houses are an interim, low-cost solution for various cities or districts, supplying electricity/power to inhabitants, street lighting, restoring power to hospitals, and numerous other essential services. The modular design of mobile substations is suited for sea, road, or air transportation, thus, providing immediate solutions and can also be easily installed and made ready for operation within 2 days.
ABB Ltd.; Eaton; Becker Mining System AG; Schneider Electric SE; Siemens AG; WEG; StarFlite Systems; Sécheron; Powergear Limited; and Powell Industries, Inc. are some key players profiled in this study. The performances of several other essential players were also analyzed to get a holistic view of the e-house market and its ecosystem.
E-house market players are actively adopting strategic market initiatives, which involve the expansion of their footprints globally and meeting the surge in customer demand. The E-house market players are mainly focusing on product and service enhancements by integrating advanced features and technologies into their offerings.
In May 2022, A purpose-designed electrical house (E-House) from Zest WEG is driving one of the largest new High-Intensity Grinding (HIG) mills in the southern hemisphere, which was recently installed at a platinum mine in South Africa's Northwest province.
In September 2020, Zest WEG, a subsidiary of WEG Group, supplied a complete low-voltage substation to Sasol's Prillan plant in Sasolburg, South Africa. The custom-designed solution includes a double-story E-house, transformers, variable speed drive (VSD) panels, and distribution boards. The specialized E-house has several fit-for-purpose features.
Frequently Asked Questions