The global event management software market garnered US$ 5,810.6 million in 2018 and is projected to generate US$ 21,287.6 million by 2027, registering a CAGR of 16.02% from 2019 to 2027.
The complexities in event management, integration of artificial intelligence (AI) in software, and rising importance of social media in event marketing are the potential elements stoking the growth of global event management software market. On the contrary, data privacy and security issues and difficulty in integrating event management software with business systems jeopardize the market expansion.
Events are considered essential and convenient ways of communication between companies and clients. A successful business event requires proper registration, event marketing, attendee management, venue sourcing, session management, and on-site technology. Prominent players operating in the global event management software market have been focusing on product and service enhancement by incorporating advanced features and technologies. They try augmenting their market presence by signing collaborations, contracts, joint ventures, and commencing new facilities worldwide.
Regionally, North America reigned the global event management software market in 2018 with the optimal revenue share. Meanwhile, APAC is likely to surge with the highest CAGR over the forecast period.
Future Trends
Adoption of Cloud-Based Event Management Software
Advanced features, low initial investment, and sophisticated cloud and hosting models are some of the substantial reasons behind the growing adoption of cloud-based event management software.The deployment of cloud-based solutions enables enterprises to lower operational costs, curb human errors, and enhance productivity. Not every small and medium-sized enterprise finds it feasible to invest in on-premise event management software due to complex installation and high operational costs. This creates a demand for cloud-based event management software, especially among SMEs. Besides, the growing digital revolution supports the adoption of cloud-based solutions across various industry verticals. These aforementioned elements are expected to propel the global event management software market at an impressive rate.
Drivers
Complexities in Event Management
Event management turns tedious when it comes to efficient operations. In addition, the involvement of various service providers such as event planners, marketing and promotion personnel, and ticket management teams, makes it more complicated. Diversified vendors, currencies, multiple languages, and time zones are some of the crucial factors influencing the event management market. These intricacies involved can be precisely handled by software systems facilitating the authority to analyze real-time and real-world data. Cloud-based solutions, Internet of Things (IoT), and AI are some emerging technologies expected to propel the global event management software market over the forecast period. Several event management companies are highly focused on offering enhanced features and services. They have deployed software technologies and automated solutions for efficient workflow and operations.
Rising Importance of Social Media in Event Marketing
Social media has become a mandatory and inherent tool for the promotion of buzz or news about any upcoming event. An estimated 3.2 billion people use social media every day. Event management teams and planners use different channels, e-mails, google ads, youtube videos, facebook, instagram, linkedin, twitter, etc., to advertise the event and make it appeal the masses. Social media allows potential attendees to engage in a live environment by asking questions and feedback. It provides impetus to the event exposure. Moreover, an event organized and campaigned through social media helps instill brand awareness, expand organizational reach, build audience interaction, and increase event registration rates.
Restraints
Difficulty in Integrating Event Management Software with Business Systems
A large number of event planners integrate event data with some of their organization's business systems.However, most organizations find it challenging to integrate event management software with critical business systems, since the crucial information is accessed, modified, updated, and managed simultaneously by various processes and systems. Enterprises must ensure information consistency across all their operations to avoid system conflicts. Integration issue leads to data silos, reducing organizational capacity to analyze business data that gains valuable insights. Such software incorporating challenges curtail the expansion of global event management software market.
Strategic Insights
Report Coverage - Global Event Management Software Market
Report Coverage
Details
Market Size Value in
US$ 6483.4 Million in 2019
Market Size Value by
US$ 21287.6 Million by 2027
Growth rate
CAGR of 16.02% from 2020-2027
Forecast Period
2020-2027
Base Year
2020
No. of Pages
189
No. of Tables
92
No. of Charts & Figures
79
Historical data available
Yes
Segments covered
Solution Type ; Application ; End-User
Regional scope
North America, Europe, Asia Pacific, Middle East & Africa, South & Central America
Country scope
US, Canada, Mexico, UK, Germany, Spain, Italy, France, India, China, Japan, South Korea, Australia, UAE, Saudi Arabia, South Africa, Brazil, Argentina
Report coverage
Revenue forecast, company ranking, competitive landscape, growth factors, and trends
Free Sample Copy Available
Market Segmentation
By Solution Type
Range of Features and Applications Buoyed the Segmental Growth
The global event management software market, by solution type, is split into software and services. The former led the market in 2018 with the largest revenue share and is anticipated to retain the lead till 2027. An effective software assists event managers in controlling and coordinating all minute but significant details to have an efficient workplace and successful event conduction. A software help organize, plan, manage, control, and produce an event. Besides, it creates websites, generates event apps, organizes ticketing and registrations, and offers engagement analytics to organizers for future event planning.
The services segment is estimated to surge at a prime CAGR over the forecast period. Event planners provide professional services such as event coordination, management, conferencing, exhibitions, and entertainment and venue sourcing. A growing number of event management applications drive the services market as they offer easily manageable features and analytics for predicting ROI generated from the events organized.
By Application
Large-Scale Adoption of Event-Planning Software Upheld the Segment's Dominance
Based on application, the global event management software market is segmented into event planning, event marketing, venue and ticket management, reporting and analytics, and others. The event planning segment occupied the largest market share in 2018 and is speculated to continue dominating throughout the forecast period. The event planning software is used to manage meetings, team-building activities, tradeshows, conventions, ceremonies, and parties. The software deals with budgeting, setting tentative timelines, reserving event sites, obtaining permits, and transport coordination. The software also helps boost the event attendance through e-mail marketing campaigns and continuous event registration via online tools.
The segment, event marketing, stood as the second-largest market captivator in 2018, featuring a promising growth during the forecast period. Organizers use event marketing software to monitor and streamline all critical processes. Event marketing involves marketing analytics, blogging, e-mail, search optimization, lead management, and social media marketing on a single platform.
Regional Insights
The global event management software market is geographically segmented into North America, Europe, Asia Pacific (APAC), South America (SAM), and Middle East & Africa (MEA).
North America dominated the market in 2018, amassing the largest revenue share. The region is open to the adoption of new and emerging technologies, including event management software and tools. The concrete financial status of North America enables it to invest heavily in the approval of latest tools and techniques, ensuring effective business operations. Moreover, many prominent enterprises and organizations are headquartered in North America and the region hosts various international events, summits, and conferences. The region is highly active in shifting business processes into digitization. Various companies are developing event management software to exercise total control over customers, employees, and different-level services.
Europe exhibits vast cultural, political, and business landscape differences, making it a center of various events, exhibitions, and conferences. Most top European cities and countries are perceived as final destinations for major international association conferences. London, Barcelona, Berlin, Amsterdam, Madrid, Paris, Lisbon, and Prague are the top European destinations for events. The European event management software market thrives on the need for software that can plan, manage, and automate all event-related activities. In addition, the Big Data and AI are assisting to work on more personalized opportunities, such as creating a unique event schedule for each attendee and providing a personalized map of the venue location with other points of interest.
In the Asia Pacific event management software market, Hong Kong, Japan, Korea, and Singapore are cited as the most sought-after international event destinations owing to conducive tax incentives and a wave of tech start-ups. These international event hubs offer highly capable physical safety and unmatchable IT ecosystem development. The competitive advantage of Asia Pacific in terms of event management is the extensive use of messaging apps, making it easier to set up the system of event interactions.
Lucrative Regions in Event Management Software Market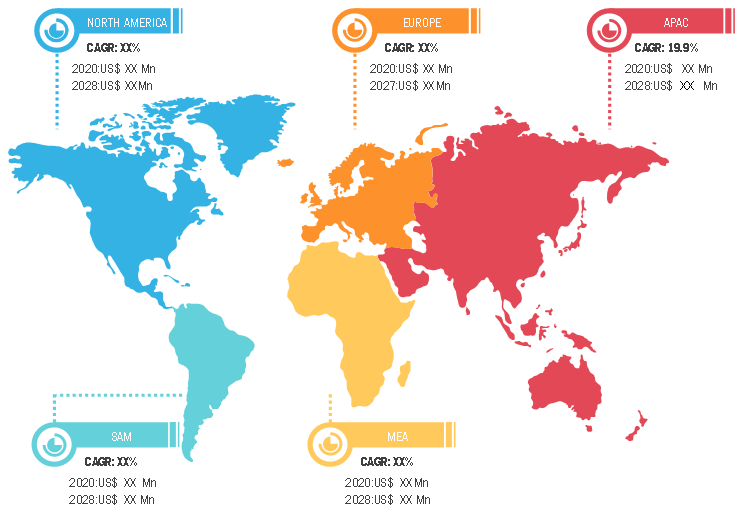 Get more information on this report :
Key Market Players:
Active Network, LLC. (US)
Arlo Software Limited (New Zealand)
Attendify (US)
Aventri, Inc. (US)
Bizzabo, Inc (US)
Cvent, Inc. (US)
Event Espresso LLC (US)
Eventbrite, Inc (US)
Grenadine Technologies Inc. (Canada)
Zerista Inc. (Simpleview, LLC) (US)


Key Developments:
October 2019:

Active Networks LLC partnered with NRPA for Parks Build Community Program 2019.

August 2018:

Attendify introduced a new registration widget that enables users to add event registration and ticketing to their existing website without the need of adding external links.

June 2019:

Aventri collaborated with Plannernet, a worldwide meeting and event supplier network, to enable clients to access a network of 1500 specialists across 70 countries.

September 2019:

Cvent partnered with JTB to sell event solutions in Asia Pacific. JTB works as a platinum partner of the company.

Report Coverage
The global event management software market research report provides detailed insights into the market in terms of size, share, trends, and forecasts. It delivers crisp and precise know-how of drivers, restraints, opportunities, segments, and industrial landscape. A list of key market players with their respective developments in recent years has been reserved as a special mention.
Frequently Asked Questions
The presence of many well-known players, together with the presence of small businesses and new entrants in the region, is one of the substantial factors augmenting the market growth in the North America region. Moreover, to increased partnerships between companies in the region further boost the demands for event management software.
Small and medium-sized enterprises are still in the initial phases of adopting the latest technology trends. SMEs offers a huge growth opportunity for players operating in the event management software market. In order to tap this potential segment, companies are investing in marketing activities to spread awareness and generate interest in small scale businesses.
Currently event planning is most commonly used application of event management software. The advantage of event planning software is not only permit the event admin to efficiently manage more efficiently and also save ones time and money, by automating the overall promotional activities to create buzz prior to your event, thus, bolster the event management market in the forecast period.