The Influencer Marketing Platform Market was valued at US$ 148.04 Mn in 2019 and is expected to reach US$ 337.74 Mn by 2027 with a CAGR growth rate of 13.4% in the forecast period from 2020 to 2027.


With the improvement in internet speed and availability of low cost streaming the demand for video content is significantly increasing. Most of the influencers on social media networks are adopting the trend of video content for influencing their audience. Earlier YouTube has had video focus, but now big players such as Instagram, Facebook, LinkedIn, Twitter, and others are also catering for video content.
Influencers are significantly adopting the trend of influencing their audience by video. Influencers show their audience the latest trends in their niche and typically lead the charge when social network adds a new feature.
Influencer Marketing Platform Market
are increasingly posting video content across social platforms.
It is expected that by 2022, around 80% of all internet traffic will be for video. The key factor driving the video content is the increasing adoption of smartphones and the availability of high-speed internet at affordable prices. It is expected that the brands will significantly adopt video influencer marketing and will operate across the video influencing platforms.
Factors such as high engagement rate and more authentication are enabling influencers to adopt video content for marketing. Influencers are tapping into the interactive nature of video content to drive sales. Influencers are opting for live-streaming, which includes question & answer sessions, real-time product unboxing, and behind the scenes footage at events. The increasing adoption of video content is significantly driving the Influencer Marketing Platform Market and is expected to witness significant demand during the forecast period.
Impact of COVID-19 Pandemic on Influencer Marketing Platform Market

COVID-19 outbreak has resulted in a temporary shutdown of several businesses as well as social distancing from the external world. Numerous measures have been implemented to control the coronavirus's spread, such as the imposition of a mandatory quarantine, closure of business setups, travel restrictions, and cancellation of events. Similarly, the marketing landscape has experienced many transformations due to social distancing as well as quarantine, changing the usual way of living. As marketing expenditure has been cut off, brands capitalize on digital marketing methods, including emails, social media, and influencer marketing.
The precautionary strategies implemented have hampered the ways of the influencer marketing industry. Social media content creators are remodeling their content for keeping their audience network engaged. For example, the travel restrictions have bound the hospitality sector to reduce their marketing expenditure, thereby impacting the social media presence of travel influencers. Also, food bloggers are finding it difficult to upgrade their social media feed. Therefore, the COVID-19 pandemic has urged both the influencers and the brands to assess and restructure their marketing strategies for sustaining user engagement.
Although the COVID-19 pandemic has resulted in fewer brand collaborations, digital platforms have gained immense traction. This is mostly contributed to the extraordinary increase in the consumption of social media platforms during people's practice of social distancing. With the increasing use of social media, influencers have gained an opportunity to keep their active audience engaged, with their creative and positive content.
Lucrative Regions for Influencer Marketing Platform Market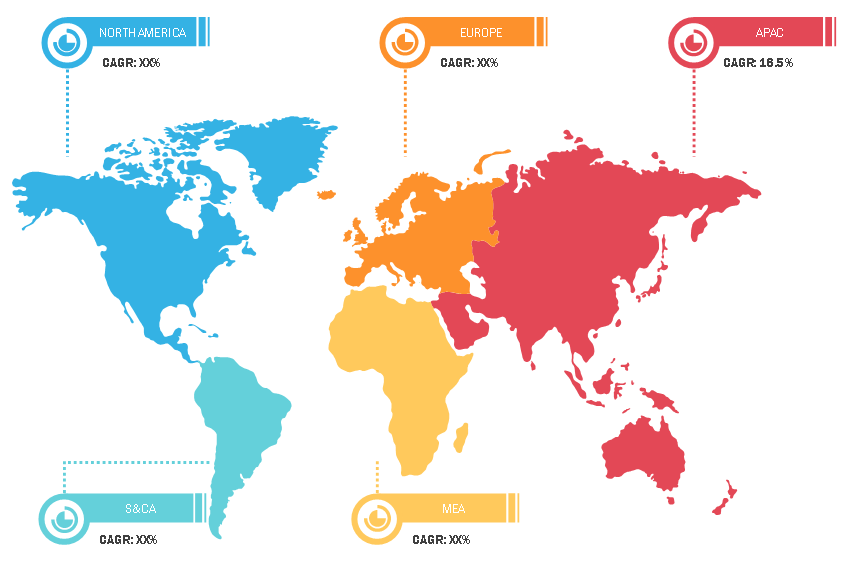 Get more information on this report :
Market Insights
Micro-Influencers Are Making Positive Impact on Market

The trend of opting for micro-influencers rather than mega-influencers is being witnessed in the market. Brands are preferring influencers who have less than 10,000 followers on social media. Micro-influencer interacts and engage with their followers more frequently and is more authentic and relatable.
However, celebrities and mega-influencers have millions of followers, but they aren't as interactive with their audiences and are seem less approachable. Micro-influencer is tending to be knowledgeable regarding their niche, and their followers are more likely to trust their recommendations. Micro-influencers are more affordable than mega-influencers and celebrities.
Due to the increasing demand, macro-influencers and mega-influencers dictate prices more freely. It is one of the key challenges for brands to afford macro-influencers. Due to the high cost associated with macro-influencers and mega-influencers brands are opting for micro-influencers. Micro-Influencer segment is expected to witness high demand during the forecast period.
Offering Market Insights

With increasing proliferation of social media networks in customers' lives and rising number of influencers, businesses worldwide are focusing on creating effective influencer marketing strategies. The social media influencers play an important role in the influencer marketing ecosystem as they have the potential to influence purchase decisions of customers (followers). Another important factor behind fast growing influencer marketing trend is growing share of teenage customers which are difficult to tap with traditional marketing tools. Brands are looking for innovative ways to tap this section of customers and influencer marketing through social media platforms is a perfect solution for this issue. Due to these factors, the demand for effective influencer marketing platforms is increasing among brands and agencies to find relevant influencers that match their exact requirements.
Influencer Marketing Platform Market, by Offering– 2019 and 2027

Get more information on this report :
Application Technology Market Insight

In today's fast changing digital world, businesses face various challenges to increase their brand visibility and sales owing to the information overload in the market. Marketing is one of the vital function in any business which helps brands in finding and reaching their target audience. Businesses employ various forms of marketing including offline as well as online marketing. With increasing penetration of digital devices and rising trend of social media platforms, businesses are looking at innovative marketing tactics such as influencer marketing. However, businesses are finding it difficult to search suitable influencers to brand their products and services. Even in cases where brands find their suitable influencers, they will have to engage and build relationship with these people which is a slow and complex process. To ease this process of discovering and engaging with desired influencers, the influencer marketing platforms were born. These platforms allow businesses to streamline the finding process and speed up the engagement process. There are various types of influencer platforms, for instance, some platforms focus on influencer search & discovery whereas some platforms go beyond and use various algorithmic process, artificial intelligence, analytics and data mining to offer advanced features for more visibility in the entire process. There are various companies offering innovative influencer platforms with effective tools such as influencer search & discovery, campaign management, influencer marketplace, relationship management, third party analytics, influencer outreach and engagement, performance tracking with audience demographics, influencer compensation, and promotion and amplification of ad content among many others. Some of these influencer platforms companies include Upfluence, NeoReach, AspireIQ, Julius, Open Influence, Doveltale, Scrunch, Takumi, Tapinfluence, Onalytica, and FameBit among many others.
Organization Size Market Insight

Influencer marketing platforms cater to a wide variety of customers, both brands and agencies. These customers can be categorized into two broad segments namely, small & medium enterprises (SMEs) and large enterprises. The influencer marketing platforms offer technology based software solutions with features such as influencer search & discovery, campaign management, third party analytics & reporting, and influencer relationship management to help businesses in scaling their influencer marketing needs. These solutions allow businesses to create and manage campaigns as well as find and engage with influencers to increase brand awareness, sales and return on investment on their spending. In the report, the businesses are categorized into small & medium sized enterprises and large enterprises on the basis of their revenue. SMEs include companies with revenue from US$ 1 Million to 50 Million and large enterprises are defined as companies with more than US$ 50 Million revenues per year. On the basis of organization size, global influencer marketing platform market is segmented to small & medium enterprise (SME) and large enterprise.
End-User Market Insight

Influencer marketing is one of the emerging form of innovative marketing that helps brands in increasing their brand awareness and sales through endorsements by social media influencers. The influencers with large follower count and established reputation online act as a valuable resource for brands to reach their target customers worldwide. In addition, the increasing popularity of various social media platforms such as Instagram, YouTube, twitter and Snapchat has led to the rising importance of influencer marketing worldwide. At present, YouTube influencer marketing and Instagram influencer marketing are two of the most prominent and popular forms of influencer marketing. Influencer marketing platforms enable brands to utilize the growing trend of influencer marketing by providing them with tools to discover, connect and engage with relevant influencers. These platforms also offer analytics regarding campaign performance, audience engagement, influencer engagement, report metrics and others. Due to all the advantages offered by these platforms, the demand for solutions offered by these platforms is increasing worldwide especially from end-users such as fashion, lifestyle, marketing agencies, retail, consumer goods, and travel, and hospitality.
Strategic Insights
Report Coverage - Influencer Market
Report Coverage
Details
Market Size Value in
US$ 148.04 Million in 2019
Market Size Value by
US$ 337.74 Million by 2027
Growth rate
CAGR of 13.4% from 2020-2027
Forecast Period
2020-2027
Base Year
2020
No. of Pages
224
No. of Tables
114
No. of Charts & Figures
93
Historical data available
Yes
Segments covered
Offerings , Application , Organization Size , End User , and Geography
Regional scope
North America, Europe, Asia Pacific, Middle East & Africa, South & Central America
Country scope
US, Canada, Mexico, UK, Germany, Spain, Italy, France, India, China, Japan, South Korea, Australia, UAE, Saudi Arabia, South Africa, Brazil, Argentina
Report coverage
Revenue forecast, company ranking, competitive landscape, growth factors, and trends
Free Sample Copy Available
The players operating in the enterprise content management market focus on strategies such as mergers, acquisitions, and market initiatives to maintain their positions in the market. A few developments by key players are listed below:
In November 2020, Kolsquare launched the Kolsquare Academy to enable influencers to discuss best practices in their profession, know about trends as well as learn more about the rules of ethics.
In December 2019, Launchmetrics acquired visual content creator and distributor, IMAXtree. The acquisition is aimed to expand Launchmetrics' Brand Performance Cloud to enable brands to create inspiring, share worthy and measurable experiences to help attract consumer.
Global Influencer Marketing Platform Segments:
Influencer Marketing Platform Market – By Offerings
Influencer Marketing Platform Market – By Application
Search & Discovery
Campaign Management
Influencer Relationship Management
Analytics & Reporting
Others
Influencer Marketing Platform Market – By Organization Size
Small & Medium Enterprise
Large Enterprise
Influencer Marketing Platform Market – By End-User
Fashion & Lifestyle
Marketing Agencies
Retail & Consumer Goods
Travel & Hospitality
Others
Influencer Marketing Platform Market – By Geography
North America
Europe

France
Germany
Italy
Spain
UK
Rest of Europe


Asia Pacific (APAC)

Australia
China
India
Japan
Rest of APAC

Middle East & Africa (MEA)

Saudi Arabia
UAE
South Africa
Rest of MEA

South America (SAM)
Companies
AspireIQ, Inc.
InfluencerDB
IZEA Worldwide, Inc.
JuliusWorks, Inc.
Kolsquare
Launchmetrics
Lefty
Mavrck
NeoReach
Traackr, Inc.
Frequently Asked Questions
The Europe region is holding the major market share in 2019. In Europe, the NORDIC countries, along with Germany and the UK, are expected to hold key market share in 2019 and to witness high growth during the forecast period.Boksi.com is one of the fastest-growing influencer marketing platforms in European countries. It has a presence in Sweden, Finland, Germany, Russia, Denmark, and Croatia. Boksi.com is known for a high number of micro-influencer and has successfully raised US$ 1 Mn to expand its service in Central Europe. The increasing funding and spending for influencer marketing are expected to drive the market in European countries.
The major driving factors contributing to the influencer marketing platform market growth includes the increasing demand for video content & live interactive sessions, surge in adoption of smartphones, increasing penetration of high speed internet, growing number of social media accounts, reducing data streaming cost, integration of advanced technologies such as artificial intelligence (AI), among others.
In 2019, themarketing agencies segmentwas estimated to be the leading end-user in the market. The influencer marketing platform solutions enable marketing agencies to expand their offerings and simplify their workflow process. These platforms allow marketing agencies to quickly find the influencers based on client's specific industry requirement. The vast database of influencers on these platforms can be categorized on the basis on various search criteria such as industry type, follower count, demographics, interests and many others.