The Influencer Marketing Platform Market was valued at US$ 148.04 Mn in 2019 and is expected to reach US$ 337.74 Mn by 2027 with a CAGR growth rate of 13.4% in the forecast period from 2020 to 2027.


With the improvement in internet speed and availability of low cost streaming the demand for video content is significantly increasing. Most of the influencers on social media networks are adopting the trend of video content for influencing their audience. Earlier YouTube has had video focus, but now big players such as Instagram, Facebook, LinkedIn, Twitter, and others are also catering for video content.
Influencers are significantly adopting the trend of influencing their audience by video. Influencers show their audience the latest trends in their niche and typically lead the charge when social network adds a new feature.
Influencer Marketing Platform Market
are increasingly posting video content across social platforms.
It is expected that by 2022, around 80% of all internet traffic will be for video. The key factor driving the video content is the increasing adoption of smartphones and the availability of high-speed internet at affordable prices. It is expected that the brands will significantly adopt video influencer marketing and will operate across the video influencing platforms.
Factors such as high engagement rate and more authentication are enabling influencers to adopt video content for marketing. Influencers are tapping into the interactive nature of video content to drive sales. Influencers are opting for live-streaming, which includes question & answer sessions, real-time product unboxing, and behind the scenes footage at events. The increasing adoption of video content is significantly driving the Influencer Marketing Platform Market and is expected to witness significant demand during the forecast period.
Impact of COVID-19 Pandemic on Influencer Marketing Platform Market

COVID-19 outbreak has resulted in a temporary shutdown of several businesses as well as social distancing from the external world. Numerous measures have been implemented to control the coronavirus's spread, such as the imposition of a mandatory quarantine, closure of business setups, travel restrictions, and cancellation of events. Similarly, the marketing landscape has experienced many transformations due to social distancing as well as quarantine, changing the usual way of living. As marketing expenditure has been cut off, brands capitalize on digital marketing methods, including emails, social media, and influencer marketing.
The precautionary strategies implemented have hampered the ways of the influencer marketing industry. Social media content creators are remodeling their content for keeping their audience network engaged. For example, the travel restrictions have bound the hospitality sector to reduce their marketing expenditure, thereby impacting the social media presence of travel influencers. Also, food bloggers are finding it difficult to upgrade their social media feed. Therefore, the COVID-19 pandemic has urged both the influencers and the brands to assess and restructure their marketing strategies for sustaining user engagement.
Although the COVID-19 pandemic has resulted in fewer brand collaborations, digital platforms have gained immense traction. This is mostly contributed to the extraordinary increase in the consumption of social media platforms during people's practice of social distancing. With the increasing use of social media, influencers have gained an opportunity to keep their active audience engaged, with their creative and positive content.
Lucrative Regions for Influencer Marketing Platform Market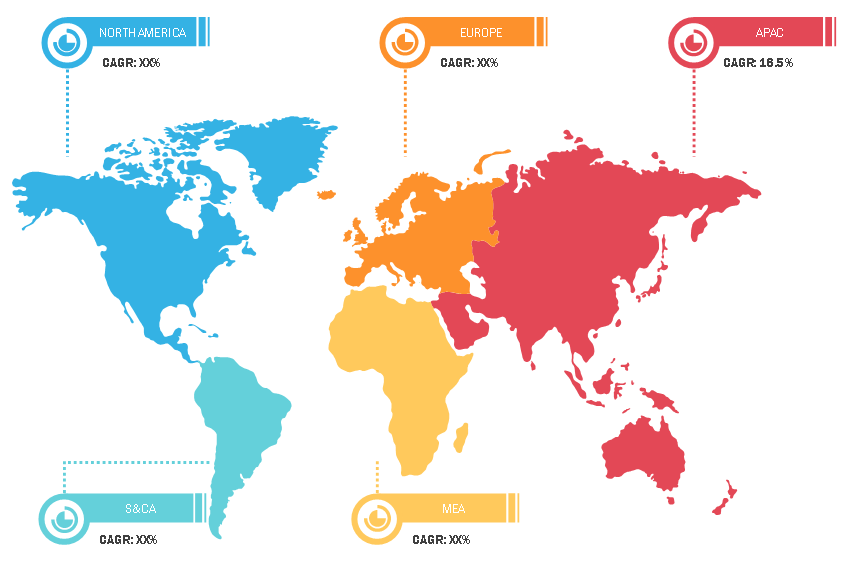 Sample PDF showcases the content structure and the nature of the information with qualitative and quantitative analysis.
Request discounts available for Start-Ups & Universities
Market Insights
Micro-Influencers Are Making Positive Impact on Market

The trend of opting for micro-influencers rather than mega-influencers is being witnessed in the market. Brands are preferring influencers who have less than 10,000 followers on social media. Micro-influencer interacts and engage with their followers more frequently and is more authentic and relatable.
However, celebrities and mega-influencers have millions of followers, but they aren't as interactive with their audiences and are seem less approachable. Micro-influencer is tending to be knowledgeable regarding their niche, and their followers are more likely to trust their recommendations. Micro-influencers are more affordable than mega-influencers and celebrities.
Due to the increasing demand, macro-influencers and mega-influencers dictate prices more freely. It is one of the key challenges for brands to afford macro-influencers. Due to the high cost associated with macro-influencers and mega-influencers brands are opting for micro-influencers. Micro-Influencer segment is expected to witness high demand during the forecast period.
Offering Market Insights

With increasing proliferation of social media networks in customers' lives and rising number of influencers, businesses worldwide are focusing on creating effective influencer marketing strategies. The social media influencers play an important role in the influencer marketing ecosystem as they have the potential to influence purchase decisions of customers (followers). Another important factor behind fast growing influencer marketing trend is growing share of teenage customers which are difficult to tap with traditional marketing tools. Brands are looking for innovative ways to tap this section of customers and influencer marketing through social media platforms is a perfect solution for this issue. Due to these factors, the demand for effective influencer marketing platforms is increasing among brands and agencies to find relevant influencers that match their exact requirements.
Influencer Marketing Platform Market, by Offering– 2019 and 2027


Sample PDF showcases the content structure and the nature of the information with qualitative and quantitative analysis.
Request discounts available for Start-Ups & Universities



Application Technology Market Insight

In today's fast changing digital world, businesses face various challenges to increase their brand visibility and sales owing to the information overload in the market. Marketing is one of the vital function in any business which helps brands in finding and reaching their target audience. Businesses employ various forms of marketing including offline as well as online marketing. With increasing penetration of digital devices and rising trend of social media platforms, businesses are looking at innovative marketing tactics such as influencer marketing. However, businesses are finding it difficult to search suitable influencers to brand their products and services. Even in cases where brands find their suitable influencers, they will have to engage and build relationship with these people which is a slow and complex process. To ease this process of discovering and engaging with desired influencers, the influencer marketing platforms were born. These platforms allow businesses to streamline the finding process and speed up the engagement process. There are various types of influencer platforms, for instance, some platforms focus on influencer search & discovery whereas some platforms go beyond and use various algorithmic process, artificial intelligence, analytics and data mining to offer advanced features for more visibility in the entire process. There are various companies offering innovative influencer platforms with effective tools such as influencer search & discovery, campaign management, influencer marketplace, relationship management, third party analytics, influencer outreach and engagement, performance tracking with audience demographics, influencer compensation, and promotion and amplification of ad content among many others. Some of these influencer platforms companies include Upfluence, NeoReach, AspireIQ, Julius, Open Influence, Doveltale, Scrunch, Takumi, Tapinfluence, Onalytica, and FameBit among many others.
Organization Size Market Insight

Influencer marketing platforms cater to a wide variety of customers, both brands and agencies. These customers can be categorized into two broad segments namely, small & medium enterprises (SMEs) and large enterprises. The influencer marketing platforms offer technology based software solutions with features such as influencer search & discovery, campaign management, third party analytics & reporting, and influencer relationship management to help businesses in scaling their influencer marketing needs. These solutions allow businesses to create and manage campaigns as well as find and engage with influencers to increase brand awareness, sales and return on investment on their spending. In the report, the businesses are categorized into small & medium sized enterprises and large enterprises on the basis of their revenue. SMEs include companies with revenue from US$ 1 Million to 50 Million and large enterprises are defined as companies with more than US$ 50 Million revenues per year. On the basis of organization size, global influencer marketing platform market is segmented to small & medium enterprise (SME) and large enterprise.
End-User Market Insight

Influencer marketing is one of the emerging form of innovative marketing that helps brands in increasing their brand awareness and sales through endorsements by social media influencers. The influencers with large follower count and established reputation online act as a valuable resource for brands to reach their target customers worldwide. In addition, the increasing popularity of various social media platforms such as Instagram, YouTube, twitter and Snapchat has led to the rising importance of influencer marketing worldwide. At present, YouTube influencer marketing and Instagram influencer marketing are two of the most prominent and popular forms of influencer marketing. Influencer marketing platforms enable brands to utilize the growing trend of influencer marketing by providing them with tools to discover, connect and engage with relevant influencers. These platforms also offer analytics regarding campaign performance, audience engagement, influencer engagement, report metrics and others. Due to all the advantages offered by these platforms, the demand for solutions offered by these platforms is increasing worldwide especially from end-users such as fashion, lifestyle, marketing agencies, retail, consumer goods, and travel, and hospitality.
Customize Research To Suit Your Requirement

We can optimize and tailor the analysis and scope which is unmet through our standard offerings. This flexibility will help you gain the exact information needed for your business planning and decision making.

Influencer Market: Strategic Insights

| | |
| --- | --- |
| Market Size Value in | US$ 148.04 Million in 2019 |
| Market Size Value by | US$ 337.74 Million by 2027 |
| Growth rate | CAGR of 13.4% from 2020-2027 |
| Forecast Period | 2020-2027 |
| Base Year | 2020 |

Naveen

Have a question?

Naveen will walk you through a 15-minute call to present the report's content and answer all queries if you have any.

Speak to Analyst



The players operating in the enterprise content management market focus on strategies such as mergers, acquisitions, and market initiatives to maintain their positions in the market. A few developments by key players are listed below:
In November 2020, Kolsquare launched the Kolsquare Academy to enable influencers to discuss best practices in their profession, know about trends as well as learn more about the rules of ethics.
In December 2019, Launchmetrics acquired visual content creator and distributor, IMAXtree. The acquisition is aimed to expand Launchmetrics' Brand Performance Cloud to enable brands to create inspiring, share worthy and measurable experiences to help attract consumer.
Global Influencer Marketing Platform Segments:
Influencer Marketing Platform Market – By Offerings
Influencer Marketing Platform Market – By Application
Search & Discovery
Campaign Management
Influencer Relationship Management
Analytics & Reporting
Others
Influencer Marketing Platform Market – By Organization Size
Small & Medium Enterprise
Large Enterprise
Influencer Marketing Platform Market – By End-User
Fashion & Lifestyle
Marketing Agencies
Retail & Consumer Goods
Travel & Hospitality
Others
Influencer Marketing Platform Market – By Geography
North America
Europe

France
Germany
Italy
Spain
UK
Rest of Europe


Asia Pacific (APAC)

Australia
China
India
Japan
Rest of APAC

Middle East & Africa (MEA)

Saudi Arabia
UAE
South Africa
Rest of MEA

South America (SAM)
Companies
AspireIQ, Inc.
InfluencerDB
IZEA Worldwide, Inc.
JuliusWorks, Inc.
Kolsquare
Launchmetrics
Lefty
Mavrck
NeoReach
Traackr, Inc.

Report Coverage
Revenue forecast, Company Analysis, Industry landscape, Growth factors, and Trends

Segment Covered
Offerings , Application , Organization Size , End User , and Geography

Regional Scope
North America, Europe, Asia Pacific, Middle East & Africa, South & Central America

Country Scope
Argentina, Australia, Brazil, Canada, China, France, Germany, India, Italy, Japan, Mexico, Russian Federation, Saudi Arabia, South Africa, South Korea, United Arab Emirates, United Kingdom, United States
Frequently Asked Questions
---
Which region led the Influencer Marketing Platform market in 2019?
The Europe region is holding the major market share in 2019. In Europe, the NORDIC countries, along with Germany and the UK, are expected to hold key market share in 2019 and to witness high growth during the forecast period.Boksi.com is one of the fastest-growing influencer marketing platforms in European countries. It has a presence in Sweden, Finland, Germany, Russia, Denmark, and Croatia. Boksi.com is known for a high number of micro-influencer and has successfully raised US$ 1 Mn to expand its service in Central Europe. The increasing funding and spending for influencer marketing are expected to drive the market in European countries.
Which factor is driving growth of the Influencer Marketing Platformmarket?
The major driving factors contributing to the influencer marketing platform market growth includes the increasing demand for video content & live interactive sessions, surge in adoption of smartphones, increasing penetration of high speed internet, growing number of social media accounts, reducing data streaming cost, integration of advanced technologies such as artificial intelligence (AI), among others.
Which end-userled theInfluencer Marketing Platformmarket?
In 2019, themarketing agencies segmentwas estimated to be the leading end-user in the market. The influencer marketing platform solutions enable marketing agencies to expand their offerings and simplify their workflow process. These platforms allow marketing agencies to quickly find the influencers based on client's specific industry requirement. The vast database of influencers on these platforms can be categorized on the basis on various search criteria such as industry type, follower count, demographics, interests and many others.
The List of Companies - Influencer Marketing Platform Market
AspireIQ, Inc.
InfluencerDB
IZEA Worldwide, Inc.
JuliusWorks, Inc.
Kolsquare
Launchmetrics
Lefty
Mavrck
NeoReach
Traackr, Inc.
Upfluence Inc.
The Insight Partners performs research in 4 major stages: Data Collection & Secondary Research, Primary Research, Data Analysis and Data Triangulation & Final Review.
Data Collection and Secondary Research:
As a market research and consulting firm operating from a decade, we have published many reports and advised several clients across the globe. First step for any study will start with an assessment of currently available data and insights from existing reports. Further, historical and current market information is collected from Investor Presentations, Annual Reports, SEC Filings, etc., and other information related to company's performance and market positioning are gathered from Paid Databases (Factiva, Hoovers, and Reuters) and various other publications available in public domain.
Several associations trade associates, technical forums, institutes, societies and organizations are accessed to gain technical as well as market related insights through their publications such as research papers, blogs and press releases related to the studies are referred to get cues about the market. Further, white papers, journals, magazines, and other news articles published in the last 3 years are scrutinized and analyzed to understand the current market trends.
Primary Research:
The primarily interview analysis comprise of data obtained from industry participants interview and answers to survey questions gathered by in-house primary team.
For primary research, interviews are conducted with industry experts/CEOs/Marketing Managers/Sales Managers/VPs/Subject Matter Experts from both demand and supply side to get a 360-degree view of the market. The primary team conducts several interviews based on the complexity of the markets to understand the various market trends and dynamics which makes research more credible and precise.
A typical research interview fulfils the following functions:
Provides first-hand information on the market size, market trends, growth trends, competitive landscape, and outlook
Validates and strengthens in-house secondary research findings
Develops the analysis team's expertise and market understanding
Primary research involves email interactions and telephone interviews for each market, category, segment, and sub-segment across geographies. The participants who typically take part in such a process include, but are not limited to:
Industry participants: VPs, business development managers, market intelligence managers and national sales managers
Outside experts: Valuation experts, research analysts and key opinion leaders specializing in the electronics and semiconductor industry.
Below is the breakup of our primary respondents by company, designation, and region:

Once we receive the confirmation from primary research sources or primary respondents, we finalize the base year market estimation and forecast the data as per the macroeconomic and microeconomic factors assessed during data collection.
Data Analysis:
Once data is validated through both secondary as well as primary respondents, we finalize the market estimations by hypothesis formulation and factor analysis at regional and country level.
3.1 Macro-Economic Factor Analysis:
We analyse macroeconomic indicators such the gross domestic product (GDP), increase in the demand for goods and services across industries, technological advancement, regional economic growth, governmental policies, the influence of COVID-19, PEST analysis, and other aspects. This analysis aids in setting benchmarks for various nations/regions and approximating market splits. Additionally, the general trend of the aforementioned components aid in determining the market's development possibilities.
Various factors that are especially aligned to the country are taken into account to determine the market size for a certain area and country, including the presence of vendors, such as headquarters and offices, the country's GDP, demand patterns, and industry growth. To comprehend the market dynamics for the nation, a number of growth variables, inhibitors, application areas, and current market trends are researched. The aforementioned elements aid in determining the country's overall market's growth potential.
The "Table of Contents" is formulated by listing and analyzing more than 25 - 30 companies operating in the market ecosystem across geographies. However, we profile only 10 companies as a standard practice in our syndicate reports. These 10 companies comprise leading, emerging, and regional players. Nonetheless, our analysis is not restricted to the 10 listed companies, we also analyze other companies present in the market to develop a holistic view and understand the prevailing trends. The "Company Profiles" section in the report covers key facts, business description, products & services, financial information, SWOT analysis, and key developments. The financial information presented is extracted from the annual reports and official documents of the publicly listed companies. Upon collecting the information for the sections of respective companies, we verify them via various primary sources and then compile the data in respective company profiles. The company level information helps us in deriving the base number as well as in forecasting the market size.
3.4 Developing Base Number:
Aggregation of sales statistics (2020-2022) and macro-economic factor, and other secondary and primary research insights are utilized to arrive at base number and related market shares for 2022. The data gaps are identified in this step and relevant market data is analyzed, collected from paid primary interviews or databases. On finalizing the base year market size, forecasts are developed on the basis of macro-economic, industry and market growth factors and company level analysis.
Data Triangulation and Final Review:
The market findings and base year market size calculations are validated from supply as well as demand side. Demand side validations are based on macro-economic factor analysis and benchmarks for respective regions and countries. In case of supply side validations, revenues of major companies are estimated (in case not available) based on industry benchmark, approximate number of employees, product portfolio, and primary interviews revenues are gathered. Further revenue from target product/service segment is assessed to avoid overshooting of market statistics. In case of heavy deviations between supply and demand side values, all thes steps are repeated to achieve synchronization.
We follow an iterative model, wherein we share our research findings with Subject Matter Experts (SME's) and Key Opinion Leaders (KOLs) until consensus view of the market is not formulated – this model negates any drastic deviation in the opinions of experts. Only validated and universally acceptable research findings are quoted in our reports.
We have important check points that we use to validate our research findings – which we call – data triangulation, where we validate the information, we generate from secondary sources with primary interviews and then we re-validate with our internal data bases and Subject matter experts. This comprehensive model enables us to deliver high quality, reliable data in shortest possible time.