The IoT security market expected to grow from US$ 8.4 billion in 2017 to US$ 30.9 billion by 2025; it is estimated to grow at a CAGR of 17.6% from 2017 to 2025.


Rising trend of smart cities is attributing to the growth of the market. The smart city concept is fully based upon internet of things (IoT). Each and every devices, systems, and users are interconnected with each other in a smart city. Even the government would be connected with other aspects of a smart city, thus increasing the risk and compromising with the safety of critically important data. When everything is connected through internet, the risk of breach which could lead to the malfunctioning of the systems increases significantly. A breach into the network can even compromise some valuable or sensitive government data. Thus, the concept of safety and security in IoT plays a vital role in the development of smart cities. Additionally, a breach in the government of any economy can pose a tremendous disaster both economically and financially. Thus, with the implementation of smart cities in the future, security should be the first priority of development. The IoT security market holds a strong demand in future with the implementation of smart cities. Moreover, military and armed forces data can be compromised by terrorists group can even lead to loss and destruction of lives and properties. Therefore the implementation of smart city idea is going to drive the market for IoT security during the forecast period.
Lucrative Regions in IoT Security Market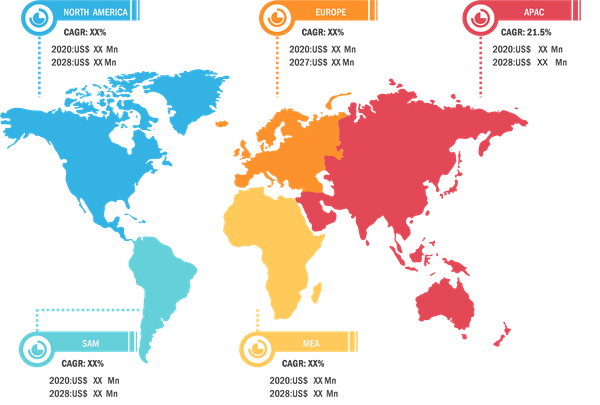 Get more information on this report :
Market Insights–
IoT Security Market
Appearance of blockchain in IoT security
Blockchain technology is a decentralized/distributed database which serves as an online ledger keeping record of transactions that can't be changed. Blockchain technology is capable of being used in tracking billions of connected devices, enable the processing of transactions and coordination between devices, allow for significant savings to IoT industry manufacturers. This decentralized approach is anticipated to eliminate single points of failure, creating a more resilient ecosystem for devices to run on. The cryptographic algorithms used by blockchains, is expected to make consumer data more private. The blockchain in IoT can be applied to Connected Vehicles Smart Appliances and Supply Chain Sensors. Blockchain would emerge as an object of intense interest in the tech industry and beyond in the years to come. As the technology is fledgling and changing very rapidly, the widespread commercialization is of this technology is still a few years off.



Type-Based Insights
Based on retail format, the IoT security market is segmented into network security, end-point security, cloud security, application security and others. The network security segment held the largest market share in 2016.
application-Based Insights
Based on technology, the IoT security market is segmented into smart home, connected car, information & communication technology, smart factories, BFSI, smart retail, smart healthcare, smart transportation, wearable and others. The BFSI segment held the largest market share in 2016.
Strategic Insights
Players operating in the IoT security market are mainly focused on the development of advanced and efficient products.
In 2017, IBM Watson for Cyber Security Beta Program Launches with 40 Clients Globally.
In 2017, Palo Alto Networks expanded its range of next-generation firewall devices with new hardware and virtual appliances.
In 2017, Trend Micro leveraged its newest XGen™ Security Capabilities across All Solutions.
The IoT security market has been segmented as follows:


IoT Security Market – by Type

IoT Security Market – by Solutions
Identity Access Management
Data Loss Protection
Encryption
Dispatch & Incident Response
Distributed Denial of Service Protection
Others

IoT Security Market – by Application
Smart Home
Connected Car
Information & Communication Technology
Smart Factories
BFSI
Smart Retail
Smart Healthcare
Smart Transportation
Wearable
Other
IoT Security Market – by Geography
North America
Europe

France
Germany
Italy
Spain
U.K

Asia Pacific (APAC)

Japan
China
Australia
India
Rest of APAC

Middle East and Africa (MEA)

Saudi Arabia
UAE
South Africa

South America (SAM)
IoT Security Market – Company Profiles
Cisco Systems, Inc.
IBM Corporation
Infineon Technologies
Intel Corporation
Symantec Corporation
ARM Holdings
NXP Semiconductor
INSIDE Secure
Gemalto NV
Trend Micro, Inc.