The global IoT security market generated US$ 7.3 billion in 2016 and is likely to hit US$ 30.9 billion by 2025, expanding at a CAGR of 17.6% during 2017–2025.
The increasing focus on security and privacy concerns, rising trend of smart cities, strict government regulations encouraging the deployment of IoT security, and the collaboration between companies to develop products and services with a sustainable ecosystem are the potential elements proliferating the global IoT security market growth. Contrary to this, the complicated security infrastructure, lack of awareness among the majority, and deficiency of skilled labor hampers the market expansion.
Internet of things comprises devices and systems allowing users across all segments to connect, access, and exchange data. IoT is moving from a centralized structure to a complex network with over millions of smart devices integration. This shift brings to the surface all new business and service opportunities. With the sprawling network of IoT worldwide, security is becoming a critical element that cannot be neglected in the development of systems. IoT security deals with the safety of data and devices. The security system includes different semiconductor technologies, power management devices, sensors, and microprocessors. The growing trends of smart homes, smart cities, industry 4.0, and connected devices are making users more conscious about data security.
Regionally, North America held the largest share of the global IoT security market in 2016. However, by 2025 Asia Pacific is expected to amass the largest market share with optimal revenue.
Future Trends
Emergence of Blockchain in IoT Security
Blockchain technology, being a decentralized database, serves as an online ledger keeping a record of transactions that can't be changed. It can track billions of connected devices, enable transactions, co-ordinate between devices, and facilitate significant savings to IoT industry manufacturers. This decentralized approach is anticipated to eliminate nodes of failure, creating a more resilient ecosystem for devices to run. The cryptographic algorithm used by blockchain is capable of keeping user data more confidential. As the technology is fledgling and changing vigorously, its widespread commercialization is foreseen in few years. Blockchain would emerge as an object of intense interest in IoT applications, thus setting a promising trend in the global IoT security market.
Drivers
Increasing Focus on Security and Privacy Concerns
The trusted IoT tech companies and solution providers equally focus on protecting privacy, improving security, and building trust.These three constitute the major drivers of IoT security market. A robust IoT solution approach emphasizes protecting the infrastructure and devices, developing a high level of data privacy, and building trust among regulators and customers. Along with the virtual management of systems, IoT services are anticipated to be concerned over security as well. With the rising IoT devices, the risk of infiltration by unauthorized sources also tends to increase, leaving a critical mark on users and systems. User's identity, payment details, and other digital data of utmost importance are at stake with the connection of essential everyday objects with the internet. Thus, the growing demand for data security bolsters the global IoT security market.
Rising Trend of Smart Cities
Internet of Things (IoT) serves as the base for smart city conceptualization and execution. The devices, systems, and users are interconnected in a smart city. Even the government would be connected with the systems, thereby increasing the risk of critical data loss. When everything is connected and accessed via the internet, the chances of data breaches resulting in system malfunctioning increases. This can even compromise the confidential and sensitive government data. Thus, with the development of smart cities in future, data security must remain the priority of implementation. Besides, the military and armed forces' data is susceptible to international hacking activities, which in turn demands the high-end protection.
Restraints
Complicated Security Infrastructure
Sustaining security over IoT has been a complex proposition. IoT is not only confined to smartphones, sensors, cameras, or other devices but constitutes a lot more complexity than it looks like.Even the simplest IoT system comprises a wired or wireless network, hardware components such as routers, switches, control units, peripheral devices, and suitable software. Deployment of IoT systems becomes complicated with the bigger networks. One more tangent of security, if added to the IoT systems beyond predetermined structure, makes it far more complicated to understand. Analyzing the systems is time-consuming, as multiple security solutions exist for each component of the IoT framework. Most developers are focusing on the design and utility of IoT devices rather than the security aspects, which might adversely impact the global IoT security market growth.
Strategic Insights
Report Coverage - Global Internet of Things (IoT) Security Market
Report Coverage
Details
Market Size Value in
US$ 8.4 billion in 2017
Market Size Value by
US$ 30.9 billion by 2025
Growth rate
CAGR 17.6% from 2017 to 2025.
Forecast Period
2017-2025
Base Year
2017
No. of Pages
229
Historical data available
Yes
Segments covered
Type, Solution, and Application
Regional scope
North America, Europe, Asia Pacific, Middle East & Africa, South & Central America
Country scope
US, Canada, Mexico, UK, Germany, Spain, Italy, France, India, China, Japan, South Korea, Australia, UAE, Saudi Arabia, South Africa, Brazil, Argentina
Report coverage
Revenue forecast, company ranking, competitive landscape, growth factors, and trends
Free Sample Copy Available
Market Segmentation
By Type
Demand for Security Triggered the Segmental Growth
The global IoT security market, by type, is split into network, endpoint, cloud, application, and other securities. The network security segment led the IoT security market in 2016 and is expected to continue dominating over the forecast timeframe. Networks in IoT systems enable discreet devices to communicate. Implementation of network security help organizations safeguard their communication channels from data misuse and unauthorized access. The adoption of network security solutions is highly influenced by the rising demand for secure cloud technology. Also, the intense use of virtualization made the systems susceptible to malware and defective processes, thereby mandating the integration of network security solutions that includes a firewall to perform exhaustive scanning of packets.
The application security segment is likely to stand as the second-largest market occupant by 2025. The IoT security market for application security, despite facing certain drawbacks, is anticipated to overcome the challenges with the help of technological innovation and improved security techniques. New communication protocols may bring security issues and vulnerabilities, such as malformed packet attacks and flood attacks to the application layer.
By Solution
Reviewing the Identities and Access to the Systems Strengthened the Segment's Dominance
Based on solution, the global IoT security market is segmented into threat analysis, identity access management, data loss protection, encryption, dispatch and incident response, distributed denial of service protection, and others. The identity access management segment dominated the market in 2016 and is speculated to retain its lead by 2025 with a considerable CAGR. The identity access management system for business progressions enables the supervision of electronic identities. The system can initiate, seize, log, and govern user identities and their associated access permissions in a digital manner. The identity access management solution for IoT aims at enhancing privacy and security in resource-bounded environments for general use. Smart cards and intelligent chip-based security are widely used in the IoT industry.
Threat analysis segment, the second-largest market occupant, exhibits a significant CAGR over the forecast period. The external and internal information vulnerabilities relevant to a particular organization are reviewed against real-world cyber-attacks. The anticipated result of threat assessment is to provide enhanced protection for data integrity and confidentiality. The first step in creating a security framework is recognizing threats such as phishing, app hacking, DOS attacks, and others. Threat analysis needs to be an ongoing activity as a part of a system development process.
Regional Insights
Geographically, the global IoT security market is segmented into North America, Europe, Asia Pacific (APAC), South America (SAM), and Middle East & Africa (MEA).
North America encompassed the largest IoT security market share in 2016 with a substantial revenue share. North America has been an extremely open and competitive market with respect to the adoption of IoT security solutions across major industry verticals. Internet plays a crucial business function in the region. The rising instances of cyber security threats demand essential IoT security solutions for enterprises, industries, and governments. Several organizations in the region have been implementing IoT security solutions to protect the critical data and infrastructures from unauthorized access. The US has been one of the best internet-connected countries in the world, with 87% of the active users. Also, the country has been ranked second globally for online B2C transactions.
In the European IoT security market, several mega-cities from the UK, Germany, and France are considered to be the nodes of IoT security applications. The European Commission recently drafted cyber security requirements to strengthen the security around IoT devices and networks. Foreign data protection, privacy, and other laws and regulations in the Europe are more stringent than those in other regions. Europe pioneered in deploying a maximum number of IoT security solutions across major countries.
The Asia Pacific IoT security market embeds a large number of industries foreseeing huge applications of IoT. Adoption of IoT is observed across the industrial, healthcare, enterprise, retail, and municipality spheres to address and combat data security issues. China witnessed the largest adoption rate of IoT, majorly across manufacturing and BFSI domains.
Lucrative Regions for IoT Security Market Share: by Region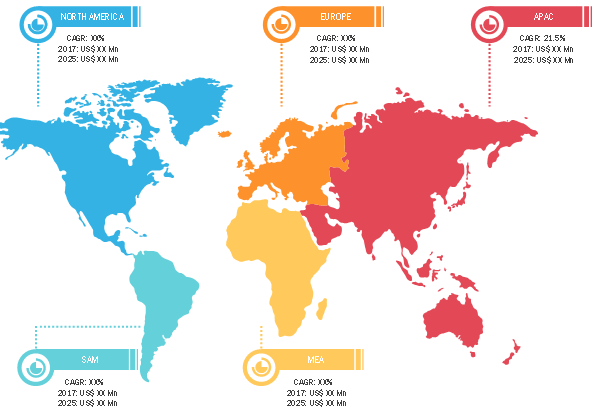 Get more information on this report :
Key Market Players:
Cisco Systems, Inc (US)
IBM Corporation (US)
Infineon Technologies AG (Germany)
Intel Corporations (US)
Symantec Corporation (US)
ARM Holdings (UK)
NXP Semiconductors NV (Netherlands)
INSIDE Secure S.A. (France)
Gemalto N.V. (Netherlands)
Trend Micro Inc. (Japan)
Synopsys Inc. (US)
ESCRYPT – Embedded Security GmBH (Germany)
Microchip Technologies Inc (US)
Palo Alto Networks Inc. (US)
Key Developments:
February 2017:

Cisco launched the industry's first secure internet gateway (SIG) in the cloud, Cisco Umbrella, to address the new enterprise security challenges of mobile and cloud era.

March 2017:

IBM launched industry's most secure and enterprise-ready blockchain service based on Linux Foundation's Hyperledger Fabric version 1.0.

December 2016:

Intel security launched the integration of the True Key extension with Windows Hello to deliver a seamless multi-factor sign-in experience on Microsoft edge.

February 2017:

Symantec acquired LifeLock, Inc., a leading provider of identity theft protection, for approximately US$ 2.3 billion.
Report Coverage
The global IoT Security market research report provides detailed insights into the market in terms of size, share, trends, and forecasts. It delivers crisp and precise know-how of drivers, restraints, opportunities, segments, and industrial landscape. A list of key IoT Security market players with their respective developments in recent years has been reserved as a special mention.