The North America e-Invoicing market was valued at US$ 890.1 million in 2019 and is projected to reach US$ 2,776.3 million by 2027; it is expected to grow at a CAGR of 15.8% from 2020 to 2027.
The growing trend of digitalization of documents for efficient processing and compliance requirements is boosting the transition from manual, paper-based Invoicing to electronic invoicing globally. The rising demand for digital solutions among government organizations and tax authorities to combat issues such as tax evasion and financial fraud is driving the growth in e-Invoicing mandates in various countries.
Various supportive initiatives by government organizations and associations, including CEN, UN/CEFACT, OpenPEPPOL, and GS1, are playing a crucial role in driving the development of e-Invoicing standards/frameworks/formats as well as in the adoption of e-Invoicing solutions across North American countries. Moreover, the growing digital transformation trend across industries and rising compliance requirements related to e-Invoicing are a few of the key factors driving the growth of the e-Invoicing market in this region.
Detailed reports include inventory and volume analysis, top-selling items, revenue and profit margin optimization, and staffing needs. With these features and technologies, vendors can attract new customers and expand their footprints in emerging markets. North America E-Invoicing market is expected to grow at a good CAGR during the forecast period from 2020 to 2027.
Mexico E-Invoicing Market Revenue and Forecasts to 2027 (US$ Mn)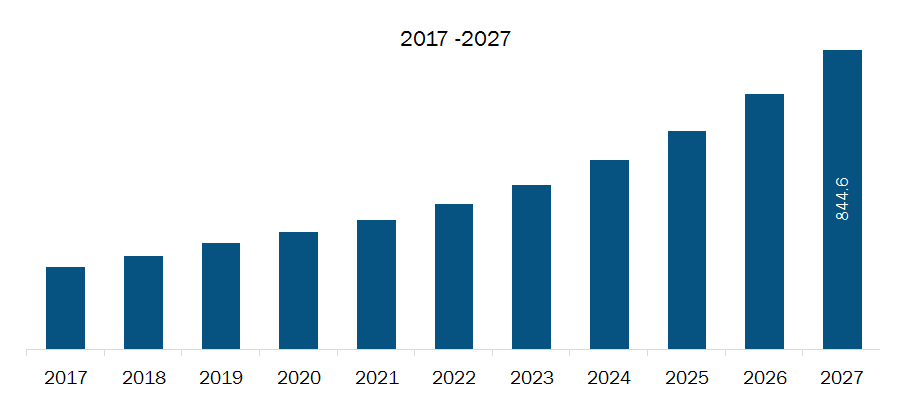 Get more information on this report :
North American E-Invoicing Market–Segmentation
North American E-Invoicing Market, by Type

North American E-Invoicing Market, by End User

North American E-Invoicing Market, by Country

North American E-Invoicing Market-Companies Mentioned
Cegedim SA

Comarch SA

Coupa Software Inc.

IBM Corporation

Nipendo Ltd.

SAP SE

The Sage Group plc

Tradeshift

Transcepta LLC