[Research Report] The virtual reality and augmented reality in retail market is expected to grow from US$ 3147.58 million in 2020 to US$ 17864.86 million by 2028; it is estimated to grow at a CAGR of 24.8% during 2021–2028.
Customer support departments have improved considerably in recent years because of the potential of AI-powered chatbots and virtual assistants. On the other hand, virtual reality (VR) in customer service is proving to be a game-changer for retailers in terms of consumer engagement and happiness. Chatbots struggle with remote troubleshooting, which is a difficult component of customer care to get correctly. However, when both sides can perceive what the other is seeing and feeling, even basic and difficult issues can be resolved in less time. There is no better way for businesses to demonstrate how much they respect their customers than by implementing great customer service initiatives, and virtual reality is the most advanced type of technology that is assisting the retail industry in doing so. Virtual reality creates a totally immersive experience with a powerful sensory effect and a strong emotional connection with users. Businesses are making use of this connection to engage with customers in new and relevant ways. Customers are more likely to make repeat purchases and become lifelong brand loyalists when they are emotionally connected with a brand. Customers can have an immersive purchasing experience that makes them feel as if they are physically and emotionally engaged with a brand. Furthermore, virtual reality provides consumers with a highly realistic level of experience. To display items in new ways, marketers can create a variety of exciting, exhilarating, scary, and even emotional VR ads. For example, The North Face offered an immersive virtual reality experience of the Nepal landscape to help customers connect with the brand's identity. As a result, the growing use of virtual reality solutions across retail brands is propelling the Virtual Reality and Augmented Reality in Retail market forward.
Impact of COVID-19 Pandemic on North America Virtual Reality and Augmented Reality in Retail Market
With the COVID-19 pandemic spreading across the US, all industries have been severely impacted. As a result, any impact on industry has a direct impact on the region's economic growth. The unusual spike in number of COVID-19 cases in the US, as well as the accompanying lockdown to battle the virus's spread across the country in the first two quarters of 2020, has prompted many businesses to prepare for the worst. In 2020, technological investments experienced a dip, owing to the above-mentioned reasons. However, the retail industry has been adopting technologies such as virtual reality and augmented reality much before the pandemic.
According to IBM's 2020 US Retail Index report, the pandemic has expedited the shift to digital purchasing by about five years. Virtual "try-before-you-buy" experiences ranging from previewing furniture and house products of brands such as IKEA and Home Depot to digitally trying on luxury fashion brands such as Louis Vuitton and Gucci. Similarly, GLAMlab's Ulta's virtual try-on beauty tool, which was established four years ago, has seen an increase in utilization during the pandemic. In addition, when jewelry manufacturer Kendra Scott's stores were temporarily closed, the company implemented an augmented reality application that let buyers to visually try on numerous earring styles from the comfort of their own homes. Thus, rise in adoption of AR by customers and increase in investment in the technology by retailers during the pandemic have positively impacted the growth of the market across the region.
Lucrative Regions for Virtual Reality and Augmented Reality in Retail Providers
Sample PDF showcases the content structure and the nature of the information with qualitative and quantitative analysis.
Request discounts available for Start-Ups & Universities
Virtual Reality and Augmented Reality in Retail Market Insights
Rising Investments by Retailers on AR and VR Technologies Fuels Growth of Virtual Reality and Augmented Reality in Retail Market
Mixed reality technologies such as AR and VR, provide a lot of promise for businesses to give customers new ways to interact with their brands, whether it is through taking them to another world or enriching the one they are in right now. Due to developments in mobile technology, augmented reality has grown in popularity in recent years, allowing customers to visualize and test things before purchasing them. Various retail brands are thereby investing in the technologies.
In 2020, Burberry launched their new augmented reality feature enabling customers to view 3D renders of its items in the real world via Google Search.
Apple, Inc. improved its augmented reality Quick Look app in 2020, allowing shoppers to buy things in-app with a single tap.
In 2019, Lululemon invested in Mirror, a fitness tech firm that uses smart mirrors to deliver exercise sessions in their clients' homes.
In 2019, GOAT introduced its innovative augmented reality "Try-On" function, which allows customers to digitally try on rare and exclusive shoes before making a purchase.
Thus, the rise in investment by global retail businesses in AR and VR technologies in expected to fuel the growth of the AR and VR in retail market over the forecast period.
Type - Based Market Insights
Based on type, the virtual reality and augmented reality in retail market is segmented into AR and VR. In 2020, the AR segment led the virtual reality and augmented reality in retail market, accounting for a larger share in the market.
Virtual Reality and Augmented Reality in Retail Market, by Type, 2020 and 2028 (%)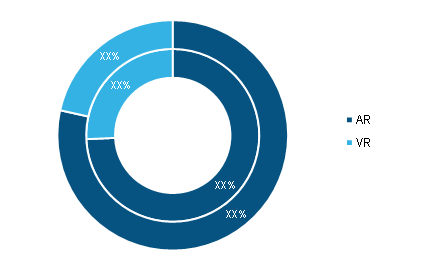 Sample PDF showcases the content structure and the nature of the information with qualitative and quantitative analysis.
Request discounts available for Start-Ups & Universities
Application-Based Market Insights
Based on application, the virtual reality and augmented reality in retail market is segmented into online retail and offline retail. In 2020, the online retail segment accounted for a larger market share.
Customize Research To Suit Your Requirement

We can optimize and tailor the analysis and scope which is unmet through our standard offerings. This flexibility will help you gain the exact information needed for your business planning and decision making.

Virtual Reality and Augmented Reality in Retail Market: Strategic Insights

| | |
| --- | --- |
| Market Size Value in | US$ 3147.58 million in 2020 |
| Market Size Value by | US$ 17864.86 Million by 2028 |
| Growth rate | CAGR of 24.8% from 2021-2028 |
| Forecast Period | 2021-2028 |
| Base Year | 2021 |

Naveen

Have a question?

Naveen will walk you through a 15-minute call to present the report's content and answer all queries if you have any.

Speak to Analyst
The players operating in the virtual reality and augmented reality in retail market adopt strategies such as mergers, acquisitions, and market initiatives to maintain their positions in the market. A few developments by key players are listed below:
In March 2021, Epson, a global leader in imaging and projection technology, had announced the Moverio BT-40 and BT-40S, a new generation of award-winning Moverio augmented reality (AR) smart glasses designed to deliver a high-quality AR viewing experience with maximum comfort.
In May 2021, Marxent had announced an expansion of their 3D retail data analytics division and the addition of a new data analytics leadership position. John Bastone, formerly of SAS, will lead the company's expanded behavioral analytics practice in his role as Head of Product Management.
The Global Virtual Reality and Augmented Reality in Retail Market has been Segmented as Mentioned Below:
By Type
By Application
Online Retail
Offline Retail
By Geography
North America
Europe

France
Germany
Italy
UK
Russia
Rest of Europe

Asia Pacific (APAC)

China
India
South Korea
Japan
Australia
Rest of APAC

Middle East & Africa (MEA)

South Africa
Saudi Arabia
UAE
Rest of MEA

South America (SAM)

Brazil
Argentina
Rest of SAM
Company Profiles
Epson America, Inc.
Marxent
Google LLC
Infosys Ltd
Intel Corporation
Microsoft Corporation
PTC Inc.
Qualcomm Technologies, Inc.
Retail VR
Samsung Electronics Co., Ltd.

Report Coverage
Revenue forecast, Company Analysis, Industry landscape, Growth factors, and Trends

Segment Covered
Type and Application

Regional Scope
North America, Europe, Asia Pacific, Middle East & Africa, South & Central America

Country Scope
Argentina, Australia, Brazil, Canada, China, France, Germany, India, Italy, Japan, Mexico, Russian Federation, Saudi Arabia, South Africa, South Korea, United Arab Emirates, United Kingdom, United States
Frequently Asked Questions
---
The List of Companies - Virtual Reality and Augmented Reality in Retail Market
Epson America, Inc.
Marxent
Google LLC
Infosys Ltd
Intel Corporation
Microsoft Corporation
PTC Inc.
Qualcomm Technologies, Inc.
Retail VR
Samsung Electronics Co., Ltd.
The Insight Partners performs research in 4 major stages: Data Collection & Secondary Research, Primary Research, Data Analysis and Data Triangulation & Final Review.
Data Collection and Secondary Research:
As a market research and consulting firm operating from a decade, we have published many reports and advised several clients across the globe. First step for any study will start with an assessment of currently available data and insights from existing reports. Further, historical and current market information is collected from Investor Presentations, Annual Reports, SEC Filings, etc., and other information related to company's performance and market positioning are gathered from Paid Databases (Factiva, Hoovers, and Reuters) and various other publications available in public domain.
Several associations trade associates, technical forums, institutes, societies and organizations are accessed to gain technical as well as market related insights through their publications such as research papers, blogs and press releases related to the studies are referred to get cues about the market. Further, white papers, journals, magazines, and other news articles published in the last 3 years are scrutinized and analyzed to understand the current market trends.
Primary Research:
The primarily interview analysis comprise of data obtained from industry participants interview and answers to survey questions gathered by in-house primary team.
For primary research, interviews are conducted with industry experts/CEOs/Marketing Managers/Sales Managers/VPs/Subject Matter Experts from both demand and supply side to get a 360-degree view of the market. The primary team conducts several interviews based on the complexity of the markets to understand the various market trends and dynamics which makes research more credible and precise.
A typical research interview fulfils the following functions:
Provides first-hand information on the market size, market trends, growth trends, competitive landscape, and outlook
Validates and strengthens in-house secondary research findings
Develops the analysis team's expertise and market understanding
Primary research involves email interactions and telephone interviews for each market, category, segment, and sub-segment across geographies. The participants who typically take part in such a process include, but are not limited to:
Industry participants: VPs, business development managers, market intelligence managers and national sales managers
Outside experts: Valuation experts, research analysts and key opinion leaders specializing in the electronics and semiconductor industry.
Below is the breakup of our primary respondents by company, designation, and region:

Once we receive the confirmation from primary research sources or primary respondents, we finalize the base year market estimation and forecast the data as per the macroeconomic and microeconomic factors assessed during data collection.
Data Analysis:
Once data is validated through both secondary as well as primary respondents, we finalize the market estimations by hypothesis formulation and factor analysis at regional and country level.
3.1 Macro-Economic Factor Analysis:
We analyse macroeconomic indicators such the gross domestic product (GDP), increase in the demand for goods and services across industries, technological advancement, regional economic growth, governmental policies, the influence of COVID-19, PEST analysis, and other aspects. This analysis aids in setting benchmarks for various nations/regions and approximating market splits. Additionally, the general trend of the aforementioned components aid in determining the market's development possibilities.
Various factors that are especially aligned to the country are taken into account to determine the market size for a certain area and country, including the presence of vendors, such as headquarters and offices, the country's GDP, demand patterns, and industry growth. To comprehend the market dynamics for the nation, a number of growth variables, inhibitors, application areas, and current market trends are researched. The aforementioned elements aid in determining the country's overall market's growth potential.
The "Table of Contents" is formulated by listing and analyzing more than 25 - 30 companies operating in the market ecosystem across geographies. However, we profile only 10 companies as a standard practice in our syndicate reports. These 10 companies comprise leading, emerging, and regional players. Nonetheless, our analysis is not restricted to the 10 listed companies, we also analyze other companies present in the market to develop a holistic view and understand the prevailing trends. The "Company Profiles" section in the report covers key facts, business description, products & services, financial information, SWOT analysis, and key developments. The financial information presented is extracted from the annual reports and official documents of the publicly listed companies. Upon collecting the information for the sections of respective companies, we verify them via various primary sources and then compile the data in respective company profiles. The company level information helps us in deriving the base number as well as in forecasting the market size.
3.4 Developing Base Number:
Aggregation of sales statistics (2020-2022) and macro-economic factor, and other secondary and primary research insights are utilized to arrive at base number and related market shares for 2022. The data gaps are identified in this step and relevant market data is analyzed, collected from paid primary interviews or databases. On finalizing the base year market size, forecasts are developed on the basis of macro-economic, industry and market growth factors and company level analysis.
Data Triangulation and Final Review:
The market findings and base year market size calculations are validated from supply as well as demand side. Demand side validations are based on macro-economic factor analysis and benchmarks for respective regions and countries. In case of supply side validations, revenues of major companies are estimated (in case not available) based on industry benchmark, approximate number of employees, product portfolio, and primary interviews revenues are gathered. Further revenue from target product/service segment is assessed to avoid overshooting of market statistics. In case of heavy deviations between supply and demand side values, all thes steps are repeated to achieve synchronization.
We follow an iterative model, wherein we share our research findings with Subject Matter Experts (SME's) and Key Opinion Leaders (KOLs) until consensus view of the market is not formulated – this model negates any drastic deviation in the opinions of experts. Only validated and universally acceptable research findings are quoted in our reports.
We have important check points that we use to validate our research findings – which we call – data triangulation, where we validate the information, we generate from secondary sources with primary interviews and then we re-validate with our internal data bases and Subject matter experts. This comprehensive model enables us to deliver high quality, reliable data in shortest possible time.