The coconut water market was valued at US$ 1,142.09 million in 2019 and is projected to reach US$ 3,246.64 million by 2027; it is expected to grow at a CAGR of 14.0% from 2020 to 2027.
Coconut water is utilized to nutritionally functionalize and enrich a broad range of food and beverage products, including nutrition bars, cereals, dairy products, baked goods, drinks, snacks, sauces, and soup recipes. It is low in calories, and free of fat and cholesterol. The global coconut water market in North America is expected to grow at the highest CAGR of 14.7% during 2020–2027.Consumption of coconut water is increasing owing to health benefits associated with it, which drives the growth of the market.
The COVID-19 pandemic was first reported in Wuhan (China) in December 2019.As of June 2020, the US, Russia, India, China, Italy, France, and Germany are among the worst-affected countries in terms of the positive cases and reported deaths. According to the WHO figures updated in June 2020, ~7,482,952 confirmed cases and ~419,497 deaths have been reported globally. The outbreak has affected economies and industries due to lockdowns, travel bans, and business shutdowns. Food & beverages is one the world's major industries suffering serious disruptions in the form of supply chain breaks, technology events cancellations, and office shutdowns. Although China is the global manufacturing hub and the largest raw material supplier for various industries in the world, it is also one of the worst hit countries by the COVID-19 pandemic. The lockdown of various plants and factories in China is adversely affecting the global supply chains, and manufacturing and sales of various food and beverages products. The overall market collapse due to this outbreak is also restraining the growth of the coconut water market due to shutdown of factories, obstacle in supply chains, and downturn in world economy.
Customize Research To Suit Your Requirement

We can optimize and tailor the analysis and scope which is unmet through our standard offerings. This flexibility will help you gain the exact information needed for your business planning and decision making.

Coconut Water Market: Strategic Insights

| | |
| --- | --- |
| Market Size Value in | US$ 1,142.09 Million in 2019 |
| Market Size Value by | US$ 3,246.64 Million by 2027 |
| Growth rate | CAGR of 14.0% from 2020-2027 |
| Forecast Period | 2020-2027 |
| Base Year | 2020 |

Shejal

Have a question?

Shejal will walk you through a 15-minute call to present the report's content and answer all queries if you have any.

Speak to Analyst
Global Coconut Water Market Breakdown – by Region, 2019
Sample PDF showcases the content structure and the nature of the information with qualitative and quantitative analysis.
Request discounts available for Start-Ups & Universities
Market Insights
Health Benefits of Coconut Water Drives Market Growth
Coconut water is free from cholesterol and fat. It is considered as a natural sports drink due to its high electrolyte content, including potassium, calcium, sodium, and magnesium, which helps regulate the fluid balance, prevent dehydration, and ensure proper muscle function. High potassium content also supports heart health and protects consumers against the risk of stroke by reducing blood pressure. Healthcare practitioners and dieticians recommend patients to consume coconut water instead of sugary drinks.
Product Type Insights
Based on product type, the coconut water market is further bifurcated into pure coconut water and mixed coconut water. The pure coconut water segment accounted for a larger share of the market in 2019. Pure coconut water, also known as organic coconut water, is healthier than mixed or conventional coconut water. In its natural form, it is known as a rich source of sodium, potassium, and magnesium, which optimize the rehydration process.
Coconut Water Market, by Product Type – 2019 and 2027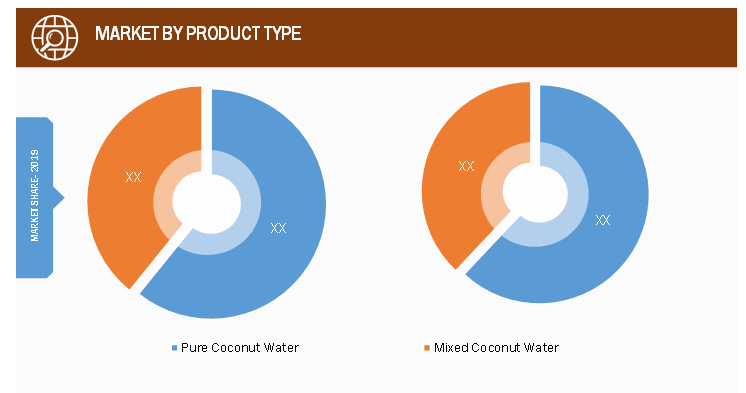 Sample PDF showcases the content structure and the nature of the information with qualitative and quantitative analysis.
Request discounts available for Start-Ups & Universities
Packaging Insights
Based on packaging, the coconut water market is further segmented into bottles, pouches, and cans. The bottles segment accounted for the largest share of the market in 2019. With the alternatives ranging from 50 ml to 1 L, bottled packaging has been one of the most preferred options among both the consumers and the manufacturers. The small-sized bottles are easy to carry and capable of storing adequate volume of coconut water. Bottles are also easy to transport in bulk as they do not get damaged easily. Sealed bottle caps help extend the shelf life of coconut water for some time that boosts the demand for bottled coconut water globally.
Coconut Water Market, by Product Type
Pure coconut water
Mixed coconut water

Coconut Water Market, by Packaging

Coconut Water Market, by Distribution Channel
Supermarkets and Hypermarkets
Convenience Store
Online
Others

Company Profiles
Amy and Brian
PepsiCo, Inc.
The Coca-Cola Company
C2O Pure Coconut Water
Gracekennedy
Green Coco Europe GmbH
Harmless Harvest
Mojo Organics Inc.
Taste Nirvana
Sambu Group

Report Coverage
Revenue forecast, Company Analysis, Industry landscape, Growth factors, and Trends

Segment Covered
Product , Packaging , Distribution Channel

Regional Scope
North America, Europe, Asia Pacific, Middle East & Africa, South & Central America

Country Scope
Argentina, Australia, Brazil, Canada, China, France, Germany, India, Italy, Japan, Mexico, Russian Federation, Saudi Arabia, South Africa, South Korea, United Arab Emirates, United Kingdom, United States
Frequently Asked Questions
---
Can you list some of the major players operating in the global coconut water market?
Amy and Brian, PepsiCo, Inc., The Coca-Cola Company, C2O Pure Coconut Water, Gracekennedy, Green Coco Europe GmbH, Harmless Harvest, Mojo Organics Inc., Taste Nirvana, and Sambu Group are among the well-established players in the global coconut water market.
Which region held the largest share of the global coconut water market?
In 2019,the coconut water market was predominantinAsia Pacificat theglobal level.With an expansion in the number of multinational companies setting up their manufacturing plant in the Asia Pacific region, the market development for these products is anticipated to grow during the forecast period.
The List of Companies - Global Coconut Water Market
Amy and Brian
PepsiCo, Inc.
The Coca-Cola Company
C2O Pure Coconut Water
Gracekennedy
Green Coco Europe GmbH
Harmless Harvest
Mojo Organics Inc.
Taste Nirvana
Sambu Group
The Insight Partners performs research in 4 major stages: Data Collection & Secondary Research, Primary Research, Data Analysis and Data Triangulation & Final Review.
Data Collection and Secondary Research:
As a market research and consulting firm operating from a decade, we have published many reports and advised several clients across the globe. First step for any study will start with an assessment of currently available data and insights from existing reports. Further, historical and current market information is collected from Investor Presentations, Annual Reports, SEC Filings, etc., and other information related to company's performance and market positioning are gathered from Paid Databases (Factiva, Hoovers, and Reuters) and various other publications available in public domain.
Several associations trade associates, technical forums, institutes, societies and organizations are accessed to gain technical as well as market related insights through their publications such as research papers, blogs and press releases related to the studies are referred to get cues about the market. Further, white papers, journals, magazines, and other news articles published in the last 3 years are scrutinized and analyzed to understand the current market trends.
Primary Research:
The primarily interview analysis comprise of data obtained from industry participants interview and answers to survey questions gathered by in-house primary team.
For primary research, interviews are conducted with industry experts/CEOs/Marketing Managers/Sales Managers/VPs/Subject Matter Experts from both demand and supply side to get a 360-degree view of the market. The primary team conducts several interviews based on the complexity of the markets to understand the various market trends and dynamics which makes research more credible and precise.
A typical research interview fulfils the following functions:
Provides first-hand information on the market size, market trends, growth trends, competitive landscape, and outlook
Validates and strengthens in-house secondary research findings
Develops the analysis team's expertise and market understanding
Primary research involves email interactions and telephone interviews for each market, category, segment, and sub-segment across geographies. The participants who typically take part in such a process include, but are not limited to:
Industry participants: VPs, business development managers, market intelligence managers and national sales managers
Outside experts: Valuation experts, research analysts and key opinion leaders specializing in the electronics and semiconductor industry.
Below is the breakup of our primary respondents by company, designation, and region:

Once we receive the confirmation from primary research sources or primary respondents, we finalize the base year market estimation and forecast the data as per the macroeconomic and microeconomic factors assessed during data collection.
Data Analysis:
Once data is validated through both secondary as well as primary respondents, we finalize the market estimations by hypothesis formulation and factor analysis at regional and country level.
3.1 Macro-Economic Factor Analysis:
We analyse macroeconomic indicators such the gross domestic product (GDP), increase in the demand for goods and services across industries, technological advancement, regional economic growth, governmental policies, the influence of COVID-19, PEST analysis, and other aspects. This analysis aids in setting benchmarks for various nations/regions and approximating market splits. Additionally, the general trend of the aforementioned components aid in determining the market's development possibilities.
Various factors that are especially aligned to the country are taken into account to determine the market size for a certain area and country, including the presence of vendors, such as headquarters and offices, the country's GDP, demand patterns, and industry growth. To comprehend the market dynamics for the nation, a number of growth variables, inhibitors, application areas, and current market trends are researched. The aforementioned elements aid in determining the country's overall market's growth potential.
The "Table of Contents" is formulated by listing and analyzing more than 25 - 30 companies operating in the market ecosystem across geographies. However, we profile only 10 companies as a standard practice in our syndicate reports. These 10 companies comprise leading, emerging, and regional players. Nonetheless, our analysis is not restricted to the 10 listed companies, we also analyze other companies present in the market to develop a holistic view and understand the prevailing trends. The "Company Profiles" section in the report covers key facts, business description, products & services, financial information, SWOT analysis, and key developments. The financial information presented is extracted from the annual reports and official documents of the publicly listed companies. Upon collecting the information for the sections of respective companies, we verify them via various primary sources and then compile the data in respective company profiles. The company level information helps us in deriving the base number as well as in forecasting the market size.
3.4 Developing Base Number:
Aggregation of sales statistics (2020-2022) and macro-economic factor, and other secondary and primary research insights are utilized to arrive at base number and related market shares for 2022. The data gaps are identified in this step and relevant market data is analyzed, collected from paid primary interviews or databases. On finalizing the base year market size, forecasts are developed on the basis of macro-economic, industry and market growth factors and company level analysis.
Data Triangulation and Final Review:
The market findings and base year market size calculations are validated from supply as well as demand side. Demand side validations are based on macro-economic factor analysis and benchmarks for respective regions and countries. In case of supply side validations, revenues of major companies are estimated (in case not available) based on industry benchmark, approximate number of employees, product portfolio, and primary interviews revenues are gathered. Further revenue from target product/service segment is assessed to avoid overshooting of market statistics. In case of heavy deviations between supply and demand side values, all thes steps are repeated to achieve synchronization.
We follow an iterative model, wherein we share our research findings with Subject Matter Experts (SME's) and Key Opinion Leaders (KOLs) until consensus view of the market is not formulated – this model negates any drastic deviation in the opinions of experts. Only validated and universally acceptable research findings are quoted in our reports.
We have important check points that we use to validate our research findings – which we call – data triangulation, where we validate the information, we generate from secondary sources with primary interviews and then we re-validate with our internal data bases and Subject matter experts. This comprehensive model enables us to deliver high quality, reliable data in shortest possible time.