[Research Report] The commercial drone market is expected to grow from US$ 8.86 billion in 2022 to US$ 53.66 billion by 2030; it is estimated to grow at a CAGR of 25.3% from 2022 to 2030.
Analyst Perspective:
The commercial drone market has witnessed significant growth in recent years, driven by technological advancements adoption across several sectors, including agriculture, logistics & transportation, consumer goods and others. Several developing and developed countries around the globe have formed the necessary legal favorable framework and announced investment and national programs aiming at increasing drone usage for civil, aviation, and military applications. Further, commercial drones are being adopted by leading corporations such as Amazon.com., and Google for logistic delivery purposes. Commercial drone deployments are growing exponentially for a wide range of applications, including cargo service to taxi services for agriculture, risk management, assessment and monitoring of the infrastructure, and disaster relief management, among others.
Several commercial drone manufacturers are continuously inventing, developing, upgrading and launching drone solutions for diversified markets. Also, the rising integration of modern technologies such as machine learning, artificial intelligence, and IoT in commercial drones is projected to create lucrative opportunities for market growth. These drones offer enhanced solutions and new opportunities for the commercial drone industry.
Drones are increasingly adopted in the building & construction industry owing to their ability to survey a property, offer project alerts, increase safety, and prevent harmful accidents on remote construction sites. Moreover, increasing demand for several conventional applications such as monitoring, surveying, and offering security boosted the commercial drone market. It is used to identify dangerous situations across inaccessible remote locations. Drones are used to inspect elevated infrastructure that humans cannot reach.
The most common application areas of the commercial drone market include surveying, geodesy, photography, and cartography. The rising popularity of drones in a wide range of applications such as filming, geoinformatics, and industrial exploration. The advancement of drone technology with the rising applications of commercial drones in film production has drastically increased. Commercial drones are used to capture aerial shots, reduces the workforce requirement, and saves cost in film production. The use of commercial drones for delivering goods reduces logistics costs and increases the speed of delivery for the e-commerce industries. E-commerce companies are adopting commercial drones to facilitate logistics and product delivery services to their customers. For instance, in May 2023, Amazon.com Inc. completed its 100 commercial drone deliveries through its Prime Air delivery express. Also, Alphabet's Wing and Walmart partnered with Zipline to facilitate drone delivery for the customers.
Further, there is a rising demand for commercial drones across the construction, logistics, and agriculture sectors for surveying and mapping the land. The use of global commercial drones for pollination and crop monitoring in the agriculture industry is driving the demand in developed countries. These commercial drones are used to provide customized related information on agricultural land suitable for decision-making. In June 2023, Guardian Agriculture precision agriculture company raised US$ 20 million from the series A funding round. The funding is planned to expand its autonomous commercial drone technologies business for farmers in the US.
Further, the rising adoption of drones for several military and defense operations for several purposes, including warfare, surveillance, land mapping and delivery of military cargo up to 1 ton. The use of commercial drones is also increasing in the archaeology, oil & gas, and mining sectors for excavation and geo-prospecting in highly hazardous areas. These drones are used for performing several tasks, including surveying and mapping, stockpile measurements, and inspection. Further, rising investment in the construction industry around the globe, with rapid urbanization and a surge in the global population, drives market growth. In the construction industry, commercial drones are used to provide precise data such as site planning, tracking, quality control, bidding, and many more. These drones are used to read the data related to the construction sites, and they create an impact on the improvement of the construction projects by facilitating effective communication and management among the workers and engineers.
Market Overview:
Commercial drones are unmanned aerial vehicles that are used for business purposes. A commercial drone is a type of small quadcopter, hexacopter, or other multi-rotor drone that is only used for commercial purposes. With these drones, the builders inspect the construction sites at remote locations. Professional photographers drive drone cameras for site visits by taking images of the construction sites at high altitudes. Further, in developed countries such as the US, Canada, Germany, France, and the UK, farmers use these commercial drones for spraying their crops for higher yields. Also, in these countries, retail and medical stores are using these commercial drones for delivering their parcel and packages to their consumers.
The commercial drone market ecosystem consists of software, integrators, drone-driving experts, component manufacturers, and end-users. The overall ecosystem of the drone market consists of raw material suppliers, the production of various components of drones, drone manufacturers, drone service companies, and end users. The component required for the commercial drone includes several metal parts, in-built software, laser rangefinders, batteries, cameras, motors, fasteners, and other electronics. The component manufacturers supply their components to the drone manufacturers at their drone assembly plants. There are several leading companies, including DJI, Inc. and MMC, which offer a wide variety of commercial drones. These companies are capable of manufacturing and designing major industrial and commercial drones for the end-use industries.
Strategic Insights
Market Driver:
Increased Demand for Commercial Drones in the Construction, Mining, Agriculture, Transportation and Energy Industries drives the Global Commercial Drone Market Growth.
Commercial drones are extremely beneficial for construction companies because they can be used to take aerial photos and videos of projects during various stages of development. Commercial drones can fly over the top of properties that are currently being developed so that contractors and developers can see their projects from a higher and more well-rounded perspective.
Delivery services have begun to use commercial drones to deliver packages right to people's homes. Some delivery services will even drop items off in a person's backyard or at people's front doors. Agriculture: Drone usage within the agriculture industry is very popular. For example, farmers and ranchers use drones to scout out areas that require additional water or sunlight during their crop and animal farming operations.
Conservation
Many different types of conservation organizations are using commercial drones to collect aerial footage of their work. For example, parks and wildlife refuges use commercial drones to capture footage of animals, especially predators in the wild.
Transportation
The transportation industry is using commercial drones to deliver packages right to customers' front doors. Many different online retailers have started partnering with delivery services that will drop off items in front yards or backyards.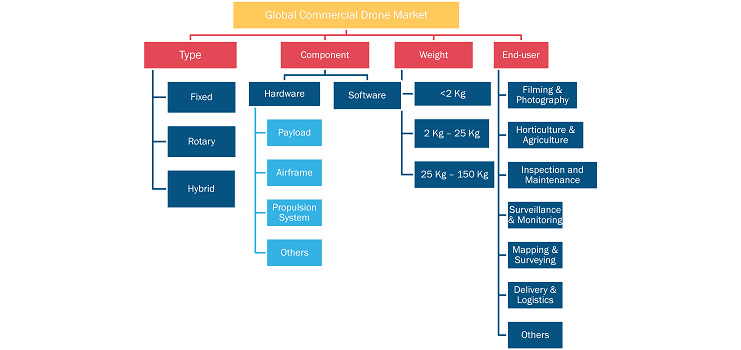 Segmental Analysis:
Based on type, the market is segmented into fixed, rotary, and hybrid. The rotary segment held the largest share of the market in 2022, whereas the hybrid segment is anticipated to register the highest CAGR in the market during the forecast period. This is primarily owing to its flexibility and rising demand for delivery services by the logistics and transportation companies. Logistics companies and e-commerce giants such as Amazon.com, Inc., Flipkart and others are adopting the commercial drone. Delivery logistics services use commercial drones to deliver the packages to the required locations. Drone delivery is fast and hassle-free for the customers. The aerial distance is always less than the distance by land. Also, there are no issues of traffic or narrow ways in the air. UAVs use a shorter and more direct route, which saves time. Because there are no restrictions on standard rapid logistics shipping routes, the flying speed is also quite fast.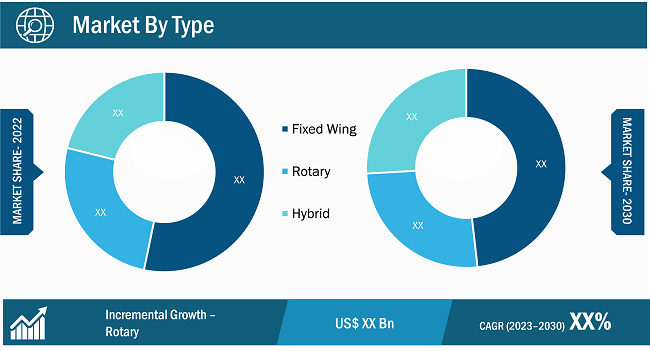 Regional Analysis:
The North America commercial drone market is expected to dominate the market in 2022 owing to rising adoption among e-commerce companies such as Amazon.com, Inc., among others. These key players are adopting commercial drones for the delivery of the goods ordered by the customers. For instance, Amazon.com, the e-commerce company, launched a drone delivery service called "Prime Air." The company planned to deliver the orders to its customers within 30 minutes using its Prime Air delivery service program.
Further, the rising sale of drones among various industries, including agriculture, food & beverages, retail and transportation sectors in the US, drives the market growth. As per the Federal Aviation Administration, in 2022, around 338,614 commercial drones are sold in the US, and overall, 872,248 drones are registered as drones. The US Federal Aviation has provided certain guidelines for several types of unmanned vehicles, including commercial drones for recreational activities, drones for public safety, and advanced air mobility (AAM) aircraft.
Key Player Analysis:
The commercial drone market analysis consists of players such as SKYDIO, DJI Technology Co., Ltd., Yuneec International Co. Ltd., AeroVironment, Inc., Aeryon Labs Inc., Parrot SA, PrecisionHawk Inc., Delair, Insitu Inc., and Leptron Unmanned Aircraft Systems, Inc. are the key players owing to the diversified product portfolio offered.
Recent Developments:
The leading players are adopting several strategies, including partnerships, collaborations, new product developments, mergers and acquisitions, to remain competitive in the market. Some of the key market developments are as follows:
In September 2023, A2Z Drone Delivery, the commercial drone delivery solution provider, launched next-generation integrated RDST cargo commercial drones. The RDST model is integrated with an RDS2 drone that enables the delivery of payloads safely from high altitudes. The RDST hexacopter is available in various Standard configuration that offers a 20-kilometer maximum range with a battery system with a maximum range of 26 kilometers.
In May 2023, DJI, one of the drone manufacturers, launched the DJI Matrice 350 RTK, a new standard commercial drone. This drone is used as a business tool with an upgraded drone platform for several aerial operations, including energy, public safety, mapping, infrastructure and forestry.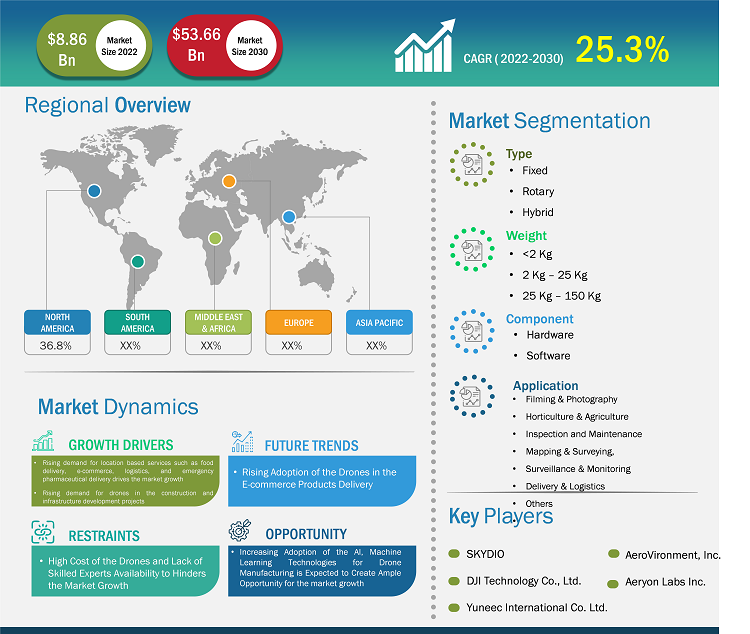 Sample PDF showcases the content structure and the nature of the information with qualitative and quantitative analysis.
Request discounts available for Start-Ups & Universities
REGIONAL FRAMEWORK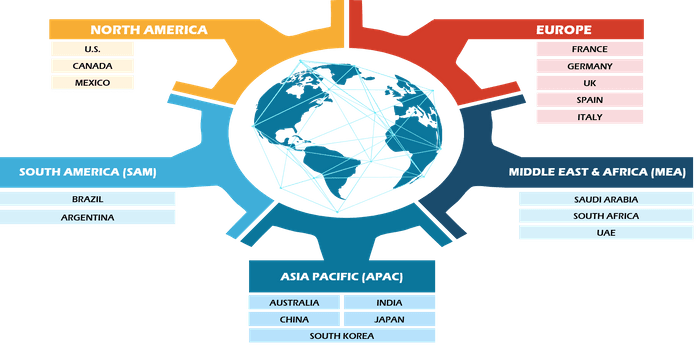 Have a question?

Naveen
Naveen will walk you through a 15-minute call to present the report's content and answer all queries if you have any.

Speak to Analyst
Sample PDF showcases the content structure and the nature of the information with qualitative and quantitative analysis.
Request discounts available for Start-Ups & Universities
MARKET PLAYERS
Sample PDF showcases the content structure and the nature of the information with qualitative and quantitative analysis.
Request discounts available for Start-Ups & Universities

Report Coverage
Revenue forecast, Company Analysis, Industry landscape, Growth factors, and Trends

Segment Covered
Type, Weight, Component, Application, and Geography

Regional Scope
North America, Europe, Asia Pacific, Middle East & Africa, South & Central America

Country Scope
This text is related
to country scope.
SKYDIO
DJI Technology Co., Ltd.
Yuneec International Co. Ltd.
AeroVironment, Inc.
Aeryon Labs Inc.
Parrot SA
PrecisionHawk Inc.
Delair, Insitu Inc.
Leptron Unmanned Aircraft Systems, Inc.
The Insight Partners performs research in 4 major stages: Data Collection & Secondary Research, Primary Research, Data Analysis and Data Triangulation & Final Review.
Data Collection and Secondary Research:
As a market research and consulting firm operating from a decade, we have published many reports and advised several clients across the globe. First step for any study will start with an assessment of currently available data and insights from existing reports. Further, historical and current market information is collected from Investor Presentations, Annual Reports, SEC Filings, etc., and other information related to company's performance and market positioning are gathered from Paid Databases (Factiva, Hoovers, and Reuters) and various other publications available in public domain.
Several associations trade associates, technical forums, institutes, societies and organizations are accessed to gain technical as well as market related insights through their publications such as research papers, blogs and press releases related to the studies are referred to get cues about the market. Further, white papers, journals, magazines, and other news articles published in the last 3 years are scrutinized and analyzed to understand the current market trends.
Primary Research:
The primarily interview analysis comprise of data obtained from industry participants interview and answers to survey questions gathered by in-house primary team.
For primary research, interviews are conducted with industry experts/CEOs/Marketing Managers/Sales Managers/VPs/Subject Matter Experts from both demand and supply side to get a 360-degree view of the market. The primary team conducts several interviews based on the complexity of the markets to understand the various market trends and dynamics which makes research more credible and precise.
A typical research interview fulfils the following functions:
Provides first-hand information on the market size, market trends, growth trends, competitive landscape, and outlook
Validates and strengthens in-house secondary research findings
Develops the analysis team's expertise and market understanding
Primary research involves email interactions and telephone interviews for each market, category, segment, and sub-segment across geographies. The participants who typically take part in such a process include, but are not limited to:
Industry participants: VPs, business development managers, market intelligence managers and national sales managers
Outside experts: Valuation experts, research analysts and key opinion leaders specializing in the electronics and semiconductor industry.
Below is the breakup of our primary respondents by company, designation, and region:

Once we receive the confirmation from primary research sources or primary respondents, we finalize the base year market estimation and forecast the data as per the macroeconomic and microeconomic factors assessed during data collection.
Data Analysis:
Once data is validated through both secondary as well as primary respondents, we finalize the market estimations by hypothesis formulation and factor analysis at regional and country level.
3.1 Macro-Economic Factor Analysis:
We analyse macroeconomic indicators such the gross domestic product (GDP), increase in the demand for goods and services across industries, technological advancement, regional economic growth, governmental policies, the influence of COVID-19, PEST analysis, and other aspects. This analysis aids in setting benchmarks for various nations/regions and approximating market splits. Additionally, the general trend of the aforementioned components aid in determining the market's development possibilities.
Various factors that are especially aligned to the country are taken into account to determine the market size for a certain area and country, including the presence of vendors, such as headquarters and offices, the country's GDP, demand patterns, and industry growth. To comprehend the market dynamics for the nation, a number of growth variables, inhibitors, application areas, and current market trends are researched. The aforementioned elements aid in determining the country's overall market's growth potential.
The "Table of Contents" is formulated by listing and analyzing more than 25 - 30 companies operating in the market ecosystem across geographies. However, we profile only 10 companies as a standard practice in our syndicate reports. These 10 companies comprise leading, emerging, and regional players. Nonetheless, our analysis is not restricted to the 10 listed companies, we also analyze other companies present in the market to develop a holistic view and understand the prevailing trends. The "Company Profiles" section in the report covers key facts, business description, products & services, financial information, SWOT analysis, and key developments. The financial information presented is extracted from the annual reports and official documents of the publicly listed companies. Upon collecting the information for the sections of respective companies, we verify them via various primary sources and then compile the data in respective company profiles. The company level information helps us in deriving the base number as well as in forecasting the market size.
3.4 Developing Base Number:
Aggregation of sales statistics (2020-2022) and macro-economic factor, and other secondary and primary research insights are utilized to arrive at base number and related market shares for 2022. The data gaps are identified in this step and relevant market data is analyzed, collected from paid primary interviews or databases. On finalizing the base year market size, forecasts are developed on the basis of macro-economic, industry and market growth factors and company level analysis.
Data Triangulation and Final Review:
The market findings and base year market size calculations are validated from supply as well as demand side. Demand side validations are based on macro-economic factor analysis and benchmarks for respective regions and countries. In case of supply side validations, revenues of major companies are estimated (in case not available) based on industry benchmark, approximate number of employees, product portfolio, and primary interviews revenues are gathered. Further revenue from target product/service segment is assessed to avoid overshooting of market statistics. In case of heavy deviations between supply and demand side values, all thes steps are repeated to achieve synchronization.
We follow an iterative model, wherein we share our research findings with Subject Matter Experts (SME's) and Key Opinion Leaders (KOLs) until consensus view of the market is not formulated – this model negates any drastic deviation in the opinions of experts. Only validated and universally acceptable research findings are quoted in our reports.
We have important check points that we use to validate our research findings – which we call – data triangulation, where we validate the information, we generate from secondary sources with primary interviews and then we re-validate with our internal data bases and Subject matter experts. This comprehensive model enables us to deliver high quality, reliable data in shortest possible time.
Trends and growth analysis reports related to Commercial Drone Market
---