The cosmeceuticals market is expected to grow from US$ 45,916.66 million in 2021 to US$ 81,773.26 million by 2028. It is estimated to grow at a CAGR of 8.7% from 2022 to 2028.
The market's growth is due to the increasing demand for anti-aging products and a shift to male grooming products.
The cosmeceuticals market comprises major competitive players who adopt various strategies, such as product launches, geographic expansion, and technological advancements. A few recent developments in the market are listed below:
In April 2022, collaborating with Walmart, OLAY North America and Pantene North America launched new Boosters for skin and hair to meet consumers' evolving personal care needs.
In September 2021, Olay Body is introducing a new line of body lotions that provide the visible skin-transformation benefits women seek in their body care products. Now hitting shelves across the country is the new Olay Body Lotion Collection, which combines niacinamide in its proprietary Vitamin B3 Complex with prestige skincare ingredients – collagen, hyaluronic acid, and vitamin C – to hydrate and rejuvenate skin's surface cells for visibly firmer, more radiant skin over time.
In December 2020, L'Oréal acquired the Japanese company Takami Co. This company develops and markets products licensed by the skincare brand Takami, owned by Doctor Hiroshi Takami, founder of two eponymous dermatological clinics in Tokyo. On this occasion, L'Oréal also renewed a long-term brand licensing agreement with Doctor Takami and signed a collaboration contract with the Takami clinics. This acquisition should be completed in the next few weeks.
Strategic Insights
Report Coverage - Cosmeceuticals Market
Report Coverage
Details
Market Size Value in
US$ 45,916.66 Million in 2021
Market Size Value by
US$ 81,773.26 Million by 2028
Growth rate
CAGR of 8.7% from 2022 to 2028
Forecast Period
2022-2028
Base Year
2021
No. of Pages
232
No. of Tables
29
No. of Charts & Figures
123
Historical data available
Yes
Segments covered
Application, Distribution Channel, and Age
Regional scope
North America, Europe, Asia Pacific, Middle East & Africa, South & Central America
Country scope
US, Canada, Mexico, UK, Germany, Spain, Italy, France, India, China, Japan, South Korea, Australia, UAE, Saudi Arabia, South Africa, Brazil, Argentina
Report coverage
Revenue forecast, company ranking, competitive landscape, growth factors, and trends
Free Sample Copy Available
- Cosmeceuticals Market
The active participation of market players in product innovation and development and an increase in product approvals are fueling the cosmeceuticals market's growth. Further, with the advent of advanced technologies, the market will grow exponentially during the forecast period.
The recent coronavirus outbreak has forced governments worldwide to take strict measures to ensure the spread of the disease is limited. As more people are advised to stay indoors, people are looking to run businesses from home. Despite the slowdown in manufacturing processes, the demand for cosmeceuticals among a few categories continues to rise. Beauty endorsements, indoor marketing of products, and adoption of beauty products by online influencers have all opened up a huge growth potential. The only real dilemma is the supply-demand gap. The restrictions in manufacturing will likely ease off, and chances are companies will look to capitalize on the situation with support from e-commerce websites.
The lack of proper regulatory approvals and health claims is hindering the penetration of these products in the health-savvy population. For instance, the Federal Food, Drug, and Cosmetic Act (FD&C Act) in the US does not recognize cosmeceuticals and includes these under cosmetics. The regulatory system for cosmeceutical products is complex and not stringent compared to drugs. Most of the time, newly launched products are susceptible to the uncertainty of regulatory review. This uncertainty in the regulations leads to the launch of counterfeit goods in the market, which hampers the credibility of cosmeceuticals.
Country Overview - Cosmeceuticals Market
While the cosmetics industry in India could be relatively strong compared to other categories of consumers, 2020 has been very poor in terms of sales. However, it is being said that this industry will remain attractive in the near future. The pandemic-related crisis accentuates trends, which shape the market, such as the rise in the use of e-commerce rather than touching a new ground altogether. With the increasing Internet penetration, the online market for purchasing consumer goods has seen rapid growth in the last 3-4 years in India. This category has attracted a few vertical specialists, like Nykaa, Purplle, Nnnow, etc., who are riding on the increasing e-tailing growth and vying for a significant pie in the online cosmetics space. Nykaa offers more than 600 brands in offline and online stores in India.
In 2021, Colorbar launched what it describes as India's first-ever customizable makeup palette with 12 custom-designed cases and a selection of eyeshadow, blushers, and highlighters. In 2021, Bloomers came up with an indie brand, Colour Cosmetics, that serves the customers through local pharmacies and marts. The brand aims to offer a wide range of products encompassing everything from foundations to lipsticks and to bust the misconception that drug store makeup is low in price and inferior in quality. In July 2020, luxury brand Sulwhasoo was officially launched into the Indian market through Nykaa. Sulwhasoo has launched skincare solutions and high-performance products from Korean ginseng that are all about balance, formulation, quality of ingredients, and potency, since been delivering results.
The Indian cosmeceuticals market is slowly but steadily recovering. There is also a clear transition towards more ethically sourced and naturally made products. This made it essential for conglomerates to work out similar strategies to keep their foothold, which is expected to boost the growth of the cosmeceuticals market in India during the forecasted period.
Lucrative Regions for Global Cosmeceuticals Market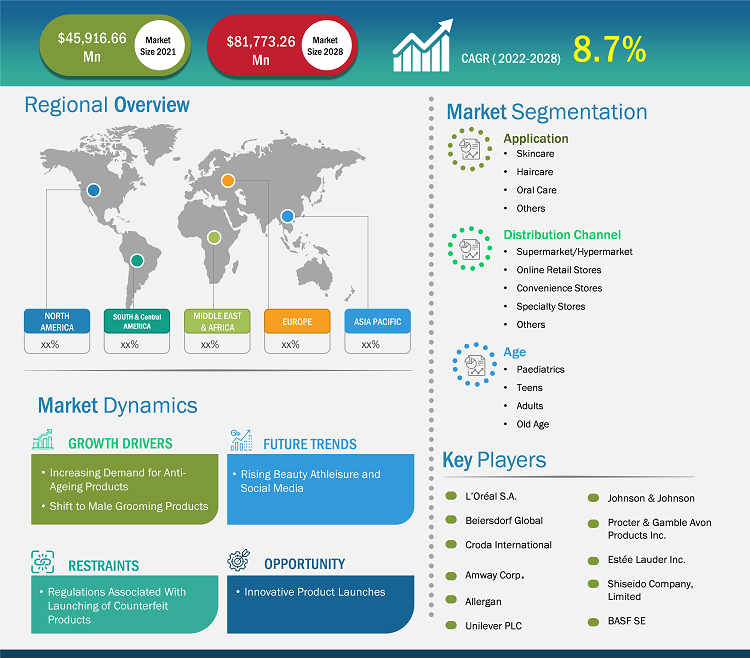 Get more information on this report :
Application Insights - Cosmeceuticals Market
Based on application, the global cosmeceuticals market is segmented into hemocytometers, flow cytometers, electrical impedance colter counters, and spectrophotometers. In 2021, the skin care segment held the largest share of the market. Moreover, the skin care segment is also expected to witness the fastest CAGR from 2022 to 2028. Skincare cosmeceuticals contain biological applications, capable of exerting physiologic changes to the skin. These cosmeceuticals are used to improve cosmetic problems, such as hyperpigmentation, cellulite, large pores, and acne. The vast majority of skincare cosmeceuticals provide solutions for combating aging—wrinkles, loss of elasticity and tone, and sun damage. Skincare cosmeceuticals can work in tandem with topical prescription medications to improve overall skin treatment. Alpha hydroxy acids (AHAs), such as glycolic acid, lactic acid, malic acid, mandelic acid, and benzilic acid, increase the exfoliation of the skin. AHAs are also used in sunscreen products and prevent mild hyperpigmentation.
Alpha-lipoic acid (ALA) acts as an antioxidant and is often used in eye creams and serums to prevent dark circles. ALA may increase skin firmness and reduce large pores. Ceramides keep skin hydrated and reduce trans-epidermal water loss (or TEWL). Ceramides are used in moisturizers for skin smoothening. Hyaluronic acid, alike ceramides, helps keep the skin hydrated and firm. Niacinamide (vitamin B3) increases skin hydration levels and reduces redness, blotchiness, and hyperpigmentation. Vitamin C stimulates collagen creation (specifically L-ascorbic acid). Vitamin E protects from the degradation of elastin.
The growing prevalence of skin-related problems has propelled the growth of the skin care segment in the cosmeceuticals market. The use of skin care products has increased due to climate change and its impact on the skin. The growing number of industries has resulted in higher levels of pollution in cities, which may have negative effects on the skin, prompting individuals to seek more skin care products for protection. Sunscreen will continue to be in high demand this year.
As one of the most critical skincare requirements, UV protection is extensively advocated and emphasized by dermatologists, cosmetologists, and other experts. Consumers are increasingly aware that they must protect themselves from UV rays, blue light, smoking, smog, pollution, germs, bacteria, and viruses. As a result, manufacturers must focus on more specialized sunscreens, blue light protection therapies, antioxidant serums, and antimicrobial product innovations.
Global Cosmeceuticals Market, by Application – 2022 and 2028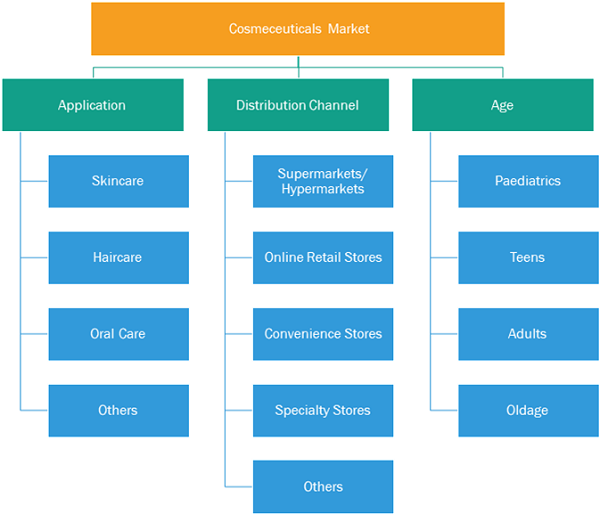 Get more information on this report :
Companies operating in the cosmeceuticals market adopt the product innovation strategy to meet the evolving customer demands worldwide, which also permits them to maintain their brand name in the market.
Global Cosmeceuticals Market – Segmentation
The cosmeceuticals market is analyzed on the basis of application, distribution channel, and age. Based on application, the market is segmented into skincare, hair care, oral care , and others. Based on distribution channel, the market is segmented into supermarket/hypermarket, online retail stores, convenience stores, specialist stores, and other distribution channels. Based on age, the market is segmented into pediatrics, teens, adults, and old age.
Company Profiles - Cosmeceuticals Market
L'Oréal S.A.
Beiersdorf Global
Croda International
Amway Corp.
Allergan
Unilever PLC
Johnson & Johnson
Procter & Gamble
Avon Products Inc.
Estée Lauder Inc.
Shiseido Company, Limited
BASF SE
Frequently Asked Questions