The global Over The Top (OTT) market accounted for US$ 36.7 billion in 2016 and is expected to grow at a CAGR of 17.16% during 2017–2025 to account for US$ 158.4 billion in 2025.
We have entered a time where the work hours and life stressors have become worse than ever. People find themselves unable to cook themselves decent healthy meals and prefer fast food. Everything is becoming on-the-go to accommodate the quick pace of modern life. It has become extremely important in high-stress life for people to unwind and find time for themselves that is relaxing for the mind and body. Most people have admitted to gravitating toward movies and television series when looking for a slight break from this go-go lifestyle. But sometimes, finding the time to watch your particular favorite show at the exact time it is aired in one go is next to impossible. People want to customize this experience according to their time and comfort. Over the top or Over The Top (OTT)is a platform that provides television or film content using the internet on your smartphones or smart T.V. according to your time and needs. All these advantages have made the Over The Top (OTT) Market an enticing product, especially with minimal costs, and also motivated tremendous investment in the market.
Future trends
Any market with the potential for growth and lucrative returns attracts many vendors and investors. The Over The Top (OTT) marketof developed and developing countries has been thriving recently. North American and Western Europe markets are expected to see y-o-y growth in revenue in the next couple of years. The original content of Over The Top (OTT)pioneers such as Amazon and Netflix has gained its place in the entertainment industry. Ownership has many advantages over licensing, such as cost saving. However, it is risky if it does not gain enough traction, leading to insurmountable losses.
The next big step that many Over The Top (OTT) marketplayers are looking at is incorporating live content. This will divide the O.T.T. content from the Pay-TV content. For instance, Amazon invested in the live-stream service called Twitch in 2014. Even Yahoo produced an online live American football game broadcast. Looking at the trend until now, coupled with the potential upcoming plans, the future looks robust for the Over The Top (OTT) market.
Drivers
The Growing use of smartphones has resulted in increased O.T.T. use
The growth of telecommunications is subject to the changes the tech world goes through. The preference for O.T.T. over traditional T.V. is the most recent technology step up, and there are many reasons for the sector to be growing swiftly in recent times. There is an undeviable surge in sales of smartphones because of the many applications such phones have. Students below the age of 12 with a smartphone are not uncommon, especially since many apps have come up that assist in coursework. Using a phone is very handy since you can use it anywhere, on the go, and even employ earphones to ensure no one is disturbed. The growing popularity of smartphones and their easy usage have invariably shifted the viewers' focus to using O.T.T. instead of watching their beloved shows on traditional cable. On top of the inconvenient watching experience, the cable providers offer stingy plans with limited options, such as no playback options. These facilities seem like a luxury, so most people are ready to invest in O.T.T.
Cloud Services Introduction
Cloud is another one of the advances that shook the world of technology. The idea behind cloud deployment is to store data or content on a server linked to the internet. This is spread on the internet and thus has Accessibility from anywhere. Cloud-based storage has changed the face of data storage, and many cloud services, such as Microsoft, Dropbox, Apple, Amazon, and Google, are available today.
The amazing portability feature of this service, with easy access to a central cloud location from wherever you want, allows the user to upload any data, pictures, videos, and other media without hassle. This, paired with the advantages laid out by the O.T.T. platform, has yielded a prosperous growth opportunity for the Over The Top (OTT) market.
Restraints
Regulatory and Linguistic Fragmentation
O.T.T. was kick-started with communications services such as WhatsApp and Skype, branching into media providers such as HBO, YouTube, and Netflix. They are, however, restricted by regulatory issues. Agencies of Government have to examine security concerns raised due to the rapid growth O.T.T. experienced in the past few years. With stark linguistic changes, this is enhanced when moving from one country to another. Regulatory, on top of linguistic fragmentation, has bottlenecked venture capital.
Strategic Insights
Report Coverage - Over The Top (OTT) Market
Report Coverage
Details
Market Size Value in
US$ 36.7 Billion in 2016
Market Size Value by
US$ 158.4 Billion by 2025
Growth rate
CAGR of 17.2% from 2017 to 2025
Forecast Period
2017-2025
Base Year
2017
No. of Pages
179
No. of Tables
17
No. of Charts & Figures
68
Historical data available
Yes
Segments covered
Content Type, Platform and Revenue Model
Regional scope
North America, Europe, Asia Pacific, Middle East & Africa, South & Central America
Country scope
US, Canada, Mexico, UK, Germany, Spain, Italy, France, India, China, Japan, South Korea, Australia, UAE, Saudi Arabia, South Africa, Brazil, Argentina
Report coverage
Revenue forecast, company ranking, competitive landscape, growth factors, and trends
Free Sample Copy Available
Market Segmentation
By Content Type
The Rising Fame of the O.T.T. Platform has Pushed the Growth of the Segment
Based on content type, the global Over The Top (OTT) marketis segmented into Voice over I.P. (VoIP), text & images, and video. The video segment dominated the market in 2016 with the largest revenue share and is also speculated to register the highest CAGR during the forecast period.
The over-the-top services are also known as value-added services. They provide next-generation television experience at any time and place. Providers like Netflix and Hulu are the big players in this segment. Being a big trend in the last few years, O.T.T. adoption has risen, especially in developing nations.
Over the Top (OTT) Market, by Revenue Model – 2017 and 2025 (%)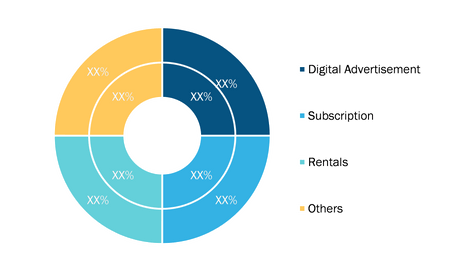 Get more information on this report :
By Platform
Easy Accessibility has Given a Boost to the Segmental Growth
The global Over The Top (OTT) marketby platforms is segmented into smart devices, gaming consoles, set-top boxes, laptops, tablets, and desktops. Statistics show that smart devices led the market in 2016 with a market share of 66.91% and are expected to continue their dominance in 2025.
The smart devices category primarily comprises smart T.V.s, smartphones, and other connected devices. Smartphones open up the possibility of downloading any app and make it a cinema-worthy experience at the tip of your fingers. This isn't possible with most devices, especially if we want to use different platforms, with the added advantage of other features such as screen projection or pause and play functionalities.
Regional Insights
Geographically, the global Over The Top (OTT) marketcomprises North America, Europe, Asia Pacific (APAC), Middle East & Africa (M.E.A.), and South & Central America (SCAM).
North America and Europe hold more than half of the total market.
The North American market comprises the US, Canada, and Mexico. The demand for O.T.T. services is ever rising in the region, especially in the U.S. U.S. industry players expect a period of constant growth in the Over The Top (OTT) market, supported by large investment, significant competition, and the introduction of innovative services, including a niche or dedicated offerings. The primary requirements of O.T.T. services such as connected devices, broadband, and payment system are in place to keep up with the anticipated rapid progress.
The Asia Pacific region is the most potent market in the world. As two of the biggest developing countries fall in the region (India and China), most markets show significant growth. This is also true for the Over The Top (OTT) market. With the technology and internet penetration in almost 40 percent of the region, the major economies are experiencing heavy demand for such platforms. This has propelled the Over The Top (OTT) marketin the region. Furthermore, this region has high linguistic diversity and 60 percent of the world's population. This raises the demand for content in different languages, broadening the market's scope.
Lucrative Regions for Over the Top (OTT) Market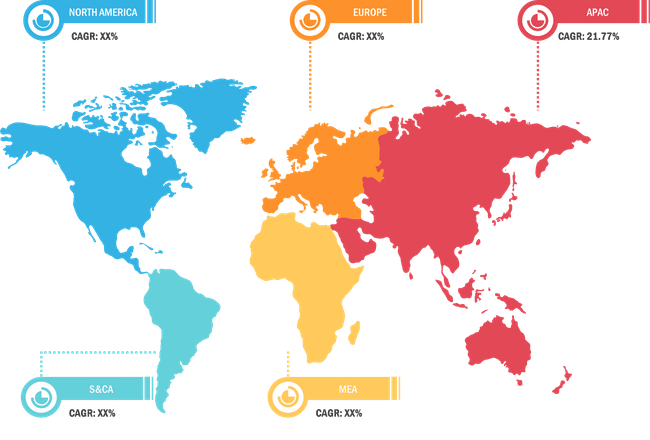 Get more information on this report :
Key Market Players
Akamai Technologies, Inc. (U.S.)
Amazon.com, Inc. (U.S.)
Apple, Inc. (U.S.)
C.B.S. Corporation, Inc. (U.S.)
Facebook, Inc. (U.S.)
Google, Inc (U.S.)
HBO NOW (U.S.)
Hulu L.L.C. (U.S.)
Netflix, Inc. (U.S.)
Roku, Inc. (U.S.)
Key Developments
June 2017:

C.B.S. Corporation and Sinclair Broadcast Group, Inc. announced a multi-year deal renewing station affiliation agreements for four owned or operated stations.

April 2017:

Amedia TV and C.B.S. Studios International announced a multi-platform licensing agreement to broadcast programming produced by C.B.S. and SHOWTIME, including the exclusive Russian pay television rights to one of the most anticipated T.V. premieres of 2017.

June 2016:

Hitachi America, Ltd. joined Roku T.V. licensing program. By joining this program, Hitachi will use the company's low-cost T.V. reference design to produce superior smart T.V.s, which will run the Roku O.S.

September 2016:

Akamai Technologies, Inc. acquired Concord Systems, engaged in providing technology for the high-performance processing of data at scale. This acquisition is anticipated to enhance the capabilities of Akamai's existing data processing platform.
Report Coverage
The global Over The Top (OTT) marketresearch report provides detailed insights into regenerative medicine and cell culture in terms of size, share, trends, and forecasts. It delivers crisp and precise know-how about drivers, restraints, opportunities, segments, and industrial landscape. The global and regional market insights deliver present and future industrial scenarios to determine investment decisions. A list of key market players with their respective developments in recent years has been reserved as a special mention.