The asthma drugs market is projected to reach US$ 34,136.10 million in 2028 from US$ 24,239.17 million in 2021; it is estimated to grow at a CAGR of 5.0 % during 2021–2028.
Asthma is a lung disease that affects people of all ages. It produces wheezing and makes breathing difficult. Exposure to an allergy or irritant, infections, exercise, emotional stress, and other conditions are all potential triggers. When the symptoms of asthma become unbearable, an asthma attack ensues. Attacks can happen out of nowhere and range from mild to life-threatening. Asthma is managed with rescue inhalers to treat symptoms and controller inhalers that prevent symptoms. Severe cases may require longer-acting inhalers that keep the airways open (formoterol, salmeterol, tiotropium) and inhalant steroids. Asthma medication comes in several forms, including tablets, injections, liquids, and inhalers, and it falls into two groups, such as bronchodilators and anti-inflammatories.
The asthma drug market is segmented on the basis of medication, route of administration, distribution channel, and geography. The market, based on geography, is broadly segmented into North America, Europe, Asia Pacific, the Middle East & Africa, and South & Central America. The asthma drugs market report offers insights and in-depth analysis of the market, emphasizing parameters such as market size, trends, and dynamics; technological advancements in the market; and the analysis of the competitive landscape of the leading market players in the asthma drugs market.
Strategic Insights
Report Coverage - Asthma Drugs Market
Report Coverage
Details
Market Size Value in
US$ 24,239.17 Million in 2021
Market Size Value by
US$ 34,136.10 Million in 2028
Growth rate
CAGR of 5.0 % from 2021 to 2028
Forecast Period
2021-2028
Base Year
2021
No. of Pages
191
No. of Tables
88
No. of Charts & Figures
81
Historical data available
Yes
Segments covered
Medications, Route of Administration, and Distribution Channels
Regional scope
North America, Europe, Asia Pacific, Middle East & Africa, South & Central America
Country scope
US, Canada, Mexico, UK, Germany, Spain, Italy, France, India, China, Japan, South Korea, Australia, UAE, Saudi Arabia, South Africa, Brazil, Argentina
Report coverage
Revenue forecast, company ranking, competitive landscape, growth factors, and trends
Free Sample Copy Available
A few factors such as the growing environmental implications & genetic implications of air pollution, more vulnerability in specific ethnic groups, growing exposure to coarse particulate matters, growing prevalence of physiological disorders harboring asthma are expected to have a significant short-, mid-, and long-term impact on the asthma drugs market in the coming years. However, unmet medical needs and lack of treatment adherence hamper the market growth. The market report identifies opportunities and future market trends that can have possible impacts on market growth.
Lucrative Regions in Asthma Drugs Market


Get more information on this report :
Market Insights
Growing Environmental Implications & Genetic Implications of Air Pollution
Asthma is a chronic respiratory condition marked by fluctuating airflow restriction, bronchial hyperresponsiveness, and airways inflammation. According to a review paper titled "Impact of Air Pollution on Asthma Outcomes" by Tiotiu et.al., air pollution hampered asthma outcomes in adults and children. Air pollution from traffic, nitrogen dioxide (NO2), and secondhand smoking (SHS) are all substantial risk factors for the development of asthma in children. Asthma symptoms, exacerbations, and decreased lung function can be triggered by exposure to outside pollution.
In the US, exposure to air pollution continues to be associated with asthma. This severe and life-threatening chronic respiratory condition impacts the quality of life of more than ~23 million American citizens. Air pollution can aggravate asthma symptoms, triggering asthma attacks among people. Children with asthma, which affects ~6 million children in the US, are particularly vulnerable to pollution.
A new study financed by the Environmental Protection Agency (EPA) analyzed the link between air pollution and asthma. While experts cannot determine the primary asthma-causing agent due to air pollution, evidence suggests that it suppresses genes that control the immune system to distinguish between an allergen and a hazardous foreign substance, such as a virus or bacteria. The immune system then goes into overdrive, triggering an inflammatory reaction regardless of whether the drug is toxic, resulting in asthma.
Researchers from Stanford University's Children's Center investigated the effect of air pollution on two genes involved in immunological tolerance in children from an area with high levels of pollution. They discovered that short- and long-term exposure to high amounts of carbon monoxide (CO), NO2, and PM2.5 (particulate matter) were linked to changes in these two genes, which caused asthma. These findings focused on the epigenetic impacts of air pollution exposure and could help in the development of preventative asthma medicines.
Each of these asthma research has improved the understanding of asthma in children and supplied crucial information to the EPA that can be used to protect human health and the environment. Through these research works, the drug discovery and development for asthma is being expedited, which is driving the asthma drug market.
Medication Type-Based Insights
The global asthma drugs market, based on medications, is bifurcated into quick relief medications and long-term control medications. The long-term control medications segment is expected to hold a larger share of the market in the coming years. However, the quick relief medications segment is expected to register a higher CAGR during the forecast period.
Asthma Drugs Market, by Medication – 2021 and 2028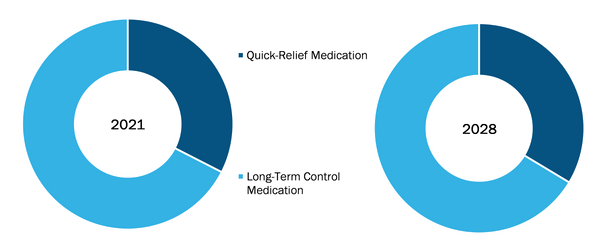 Get more information on this report :
Route of Administration-Based Insights
Based on route of administration, the asthma drugs market is segmented into inhaled, prefilled syringe/vials, and others. The inhaled segment held the largest share of the market in 2021 and is expected to hold a significant share during the forecast period. However, the prefilled syringe/vials segment is expected to register the highest CAGR from 2021 to 2028.
Distribution Channel-Based Insights
Based on distribution channel, the asthma drugs market is segmented into online pharmacies, hospital pharmacies, and retail pharmacies. The retail pharmacies segment is expected to hold the largest share of the market during the forecast period. However, the online pharmacies segment is expected to register the highest CAGR during 2021–2028.
Various companies operating in the asthma drugs market adopt strategies such as product launches, mergers and acquisitions, collaborations, product innovations, and product portfolio expansions to expand their footprint worldwide, maintain a brand name, and meet growing consumer demands. Some of the leading players present in the market are AstraZeneca; Teva Pharmaceutical Industries Ltd.; GlaxoSmithKline PLC; Boehringer Ingelheim International GmbH; Merck & Co., Inc.; Koninklijke Philips NV; Sanofi; Pfizer Inc.; Novartis AG; and Abbott.
Frequently Asked Questions