The EVOH resins market for food application was valued at US$ 576173.9 million in 2021 and is projected to reach US$ 770199.9 million by 2028. It is expected to register a CAGR of 4.4% from 2021 to 2028.
The rise in consumer awareness regarding environmental concerns and strict government regulations related to toxic packaging fuel the demand for EVOH resins in the food sector. To reduce environmental contamination, manufacturers are adopting eco-friendly packaging solutions, which, in turn, boosts the sales of eco-friendly materials. Governments and manufacturers are providing funds to research and develop innovative packaging solutions. Further, consumers are increasingly inclined toward green, low-carbon products to eliminate waste pollution. EVOH packaging is environmentally friendly because it has a low carbon footprint and can be easily recycled. Unlike plastic and paper containers, it does not produce waste and does not need wood cutting for raw materials. These benefits increase the demand for EVOH resins for eco-friendly food packaging, propelling the market growth.
In 2020, Asia Pacific held the largest share of the global EVOH resins market for food applications. The major factor contributing to the growth of the market in this region is the growing demand for EVOH resins in packed food products. Consumers prefer healthy foods with high nutritional value, low cholesterol, preservatives, and fats. EVOH finds its application in various food packaging products, such as meat packaging, baby food packaging, and beverage packaging. These factors are driving the demand for EVOH resins among manufacturers in the country. The increasing inclination of consumers toward packed food due to busy life has projected the demand for EVOH resins for food packaging applications. The Indian middle class is growing, and so are their buying capacity and demands. People prefer premium products, especially in the confectionery segments like chocolates, chips, and a lot more, and exploring packaged foods in the ready-to-make and easy-to-eat category, creating opportunities for EVOH resins for food packaging application.
Strategic Insights
Strategic Insights

| Report Coverage | Details |
| --- | --- |
| Market Size Value in | US$ 576173.9 Million in 2021 |
| Market Size Value by | US$ 770199.9 Million by 2028 |
| Growth rate | CAGR of 4.4% from 2021 to 2028 |
| Forecast Period | 2021-2028 |
| Base Year | 2021 |
| No. of Pages | 151 |
| No. of Tables | 87 |
| No. of Charts & Figures | 102 |
| Historical data available | Yes |
| Segments covered | Application, and End-Use |
| Regional scope | North America; Europe; Asia Pacific; Latin America; MEA |
| Country scope | US, UK, Canada, Germany, France, Italy, Australia, Russia, China, Japan, South Korea, Saudi Arabia, Brazil, Argentina |
| Report coverage | Revenue forecast, company ranking, competitive landscape, growth factors, and trends |
| Free Sample Copy Available | |
Impact of COVID-19 Pandemic on EVOH Resins Market for Food Application
The COVID-19 pandemic severely impacted the global market in 2020 due to disrupted supply chains of raw materials used in producing EVOH resin packaging. Ease in lockdown measures in several countries and resumption of operational activities in many industries have helped revive EVOH resins in food packaging from 2021. In addition, the rapid pace of COVID-19 vaccination programs has supported the growth of the EVOH resins market for food application.
EVOH Resins Market for Food Application Breakdown – by Region

Get more information on this report :
Market Insights
Consumer Preference for Online Sales Channel to Purchase EVOH Films Favors EVOH Resins Market for Food Application
Consumers prefer online sales channels to purchase EVOH films for food packaging. Therefore, many companies focus on developing e-commerce websites to increase customer engagement. Industry analysis also indicates that the rising demand for EVOH films among end users is driven by changing market trends. In addition, an increase in smartphone penetration is supporting the EVOH films demand. Digital content, travel and leisure, financial services, and e-mail are e-commerce options available to an internet-accessible customer base, gaining traction as internet usage grows. Therefore, consumer awareness of the technology is expected to positively impact the demand for EVOH resins in the food packaging market during the forecast period.
Moreover, the COVID-19 pandemic crisis has transformed the way e-commerce functions. The rise in small and medium enterprises, especially in Russia, and the increasing number of start-ups have led to the adoption of online marketplaces for business. Existing organizations and large businesses tend to do business online because telecommunications and infrastructure are cheaper. E-commerce allows organizations to reach customers to achieve the desired business results easily. Hence, the strong growth in the online retail sector in Europe for EVOH films would provide lucrative opportunities for the market in the coming years.
Application Insights
Based on application, the market is segmented into films, trays, bottles, bag-in-box, and others. Manufacturers use EVOH bottles for their excellent barrier against gases and organic liquids. EVOH is often sandwiched between the bottle or jar's inner and outer plastic walls. A thin adhesive layer goes between the EVOH layer and the inner and outer wall. As a result, EVOH is often referred to as a multilayer barrier technology. These EVOH bottles are generally used for shelf-stable beverages. Beverages are highly perishable; thus, they can contaminate easily when it comes in contact with the outer environment. Due to these factors, the demand for EVOH bottles is increased among beverage manufacturers and is further expected to drive the segment's growth in the region over the forecast period.
EVOH Resins Market for Food Application, by Application – 2021 and 2028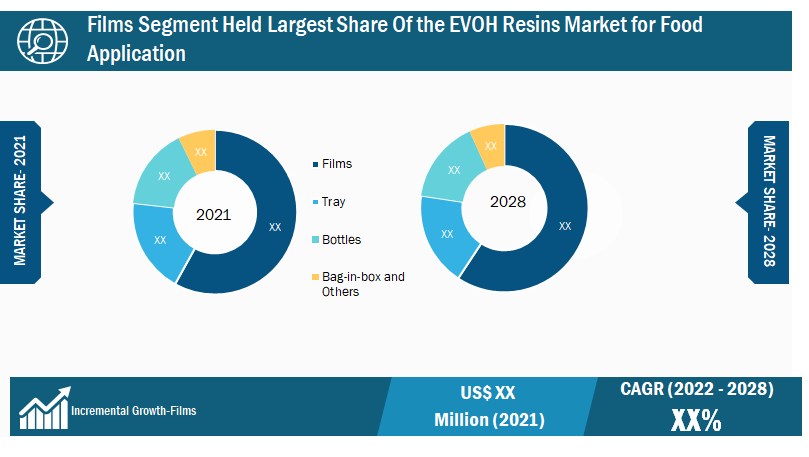 Get more information on this report :
A few of the key market players in the EVOH resins market for food application are Kuraray Europe GmbH; Nippon Gohsei (UK) Limited; Kureha Europe B.V.; Chang Chun Group; Eval Europe NV; Soarus L.L.C. (Mitsubishi Chemical Europe GmbH); Schur Flexibles GmbH; Gantrade Corporation; The Compound Company BV; Soarnol; Arkema; Solvay S.A.; These companies provide a wide range of product portfolios for the EVOH resins market for food application.
These companies have a presence in developing regions, providing a lucrative opportunity for the EVOH resins market. These market players are highly focused on developing high-quality, innovative products to fulfill customer requirements.
Report Spotlights
Progressive industry trends in the EVOH Resins Market for Food Application to help players develop effective long-term strategies
Business growth strategies adopted by developed and developing markets
Quantitative analysis of the EVOH Resins Market for Food Application from 2020 to 2028
Estimation of global demand for EVOH Resins for Food Applications
Porter's Five Forces analysis to illustrate the efficacy of buyers and suppliers in EVOH Resins Market for Food Application
Recent developments to understand the competitive market scenario
Market trends and outlook as well as factors driving and restraining the growth of the EVOH Resins Market for Food Application
Assistance in the decision-making process by highlighting market strategies that underpin commercial interest
The size of the EVOH Resins Market for Food Application at various nodes
Detailed overview and segmentation of the market, as well as the EVOH resins market for food application industry dynamics
Size of the EVOH Resins Market for Food Application in various regions with promising growth opportunities
Frequently Asked Questions