The aircraft wheels MRO market is expected to grow from US$ 1,704.25 million in 2021 to US$ 2,769.54 million by 2028; it is estimated to grow at a CAGR of 7.2% from 2021 to 2028.
With the rapidly growing aviation industry from the last few years, the demand for aircraft wheels MRO services is also increasing. Emerging economies in APAC are showcasing a significant rise in the adoption of MRO services for commercial and military aircraft components, including aircraft wheels. The well-established MRO hubs in Singapore, Malaysia, and Thailand, among others, produce significant revenues from the services provided for aircraft wheels. The aircraft wheels MRO service hub in Singapore is characterized by the presence of AMETEK Singapore Pte Ltd., SIA Engineering Company Limited, and Singapore Technologies Aerospace Ltd, among others. In June 2019, Singapore Technologies Engineering Ltd formed a joint venture with Vietnam Airlines Engineering Company (VAECO) to offer MRO services for wheels and other aircraft components to Vietnam Airlines.


Further, according to Wisconsin Economic Development Corporation (WEDC), the country houses over 120 aerospace companies that contribute to ~25% of the MRO services business in APAC. Further, Singapore-based airlines observe substantial growth in passenger counts, which is compelling them to operate their aircraft fleet for extended periods. The flying frequency is directly proportional to the demand for MRO activities, involving repairing or replacing wheels and other aircraft components. Additionally, countries such as Malaysia, Thailand, Vietnam, Indonesia, and the Philippines are witnessing a surge in aircraft wheels MRO services due to the rise in demand for passenger airline services. Thus, growth in the number of aircraft MRO service providers and increase in aircraft fleet volumes in APAC are creating a favorable business environment for the Aircraft Wheels MRO market players.


Impact of COVID-19 Pandemic on Aircraft wheels MRO Market
The COVID-19 pandemic has shaken several industries. The tremendous growth in the spread of the virus has urged governments worldwide to impose strict restrictions on the movement of vehicles and humans. Air travel ban was one of the stringent rules set by governments across the globe during the first half of 2020. These bans led the aviation industry to halt the operations and experience the lowest revenue generation during the period. The airport sector also witnessed a stiff decline in passenger count, aircraft movement, and revenue generation. The significant loss in revenues resulted in limited investments by airline operators in MRO services. This factor showcased a fall in demand for aircraft MRO services, which hampered the growth of the aircraft wheels MRO market.
Lucrative Regions for Aircraft wheels MRO Market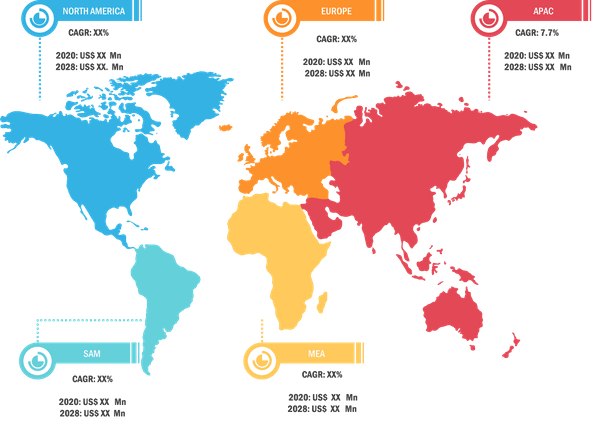 Get more information on this report :
Market Insight
Strategic Tie-Ups for Defense Aircraft Wheels MRO Services
At present, various armed forces are also significantly increasing military aircraft fleets to strengthen their air defense. In February 2021, Boeing India Repair Development and Sustainment (BIRDS) collaborated with Air Works, an aviation services provider, for the MRO of aircraft components, including aircraft wheels, for Poseidon 8I long-range maritime patrol aircraft. The strategic partnership also covered MRO services of VIP transport aircraft fleets operated by the Indian Air Force (IAF). Similarly, in April 2021, the US Air Force formed a strategic tie-up with Collins Aerospace for adopting wheels retrofitting services for its 70 B-52s aircraft. The increasing number of strategic tie-ups between aircraft MRO service providing companies and armed forces of various countries are expected to create opportunities for the aircraft wheels MRO market growth in coming years. Moreover, growing fleet sizes of military aircraft are creating lucrative opportunities for MRO servicing players to grow their businesses.
Wheel Type Segment Insights
Based on wheel type, the aircraft wheels MRO market has been segmented into nose wheel and main wheel. The nose wheel finds a notable utility in aircraft as it is designed to support a portion of the aircraft load along with the main wheels. The nose has an extensive application in the ground navigation of aircraft, and it provides steering control during the taxing. The nose wheel segment is expected to grow significantly due to the rising number of aircraft fleets among airline companies globally. The growing number of aircraft fleets can be attributed to the increasing demand for airline services across developing economies.
Further, the main wheel of an aircraft is one of the significant components of landing gears as it facilitates structural strength to the aircraft in its landing and takeoff. The main wheels of aircraft are designed in two pieces to make a better wheel fit. It also makes the wheels stiffer and more capable of absorbing the landing forces. Aircraft main wheels are manufactured from either aluminum forgings, aluminum castings, or magnesium castings.
Aircraft wheels MRO Market, by Wheel Type (% Share)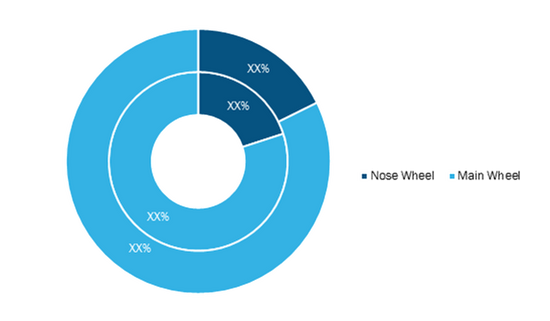 Get more information on this report :
Aircraft Type Segment Insights
Based on aircraft type, the aircraft wheels MRO market has been segmented into narrowbody aircraft, widebody aircraft, general aviation aircraft, military aircraft, and helicopter. Narrowbody aircraft is a single-aisle aircraft that has a smaller passenger occupying capacity. The narrow body aircraft have significant applications in airline companies for domestic flights or short-haul international flights. The narrowbody aircraft segment of the aircraft wheels MRO market is expected to grow at a significant rate, owing to the rising number of domestic air flyers in developing economies. Narrowbody aircraft are primarily used for commercial passenger flights.
Technology Segment Insights
Based on technology, the aircraft wheels MRO market is segmented into inspection, non-destructive testing, machining, and others. The inspection segment comprises visual inspections, process compensated resonance testing (PCRT), and inspection through conductivity meter and current flaw detector. The visual inspection involves detecting damages on aircraft wheels in case of one bolt is found missing. Further, the PCRT method is used for wheel inspection, which produces an accurate, fast, and automated non-destructive inspection by measuring the whole wheels' resonance frequencies. Furthermore, the inspection through conductivity meter is widely used to verify alloy/temper or detect heat damaged components in aircraft wheels.
Strategic Insights
Report Coverage - Aircraft Wheels MRO Market
Report Coverage
Details
Market Size Value in
US$ 1,704.25 million in 2021
Market Size Value by
US$ 2,769.54 million by 2028
Growth rate
CAGR of 7.2% from 2021-2028
Forecast Period
2021-2028
Base Year
2021
No. of Pages
132
No. of Tables
117
No. of Charts & Figures
84
Historical data available
Yes
Segments covered
Wheel Type, Aircraft Type and Technology
Regional scope
North America, Europe, Asia Pacific, Middle East & Africa, South & Central America
Country scope
US, Canada, Mexico, UK, Germany, Spain, Italy, France, India, China, Japan, South Korea, Australia, UAE, Saudi Arabia, South Africa, Brazil, Argentina
Report coverage
Revenue forecast, company ranking, competitive landscape, growth factors, and trends
Free Sample Copy Available
The market players focus on new product innovations and developments by integrating advanced technologies and features to compete with the competitors. In January 2021, United Airlines became the latest user of Lufthansa Technik AG's AVIATAR platform. In late 2020, the airline inked a contract with AVIATAR for digital support for its Boeing 777 and Airbus A320 fleets, with plans to collaborate with Lufthansa Technik on innovative predictive maintenance solutions for its Boeing 737 fleet.
Aircraft Wheels MRO Market – by Wheel Type
Aircraft Wheels MRO Market – by Aircraft Type
Narrowbody Aircraft
Widebody Aircraft
General Aviation Aircraft
Military Aircraft
Helicopter
Aircraft Wheels MRO Market – by Technology
Inspection
Non-destructive Testing
Machining
Others
Aircraft Wheels MRO Market – by Region
North America
Europe

France
Germany
Italy
UK
Russia
Rest of Europe

Asia Pacific (APAC)

China
India
South Korea
Japan
Australia
Rest of APAC

Middle East & Africa (MEA)

South Africa
Saudi Arabia
UAE
Rest of MEA

South America (SAM)

Brazil
Argentina
Rest of SAM
Aircraft Wheels MRO Market – Company Profiles
AAR CORP
AeroRepair Corp.
AEROSPACE MRO CO., LTD.
Air Atlanta Aviaservices
AMETEK Inc.
Lufthansa Technik
Röder Präzision GmbH
Technic Aviation
TP Aerospace.
World Aero
Frequently Asked Questions