Market Insights
Cell expansion is an effective technology that finds its application in several biologics sectors, specifically R&D and disease treatment. The global cell expansion market is expected to reach US$ 42,837.11 million­ in 2027 from US$ 11,929.43 million in 2018. The market is estimated to grow with a CAGR of 15.6% from 2019­­­­­­–2027.
Tissue engineering is as recent as a quarter of a century old. Despite its infancy, the technique's eminence spread like wildfire. It soon branched into regenerative medicine and planted itself as the most competent defense against a plethora of chronic diseases. It has proven efficient in every arena, from healing injured tissue to damaged organs. While they find maximum utilization in transplantation and disease treatment, this technique has important applications in R&D as well as across various segments of health care. Cell expansion and regenerative medicine techniques have swiftly made their way into drug development, drug screening, vaccine development, cell microbiology research, and treating diseases that were assumed untreatable until now, such as rheumatoid arthritis and diabetes. Automated systems decrease the need for a skilled workforce and the cost sustained. Growth in incidences of chronic diseases is a key factor that drives the growth of the global cell expansion market. This goes hand in hand with the rise in government focus and investments for cell-based research and an increased focus on cell-based technologies for
Future Trends
With a shocking increase in infectious diseases and cancer patients, the need of the hour is to find an immediate solution to minimize their negative effects. These diseases are cropping up around the globe, creating an enticing opportunity for the growth of the cell expansion market. Another option that can be explored is drug discovery, but the time commitment required and the improbability of these drugs' success have given the global cell expansion market an advantage, attracting significant investment from the market players.
Drivers
Increasing Adoption of Regenerative Medicines
Regenerative medicine has the potential to replace or heal tissues ad even damaged organs. Regeneration techniques are used to develop the tissue, involving cell expansion procedures. It helps to study the potential treatment for injuries and diseases. These ailments could be anything on the spectrum, from broken bones to neurodegenerative diseases. As we are beginning to understand the possibilities that open up by using such an advanced science application, there is a definitive rise in the adoption of regenerative medicines. This is the foyer for the increasing growth of the global cell expansion market. The technique is flexible in using various types of stem cells, such as adult, embryonic, and induced pluripotent cells. New drugs developed by pharmaceutical companies can be tested safely and effectively using differentiated stem cells. Furthermore, regenerative medicines using cell-based models have the potential to help researchers in early-intervention treatment. The vast possibilities of the cell expansion technique in medicine and research are expected to propel the global cell expansion market growth.
Rising Prevalence of Cancer
Cancer is one of the major causes of human death worldwide. Even if a person does not face imminent death due to the travesty, they still have to deal with the emotional and physical scars it imparts. The general quality of life for such an individual decreases considerably. The most devastating aspect of this situation is that we have been a failure at curing this condition. However, regenerative medicine and cell-based methodologies have acted as a breath of fresh air. The path of cell expansion and regenerative medicine has carved a path that might lead us to alleviate this disease's hold on our community. The ever-increasing prevalence of cancer patients, attributed to their lifestyle, results in more exposure to oncogenic factors than ever before. In addition, a rise in life expectancy raises the risk of cancer and has led to an increased need to employ cell-based therapies. This is acting like an accelerator for the global cell expansion market growth.
Restraints
Risk Contamination During Cell Expansion
Despite cell culture's crucial role in biological and medicinal research, enough evidence has been established that cell cultures are frequently contaminated by microorganisms or other cells.This hinders research activities, wherein drugs are initially tested on a tumor cell line. Further, some unreliable results are obtained, causing delays in the effective treatment. Also, it has been observed that using a pipette more than once while working with different cell cultures can lead to cross-contamination. If the contaminated cells multiply more rapidly than original cells, they can quickly dominate the population, altering the identity of the culture. Such events often go undetected as the cells from different sources may also be morphologically similar. Cells can undergo chromosomal duplications or rearrangements, mutations, and epigenetic changes that modify their phenotypes.
Strategic Insights
Report Coverage - Cell expansion Market
Report Coverage
Details
Market Size Value in
US$ 11,929.43 Million in 2018
Market Size Value by
US$ 42,837.11 Million by 2027
Growth rate
CAGR of 15.6% from 2019-2027
Forecast Period
2019-2027
Base Year
2019
No. of Pages
202
No. of Tables
188
No. of Charts & Figures
78
Historical data available
Yes
Segments covered
Product ; Cell Type ; Application ; End User , and Geography
Regional scope
North America, Europe, Asia Pacific, Middle East & Africa, South & Central America
Country scope
US, Canada, Mexico, UK, Germany, Spain, Italy, France, India, China, Japan, South Korea, Australia, UAE, Saudi Arabia, South Africa, Brazil, Argentina
Report coverage
Revenue forecast, company ranking, competitive landscape, growth factors, and trends
Free Sample Copy Available
Market Segmentation
By Product
The Research Activities in the Regenerative Medicine Contributes to the Segmental Dominance
Based on product, the global cell expansion market is segmented into consumables and instruments, of which the consumables segment dominated the market in 2018 with the largest revenue share and is also speculated to register the highest CAGR during the forecast period. Lab consumables used in research proceedings measure, analyze and verify unproven quantities, properties, and characteristics of elements. The segment is expected to retain its dominance due to rising research in regenerative and personalized medicine.
The instrument segment constitutes centrifuges, cell counters, flow cytometers, and automated cell expansion systems. The cell expansion supporting instruments provide an aseptic environment during expansion process. Industrial-scale bioreactors avail reproducibility to achieve stable stem cell proliferation. Technological advancements and product launches made by the market players are expected to fuel the segmental growth over the forecast period.
Global Cell Expansion Market, by Product – 2018 and 2027

Get more information on this report :
By Application
Increasing Applications of Stem Cell Research Spur the Segmental Growth
According to the application, the cell expansion market domain is split into regenerative medicine and stem cell research, cancer and cell-based research, and other applications. In 2018, the regenerative medicine and stem cell research segment occupied the largest market share. Also, it is likely to grow rapidly during the forecast period. Regenerative medicine involves contemporary methods and research to revive and replace a dead or damaged tissue. Stem cells are inherently critical to the regenerative medicine research with many potential applications in developmental biology. Hence, various initiatives are undertaken at the international level to increase the use of stem cells for regenerative medicine. UK and Japan are world leaders in stem cell and regenerative medicine research.
The cancer and cell-based research segment was the second-largest occupant of the global cell expansion market in 2018. The use of stem cells for cancer treatment has been a research-oriented aspect for several global organizations. Research worldwide has established the use of stem cells for the treatment of small cell lung cancer (SCLC), a critical carcinogenic form exclusively found among smokers. Such developments are projected to fuel the segmental demand exponentially over the forecast period.
Regional Insights
Geographically, the global cell expansion market comprises North America, Europe, Asia Pacific (APAC), Middle East & Africa (MEA), and South & Central America (SCAM).
North America reigned the cell expansion market in 2018 with the largest business share and occupancy. The regional market growth is attributed to the rising prevalence of chronic and congenital medical conditions and the availability of research funding. The US, Canada, and Mexico are the major markets in the region witnessing a sequential change due to research and continual development. The US undertook several initiatives working towards the use of stem cells for therapeutic purposes. Canada has Stem Cell Network (SCN), a national non-profit organization supported by the government that works for regenerative medicine research and provides training across the country.
Asia Pacific cell expansion market is predicted to expand with the highest CAGR throughout the forecast period. The rising geriatric population and increasing prevalence of chronic medical conditions are the key parameters contributing to the growth of the cell expansion regional market. Several countries in the APAC experienced growth opportunities in the cell expansion market due to developments in their respective healthcare sectors. In China, stem cells are utilized to treat a broad array of medical conditions with new remarkable developments. The Chinese Academy of Sciences (CAS) launched three stem cell research programs for the treatment of severe eye and gynecological diseases. The Department of Biotechnology (DBT) from India has been actively investing in basic stem cell research since 2001, with over 40 institutes and hospitals involved in the research activities.
Lucrative Regions for Global Cell Expansion Market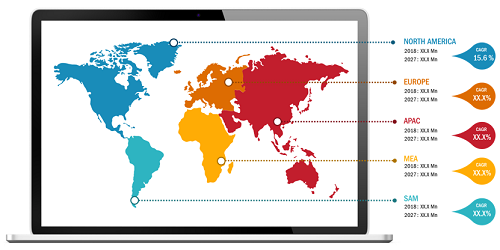 Get more information on this report :
Key Market Players
BD (US)
Merck KGaA (Germany)
Thermo Fisher Scientific, Inc (US)
Terumo Corporation (Japan)
General Electric Company (US)
Corning Incorporated (US)
Miltenyi Biotec (US)
Danaher (US)
Lonza (Switzerland)
Stemcell Technologies, Inc (Canada)
Key Developments
March 2019:

BD launched BD FACSDuet, a new automatic flow-cytometry sample preparation instrument. It got certified by Conformité Européene (CE)- in vitro diagnostic (IVD).

October 2019:

Merck acquired FloDesign Sonics, a developer of a unique acoustic cell processing platform that is suitable for the industrialization of cell and gene therapy manufacturing.

June 2019:

Thermo Fisher Scientific introduced Cytomat 2 C-LiN series automatic incubator for cell cultures. The instrument has a controlled automated humidity and inbuilt contamination reduction system.

December 2019:

GE Healthcare Life Sciences introduced SpinOculation C-Pro protocol software for cell therapy workflow.
Report Coverage
The global cell expansion market research report provides detailed insights into regenerative medicine and cell culture in terms of size, share, trends, and forecasts. It delivers crisp and precise know-how about drivers, restraints, opportunities, segments, and industrial landscape. The global and regional market insights deliver present and future industrial scenarios to determine investment decisions. A list of key market players with their respective developments in recent years has been reserved as a special mention.
Frequently Asked Questions
Cell expansion is the large scale artificial production of daughter cells from a single cell, to support medical research. The process of cell expansion plays a critical role in enhancing the benefits and uses of fully differentiated as well as stem cell cultures for their use in therapeutics, drug screening tools or advanced research purposes.
Increasing adoption of regenerative medicines and rising prevalence of cancer is expected to propel the growth of the cell expansion market. Moreover, life science and research activities in emerging nations is anticipated to drive the global market.
Risk contamination during the cell expansion is expected to hinder the growth of cell expansion market. Despite of the important role of cell culture and development in the study of biology and medicine, enough evidences have been accumulated that the cell cultures are frequently contaminated or misidentified by microorganisms or other cells. This may lead to substantial problems in various fields such as cancer research, wherein drugs are initially tested with cell line derived from the targeted type of tumor. This may lead to unreliable results delaying discovery of effective treatments.