The event apps market is expected to grow from US$ 1,203.89 million in 2022 to US$ 2,648.46 million by 2028; it is expected to grow at a CAGR of 14.0% from 2022 to 2028.
A few benefits of event apps such as better value to the audience, quick access to event information, and enhanced planning and management solutions are propelling the event apps market growth in North America. Crowd compass, a US-based mobile event app provider for in-person and virtual events, enables people to attend events to absorb content and network, provide attendees with interesting content, and centralizes the event management process into one common channel. Growing demands for conferences, trade shows, universities, and even entertainment events are anticipated to boost the event apps market. Integration of advanced solutions such as networking, content absorption, and audience engagement increases convenience for attendees and improves management efficiency for planners, which is further anticipated to propel the event apps market growth.
The major end users of the event apps market are event organizer & planners, corporates, government, education, etc. Event apps provide a connected platform for end users to stay connected from anywhere and at any time with their team, volunteers, logistics managers, and attendees. End users can monitor the event planning and communicate with their team members from their mobile phones when they are away from the event location. During the planning process, event organizers collaborate closely with their clients to oversee every detail of the event. They are in charge of making sure the event runs smoothly and that everyone participating performs their part. An event planner ensures that everything linked to an event is taken care of, from the inception of the idea through the preparations and logistics on the day of the event. An event planner is skilled at balancing several responsibilities. For instance, Social Tables is a useful event diagramming tool that may help envision user's locations, plan seating arrangements, and engage with participants. All these factors support the growth of the event apps market
Strategic Insights
Report Coverage - Event Apps Market
Report Coverage
Details
Market Size Value in
US$ 1,203.89 million in 2022
Market Size Value by
US$ 2,648.46 million by 2028
Growth rate
CAGR of 14.0% from 2022 to 2028
Forecast Period
2022-2028
Base Year
2022
No. of Pages
167
No. of Tables
83
No. of Charts & Figures
89
Historical data available
Yes
Segments covered
Type, Operating System, and End User
Free Sample Copy Available
Impact of COVID-19 Pandemic on Europe Event Apps Market
The COVID-19 pandemic adversely impacted the operations of businesses. Owing to stringent government regulations for combating the rapid spread of SARS-CoV-2, businesses, schools, and universities adopted remote working. Meetings and classes were held through virtual platforms. Several events across the region were also canceled. For instance, Euro 2020 event was postponed due to the COVID-19 pandemic. The European football tournament was rescheduled for June and July 2021. These factors impacted the adoption of event apps in the first two quarters of 2020. However, with the prolonged impact, the demand for virtual platforms for conducting events increased, which helped the market revive. The rapid adoption of virtual events undertaken by several industries—including corporate, education, media & entertainment, fashion, and retail further catalyzed the demand for event apps, thereby contributing to the market growth.
Lucrative Regions for Event Apps Market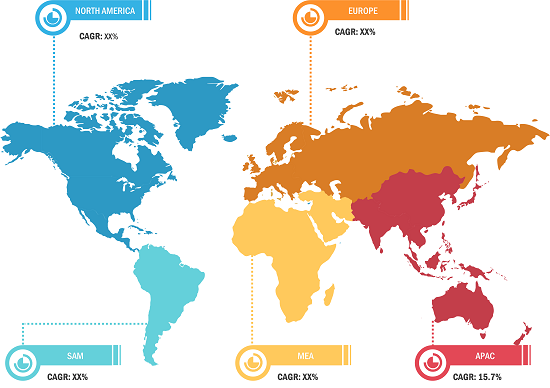 Get more information on this report :
Market Insights – Event Apps Market
Virtual and Hybrid Events Boost Demand for Event Apps
Hybrid events have gained importance since 2020. The trend of hybrid events as a substitute for in-person events is bolstering the growth of the event apps market in North America. According to a survey conducted by the event professional community, EventMB, in 2021, 71% of event planners stated they would employ a digital strategy, and 67% stated that hybrid is the future of events. A similar study by the Event management solution Bizzabo found that 97% of respondents expect to witness more hybrid events as they allow for the flexibility and reach of a virtual event. Growing demands for a seamless experience in-person and online events are encouraging start-ups entering the event apps market to design and develop technologically advanced solutions for creating and planning hybrid events easily. Communique Conferencing, Inc., a leading hybrid and virtual event platform provider, launched its all-in-one virtual and hybrid event mobile app in November 2021 for Apple and Android users. The mobile app is an extension to the virtual event platform with features including in-person attendee check-in, networking, exchange of business cards, and live view sessions. Such factors bolstered the growth of virtual and hybrid events, propelling the event apps market growth.
Type-based Market Insights
Based on type, the event apps market is segmented into enterprise event apps, hybrid apps, corporates meeting apps, conference apps, trade show apps, festival apps, and sports event apps. The enterprise event apps segment accounted for the largest market share in 2021. The majority of corporate event planning teams focus on a core portfolio of large-scale, high-profile events that need a significant amount of resources. Mobile event applications are becoming more frequent at these events. Employees can spend up to 37% of their time in meetings, according to Verizon's Meetings in America white paper. According to the article, 92% of respondents said they would attend the same number of meetings or more in 2021 as they did in 2020. A mobile event app is a strong tool that is comparatively preferred over the traditional meeting model as it increases productivity, promotes participation, and lowers expenses by harnessing technology. For instance, Whova is an all-in-one event management system that makes events more modern and stylish, efficiently attracts and engages attendees, and saves event organizers time on logistical administration. These factors are supporting the growth of the event apps market.
Players operating in the event apps market are mainly focused on developing advanced and efficient products.
In 2021, Eventbase, the biggest technology supplier for workplace events, has teamed with LiveSafe to include core LiveSafe capabilities for the conference and event security. For Eventbase clients, the LiveSafe platform is now accessible as an a-la-carte option, allowing for seamless communication between event goers and the security staff in charge of assuring their safety.
In 2022, at Cvent's client conference, the company unveiled the new Cvent App Marketplace. The new marketplace also provides a collaborative area for other prominent technology partners to build ready-to-use apps on top of the Cvent platform, allowing the platform's capabilities to be expanded and personalized.
A few of the key players operating in the event apps market are Whova; Cvent Inc.; Evenium; Eventbase Technology Inc.; Livestorm Inc.; Meeting Application; ON24, Inc.; SpotMe; WebEx Events; and Yapp Inc.
Frequently Asked Questions