The robotic process automation (RPA) market size is projected to reach US$ 11,792.8 million by 2025 from US$ 431.9 in 2017; it is expected to witness healthy market growth of 50.9% CAGR during 2017–2025.
The RPA software and service providers have constantly been directing their efforts toward innovating their existing product offerings. These initiatives taken by the market players aim to overcome the key existing challenges in the market. The continuous evolution in product innovation is thus attracting significant interest from the various end users globally.


For instance, recently, UiPath along with Humlex introduced a chat and speech-driven control for enterprise RPA. Apart from this, other leading market players such as Automation Anywhere and Blue Prism are also making a noteworthy investments for stimulating innovation in their offerings. In future years, the market is expected to experience several advancements in the technology, subsequently leading to up surged demand for RPA solutions not only in large but also in small and medium enterprises. Thus, product innovation by the technology providers is expected to drive robotic process automation (RPA) market growth over the forecast period.
In the current scenario, the effectiveness of RPA gets hampered when the incidences of alterations in business regulations diverge more frequently. The RPA platforms in the enterprises perform optimally when the standard operating processes undergo minimal changes and are well defined. Subsequently leveraging the investment cost of coding, testing, and redeploying the robots in line with the changes in a live environment. This would further impact the efficiency and productivity and also require human intervention to manage exclusions and re-programming of robots.
Strategic Insights
Strategic Insights

| Report Coverage | Details |
| --- | --- |
| Market Size Value in | US$ 431.9 million in 2017 |
| Market Size Value by | US$ 11,792.8 million by 2025 |
| Growth rate | CAGR of 50.9% from 2017 to 2025. |
| Forecast Period | 2017-2025 |
| Base Year | 2017 |
| No. of Pages | 147 |
| No. of Tables | 19 |
| No. of Charts & Figures | 75 |
| Historical data available | Yes |
| Segments covered | Component, Service, and Verticals |
| Regional scope | North America; Europe; Asia Pacific; Latin America; MEA |
| Country scope | US, UK, Canada, Germany, France, Italy, Australia, Russia, China, Japan, South Korea, Saudi Arabia, Brazil, Argentina |
| Report coverage | Revenue forecast, company ranking, competitive landscape, growth factors, and trends |
| Free Sample Copy Available | |
– Robotic Process Automation (RPA) Market
Robotic Process Automation (RPA) Market Share: By Region
In the latter years, countries such as South Korea, Japan, and Australia, have exhibited considerable strides in their efforts to enhance their industrial scenario. Also, APAC had been outperforming in terms of offering exceptional telecom services for a large number of customers every year. The region's success in the telecom industry is mainly attributed to the availability of low labor costs, a skilled workforce, and 24x7 service support. Further, its proficiency in the global business process outsourcing market has also provided a robust foundation to thrift toward cloud-based business process outsourcing.
Robotic Process Automation (RPA) Market Segments
The robotic process automation (RPA) market is segmented on the basis of component, services, vertical, and geography. By component, the market is segmented into software and service. Based on services, the market is segmented into training services and professional services. By verticals, the market is segmented into BFSI, retail, telecommunications, manufacturing, transportation & logistics, and others. On the basis of geography, the robotic process automation (RPA) market size is primarily segregated into North America, Europe, Asia Pacific (APAC), the Middle East & Africa (MEA), and South America (SAM).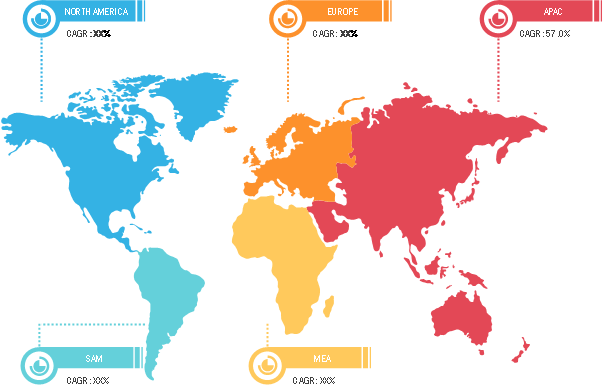 Get more information on this report :
Vertical-Based Robotic Process Automation (RPA) Market Insights
According to the robotic process automation (RPA) market, the vertical is segmented into BFSI, retail, telecommunications, manufacturing, transportation & logistics, and others. Telecommunication led the robotic process automation (RPA) market share in 2017. However, BFSI is expected to lead the robotic process automation (RPA) market share in 2025. BFSI industry encapsulates insurance companies, non-banking financial companies, commercial banks, mutual funds, and other smaller financial bodies which operate through a huge amount of data. To maintain the quality of various products and services BFSI is adopting RPA to become highly automated, reliable, and more efficient. These sectors are implementing digitalization to many of their processes and customer offerings to rely on and maintain a large amount of transactional, back office, as well as various manual operations. The acceptance of RPA by BFSI industry is expected to facilitate the industry to attain certain characteristics such as rule-based decisions with minimum variance, high volume work, reducing manual processes, and less possibility of error. RPA is being deployed in BFSI industry to automate various processes which were previously done manually. For the banking industry, RPA is used to get better outcomes from ATM testing through automating the account opening process, sweep operations, and transaction processing. Similarly, for the financial services industry RPA automates and expects opportunities for KYC processes with efficient customer service, continuous collection and monitoring of data, and account closure processing. Furthermore, for Insurance industries, RPA allows the industry to handle easily the collection of last year's claims documents, policyholder records, and other endorsing data, and improve productivity by freeing up the additional space for handling more cases. The increasing various challenges faced by BFSI industry can be overcome by the adoption of RPA by managing and taking significant improvement steps. There are various RPA providers in the market, namely Softomotive Ltd., UiPath, Blue Prism PLC, and Capgemini SE.
The players operating in the robotic process automation (RPA) market are mainly focused on the development of advanced and efficient products. Robotic process automation (RPA) companies are implementing various strategies to match the technological advancements in the robotic process automation (RPA) market.
In 2021, Blue Prism partnered with Information Builders, Inc. and launched a fully secure and integrated automatic solution for fast-tracking vaccination management. This collaboration helps both augmented data and intelligent automation by providing healthcare the intelligence needed to make complicated decisions faster.
In 2020, EXL, an operations Management and Analytics company, formed a partnership with Blue Prism PLC. The partnership will see EXL incorporate analytics, artificial intelligence (AI), machine learning (ML), and other innovative technologies into Blue Prism's connected-RPA platform.
In 2018, WorkFusion raised US$ 50 million in Series E funding. This capital is used for expanding company's global operations and further its vision to help businesses quickly respond to the change by using the power of RPA bots which learn through AI.
In 2017, WorkFusion expanded its Alliance Program to strengthen its position in the market and be the top innovator in the cognitive automation arena and RPA and make easier for businesses globally to influence top service companies to digitize with its products.