The global antacid market was valued at US$ 8,547.97 million in 2019 and is speculated to generate US$ 11,666.83 million by 2027, expanding at a record annual growth rate of 4.0% during 2020–2027.
Antacid hails from the class of drugs neutralizing the stomach acid. It effectively cures heartburn, indigestion, acidity, and an upset stomach. Antacids are available in the form of tablets, capsules, liquid, and powder for oral consumption. Aluminum hydroxide, magnesium carbonate, magnesium trisilicate, magnesium hydroxide, calcium carbonate, and sodium bicarbonate are among the major antacids available. The constituents of antacid help in controlling stomach acid pH.
Antacid products are distributed through channels such as hospital, retail, and online pharmacy. They are actually over-the-counter (OTC) drugs, also known as non-prescription medicines, which are safe and effective to consume by following the directions on the label or as directed by concerned healthcare professionals.
Antacid Market - COVID-19 Impact and Analysis
Antacids Retained the Demand Due to Acidity Being One of the Side Effects of COVID-19 Medications
The sales of essential over-the-counter (OTC) drugs such as antacids were affected due to COVID-19 global pandemic. Pharmaceutical companies switched to non-physical marketing campaigns and shifted to online sales processes. To prevent the outrun of non-prescription drugs such as antacids, the US enacted Coronavirus Aid Relief and Economic Security (CARES) act—a landmark legislation providing financial relief to workers, healthcare professionals, and small enterprises affected by the pandemic. Europe witnessed a surging demand for OTC drugs during pandemic. Several countries curbed the sales and purchase of non-prescription drugs to maintain supply and counteracted stockpiling or panic buying.
A little different and positive picture was observed in the Asia Pacific antacid market during the pandemic phase. India, one of the largest pharmaceutical manufacturing hubs, contributed to the majority shares of generic supplies and branded drugs worldwide with full operational capacity of manufacturers. APAC practiced self-medication during COVID-19 pandemic due to enhanced patient awareness. Acidity, being the common side effect associated with COVID-19 medication, fuelled the demand for antacids. Disruption in the global trade and reduced imports caused a shortage of medical supplies resulting in price growth in the Middle East and South & Central America. Irrespective of different prices and supply modes, the overall demand for antacids was leveraged globally during the COVID-19 pandemic.
Antacid Market Future Trends
Several manufacturers operating in the antacid market emphasize developing and launching new products to widen their geographic reach and capacity to cater to the large consumer pool. GSK Consumer Healthcare, a leading global consumer healthcare company, launched ENO Cooling, a product for immediate acidity relief and instant cooling sensation. In May 2017, Piramal Enterprises, headquartered in Mumbai, launched a paan (betel-leaf)-flavored variant of antacid called Polycrol, which not only relieves acidity but also offers a pleasant taste. Dr. Reddy's Laboratories, an Indian multinational pharmaceutical, in October 2020, launched OTC generic drug, Famotidine tablet, in the American market to treat gastroesophageal reflux disease. Moreover, Sun Pharmaceuticals Ltd launched its first consumer healthcare product, Pepmelt, a mouth-melt granular form of drug.
Strategic Insights
Report Coverage - Antacid Market
Report Coverage
Details
Market Size Value in
US$ 8,547.97 Million in 2019
Market Size Value by
US$ 11,666.83 Million by 2027
Growth rate
CAGR of 4.0% from 2020-2027
Forecast Period
2020-2027
Base Year
2020
No. of Pages
182
No. of Tables
111
No. of Charts & Figures
74
Historical data available
Yes
Segments covered
Dosage Form ; Drug Class ; Distribution Channel and Geography
Regional scope
North America, Europe, Asia Pacific, Middle East & Africa, South & Central America
Country scope
US, Canada, Mexico, UK, Germany, Spain, Italy, France, India, China, Japan, South Korea, Australia, UAE, Saudi Arabia, South Africa, Brazil, Argentina
Report coverage
Revenue forecast, company ranking, competitive landscape, growth factors, and trends
Free Sample Copy Available
Antacid Market Drivers
Growing Prevalence of Gastroesophageal Reflux Disease (GERD)
Gastroesophageal reflux disease, a digestive disorder, affects the muscle ring between esophagus and stomach. According to the statistics of the report 'update on the epidemiology of GERD: a systematic review' published in 2014, the percentage prevalence of this disorder ranged 18.1–27.8% in North America, 2.5–7.8% in East Asia, and 8.8–25.9% in Europe. Besides, the National GI Survey conducted in 2015, stated that 18% of the 71,000 people tested were reported to develop episodes of GERD twice a week and 31% of patients exhibited the instances at least once a week. Additionally, it was observed that the condition is more prevalent in women. Almost 35% of the GERD patients used medications, while 55% preferred proton-pump inhibitors as medication therapy.
Increasing Cases of Obesity
Obesity has been a major risk factor triggering GERD. Excess belly fat causes pressure on the stomach and the hiatal hernia leads to the acid backflow. Also, the increased relaxation of lower esophageal sphincter (LES) in obese people causes higher acid reflux. Most overweight or people with high BMI (25–30 kg/m2) suffer from acidity or GERD. According to the WHO, over 1.9 billion adults were found overweight in 2016, of which around 650 million were obese. The prevalence of obesity was 42.4% in the US during 2017–2018. Obesity has been a major health concern in China as the instances increased over three times from 2004 to 2014. Apart from GERD, obese body condition houses many other disorders that require OTC drugs such as antacids for treatment, thus favoring the growth of global antacid market.
Antacid Market Restraints
Lack of Awareness Associated with Gastrointestinal (GI) Disorders in Low-Income Economies
Most people refrain from early-stage disease reporting due to behavioural and psychosocial aspects. Also, the low awareness and adoption of screening methods tend to deviate from the treatment, thereby jeopardizing the degree of health. Despite the significant development, many GI disorders are still poorly interpreted and require safe, novel, and effective therapies. These disorders are more prevalent in developing economies due to changing environmental factors, dietary habits, and excess use of antibiotics. Common GI diseases such as GERD, ulcerative colitis, and Crohn's disease still require optimal screening and diagnosis in low-income countries. Several digestive disorders are subject to extensive and expensive diagnostic tests such as endoscopy, ultrasound, CAT scan, or MRI. However, the lack of infrastructure and dearth of skilled professionals hamper the screening of digestive disorders.
Antacid Market Segmentation By Dosage Form
Easy Storage and Suitable Dosage Amount to Surge the Segmental Reign
Based on dosage form, the global antacid market is segmented into tablets, liquids, and others. Among these, the tablet segment dominated the market in 2019, followed by the liquid segment occupying second-highest market share but growing with the highest CAGR over the forecast period. Various types of antacid tablets available in the market are chewable gummy, normal tablets, and water-soluble ones. These tablets are easy to store and deliver an adequate amount of dosage as compared to other forms.
Liquid dosage forms are useful for the patients having trouble in swallowing the solid pills, as the absorption rate of liquid medication is quicker than the solid dosage. Also, it is largely recommended for children and aging population owing to its flavored and palatable taste. Major market players such as Procter & Gamble, Pfizer, GSK Group, and others offer liquid antacids to propel the segmental growth.
Antacid Market, by Dosage Form – 2018 and 2027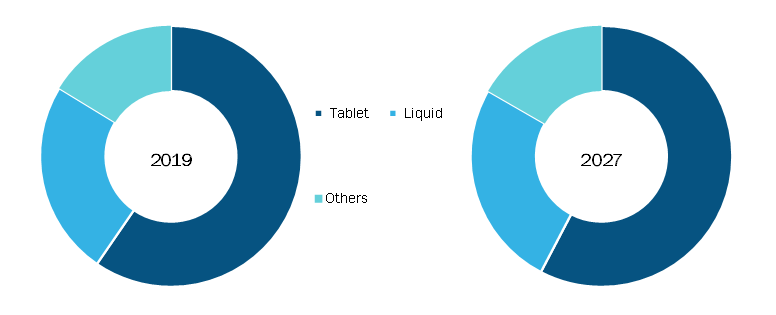 Get more information on this report :
Antacid Market Segmentation By Drug Class
Advanced Drug Delivery Systems Coupled with Growing GI Diseases Fuel the Segment's Dominance
According to the drug class, the antacid market comprises proton pump inhibitors (PPIs), H2 antagonists, and acid neutralizers, of which the proton pump inhibitors segment occupied the largest revenue share in 2019. These inhibitors work on the cells that line the stomach and cease the acid production. They majorly include lansoprazole, esomeprazole, pantoprazole, and others. They prevent ulcers in the duodenum and stomach and also inhibit the damage caused to the lower esophagus by acid reflux. Growth of inhibitor's segment has been attributed to new drug delivery systems, prevalence of peptic ulcers, and other gastrointestinal diseases.
The H2 antagonist segment held the second-largest market share in 2019 with a significant CAGR. They are also called H2 blockers that obstruct the action of histamine to curb acid production in the stomach. These antagonists are well absorbed in the body and relieve the problems such as heartburn, gastritis, inflamed stomach, and peptic ulcers. In some cases, patients are prescribed H2 antagonists if they encounter any side effect with the consumption of proton pump inhibitors. Moreover, the increasing prevalence of GERD and stress-induced ulcers are likely to foster the segmental growth.
Antacid Market Regional Insights
Geographically, the global antacid market is segmented into North America, Europe, Asia Pacific (APAC), Middle East & Africa (MEA), and South & Central America (SCAM).
North America dominated the global antacid market in 2019 and is projected to retain its dominance throughout the forecast period. The regional antacid market domain is split into the US, Canada, and Mexico, with the US at the forefront. Increasing cases of GI diseases due to changed lifestyle, government aid to mitigate GI disorders, advanced healthcare infrastructure, expanding pharmaceutical industry, reimbursement coverage, and the presence of prominent market players are among the conducive parameters bolstering the growth of the North America antacid market.
The Asia Pacific antacid market is anticipated to surge at the highest CAGR over the forecast period. The region comprises major economies such as China, Japan, India, Australia, and South Korea, of which China, Japan, and India accounted for the concrete market share. The rapidly growing antacid market in Asia Pacific is accustomed to changing lifestyle & food consumption patterns, expanding pharmaceutical industry, rising demand for OTC drugs, growing sales of antacids, and strategic developments by local players.
Lucrative Regional Markets for Antacid


Get more information on this report :
Key Market Players:
Bayer AG (Germany)
GlaxoSmithKline plc (UK)
Takeda Pharmaceutical Company Limited (Japan)
Sun Pharmaceutical Industries Ltd (India)
Sanofi (France)
Boehringer Ingelheim International GmbH (Germany)
Dr. Reddy's Laboratories (India)
Pfizer Inc (US)
Reckitt Benckiser Group Plc (UK)
Procter & Gamble (US)
Key Developments in Antacid Market:
June 2018:

GlaxoSmithKline plc acquired about 36.5% stake from Novartis for an estimated value of US$ 13 billion. The acquisition helped the company strengthen its consumer healthcare business worldwide.

August 2020:

Takeda Pharmaceutical Company Limited declared to divest Takeda Consumer Healthcare Company Limited, a wholly owned subsidiary of Takeda operating in Japan, to the Blackstone Group Inc.

May 2017:

Pfizer Limited (India) acquired AstraZeneca AB's brand, Neksium, in India. The deal was valued at around Rs. 75 crores. Neksium is an antacid containing Esomeprazole as an API.
Report Coverage
The global antacid market research report delivers a detailed analysis of the OTC drugs in terms of market size, share, trends, and forecasts. The report provides crisp and precise insights of drivers, restraints, opportunities, segments, and industrial landscape. The impact of COVID-19 is elaborated with the aftermath observed in global and regional markets. The segmental analysis features the dominant markets with respective revenue shares and annual growth rates.
Frequently Asked Questions
The class of drugs that neutralize the acid in the stomach are known as antacids. It is used to treat conditions like heartburn, indigestion, acidity and an upset stomach. These drugs are available over the counter and are usually consumed by mouth. They are available in tablets, capsules, liquid and powder form.
The factors that are driving growth of the market are increasing prevalence of GERD, and rising prevalence of obesity. However, low awareness associated with gastrointestinal disorders in low-income economies is restricting the market growth.
The antacid market majorly consists of the players such as Sanofi, GlaxoSmithKline plc, Bayer AG, Takeda Pharmaceutical Company Limited, Sun Pharmaceuticals Ltd, Boehringer Ingelheim International Gmbh, Dr. Reddy's Laboratories Ltd., Pfizer, Inc, Reckitt Benckiser Group Plc., and Procter And Gamble amongst others.