[Research Report] The meat extract market is expected to grow from US$ 1,738.27 million in 2021 to US$ 2,477.03 million by 2028; it is estimated to grow at a CAGR of 5.2% from 2021 to 2028.
Meat extract is available in liquid and powder formats. Manufacturers of meat snacks, soups, and sauces use meat extracts to add a characteristic flavor to the products. Moreover, they increase the product's protein content, increasing their appeal among health-conscious consumers. Meat extracts are widely used to prepare culture media to cultivate different micro-organisms. They are rich in proteins, amino acids, peptones, and nucleotides, which support the growth and reproduction of micro-organisms at an optimum rate. Further, meat extracts are used to develop cultured meat in laboratories.
In 2020, North America held the largest share of the meat extract market, and Asia Pacific is estimated to register the fastest CAGR during the forecast period. Poultry meat and pork are widely consumed meats across Asia Pacific. According to the National Bureau of Statistics, pork production in China increased to 35.9% in 2021. Moreover, the poultry industry is growing rapidly in countries such as China, India, and Japan, as the demand for poultry meat is increasing significantly. These factors are expected to drive the growth of the meat extract market across Asia Pacific over the forecast period.
Strategic Insights
Report Coverage - Meat Extract Market
Report Coverage
Details
Market Size Value in
US$ 1,738.27 Million in 2021
Market Size Value by
US$ 2,477.03 Million by 2028
Growth rate
CAGR of 5.2% from 2021 to 2028
Forecast Period
2021-2028
Base Year
2021
No. of Pages
161
No. of Tables
86
No. of Charts & Figures
82
Historical data available
Yes
Segments covered
Type, Form, and Application
Regional scope
North America, Europe, Asia Pacific, Middle East & Africa, South & Central America
Country scope
US, Canada, Mexico, UK, Germany, Spain, Italy, France, India, China, Japan, South Korea, Australia, UAE, Saudi Arabia, South Africa, Brazil, Argentina
Report coverage
Revenue forecast, company ranking, competitive landscape, growth factors, and trends
Free Sample Copy Available
Impact of COVID-19 Pandemic on Meat Extract Market
The food & beverages sector faced unexpected challenges due to the COVID-19 pandemic. Government restrictions, such as lockdowns, production shutdowns, travel bans, and border restrictions, disrupted the global supply chains in 2020. Disruptions in manufacturing and raw material sourcing operations hampered the growth of the meat extract market. During the lockdown periods, restrictions on people's movements outside their houses triggered panic-buying situations, which increased the sales of convenience products, including meat products, which benefited the meat extract market. However, production volumes of meat products decreased due to the shutdown of meat processing facilities. Moreover, many consumers switched to plant-based diets as they perceived vegan products to be healthier than animal-derived products, further hampered meat sales. However, in 2021, the government announced relaxation in various restrictions, including reopening manufacturing units with partial or full employee strength. These favorable conditions led meat extract market players to increase their production volumes to overcome the demand and supply gap. Therefore, considering all the aforementioned factors, the pandemic had a mixed impact on the meat extract market.
Meat Extract Market Breakdown, by Region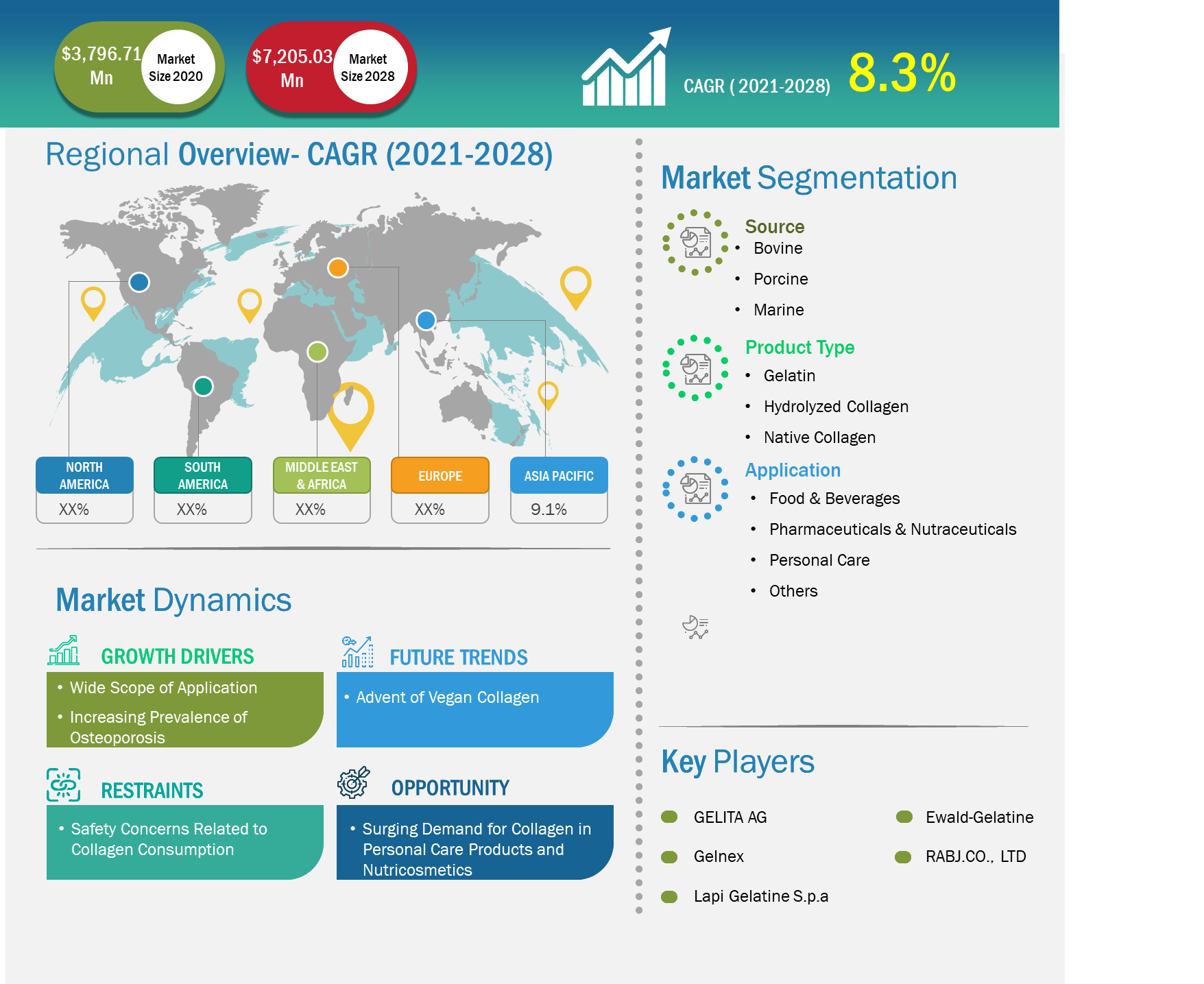 Get more information on this report :
Market Insights
Surging Demand for Clean-Label and Organic Meat Extractsto Open Lucrative Opportunities in the Meat Extract Market
Consumers are highly concerned about the food they consume. They are paying more attention to product labels and ingredients used in processed food products. Organic products are becoming increasingly popular, owing to their perceived health benefits. They are free of pesticides, chemical fertilizers, and genetically modified organisms (GMOs), increasing their appeal among consumers, who are ready to pay high prices. Meat eaters increasingly prefer all-natural and less processed meat products that offer enhanced health benefits. Organic and clean-label meat extracts are made from ethically sourced certified organic beef, chicken, or pork. They are free from synthetic additives such as colors, anti-caking agents, stabilizers, and preservatives. Furthermore, they are free from growth hormones and antibiotics. Over the forecast period, the increasing demand for clean label and organic meat extracts is expected to provide lucrative growth opportunities to the meat extract market.
Type Insights
Based on type, the meat extract market is segmented into beef, pork, chicken, and others. The beef segment held the largest share in the market; however, the chicken segment is emerging as a prominent segment. Manufacturers increasingly use beef extract powder in food processing applications, including stuffing cubes, nuggets, stock powder, bouillon cubes, seasoning, coatings, soup powders, sauces, ready meals, snacks, and other liquid products. As beef is rich in protein, its demand is increasing among consumers. Symrise, a manufacturer of meat extracts and other food ingredients, offers beef bone broth and extract, which have 90% protein, whereas the beef meat powder has ~70% protein. Consumers are rapidly shifting toward high-protein snacks as they have become more health-conscious. Thus, increasing demand for such products is driving the growth of the beef segment.
Meat Extract Market, by Type - 2020 and 2028


Get more information on this report :
Form Insights
Based on form, the meat extract market is segmented into liquid, powder, and others. The powder segment held the largest share of the market in 2020; however, the liquid segment is projected to register the highest CAGR during the forecast period. Meat extract powder is a dried replacement for the infusion of meat. Meat extract powder is obtained by controlled enzymatic digestion of good quality meat. It is a highly concentrated meat stock used in many processed food products due to its long-lasting shelf life. Powdered meat extract is more stable and easier to produce and pack than other types such as liquid or paste. Due to the rising use of powdered meat extract in food products as a flavor and nutrient enhancer, the powder segment is anticipated to grow rapidly over the forecast period. Moreover, end users consider powdered meat extract a product that experiences a few changes over time over their liquid counterparts. With high cost-savings on packaging and shipping, the lower prices for powdered meat extract are expected to remain an attractive proposition for end users in the meat extract market.
Application Insights
Based on application, the meat extract market is segmented into RTE & RTC meals, sweet & savory snacks, soups & sauces, and others. The others segment accounted for the largest market share in 2020, whereas the sweet & savory snacks segment is expected to register the fastest growth over the forecast period. The other applications of meat extract mainly include culture media, pharmaceuticals, baby food, seasonings, fillings, and food coating. In pharmaceuticals, the beef extract is used to make supplements to improve exercise performance and reduce post-exercise fatigue independent of gut microbiota. It is used in biological research for culture media preparation and several other purposes, such as industrial fermentation and analytical microbiology, as it has excellent growth-promoting qualities manufactured by enzymatic digestion of fresh and approved quality meat. Moreover, meat extract is used in baby food as it is an efficient source of protein for children. Thus, the increasing demand for meat extract for various applications is expected to boost the growth of the meat extract market during the forecast period.
The major players operating in the meat extract market include Colin Ingredients; Carnad Natural Taste; Diana Group; PT Foodex Inti Ingredients; Givaudan S.A.; JBS SA.; Maverick Biosciences Pty Ltd; Nippon Ham Group; Titan Biotech Limited; and Proliant Biologicals, LLC. These companies mainly focus on product innovation to expand their market size and meet emerging market trends.
Report Spotlights
Progressive industry trends in the meat extract market to help companies develop effective long-term strategies
Business growth strategies adopted by the meat extract market players in the developed and developing countries
Quantitative analysis of the market from 2019 to 2028
Estimation of global demand for meat extract
Porter's Five Forces analysis to illustrate the efficacy of buyers and suppliers in the meat extract market
Recent developments to understand the competitive market scenario
Market trends and outlook, as well as factors driving and restraining the growth of the meat extract market
Assistance in the decision-making process by highlighting market strategies that underpin commercial interest
Size of the meat extract market at various nodes
Detailed overview and segmentation of the market, as well as the meat extract industry dynamics
Size of the meat extract market in various regions with promising growth opportunities
Frequently Asked Questions