Virus filtration is an effective virus clearance technology that finds its application in several biologics sectors. The global virus filtration market is expected to reach US$ 5,555.4 million by 2025 from US$ 2,139.4 million in 2017. The market is estimated to grow at a CAGR of 13.0% between 2018 and 2025.
The biopharmaceutical industry witnessed rapid growth in recent years owing to the rise in the prevalence of chronic diseases. Unlike small molecules, biological drugs are formulated using a mix of animal, plant, and synthetic sources. Some biological therapeutic products are produced using mammalian cell lines or human plasma. All of these increase the chance of contamination tenfold. The risk of contamination with viruses in these products is hazardous; hence, regulatory agencies have mandated that manufacturers evaluate the risks of virus contamination and take necessary measures to mitigate them. Virus filtration market is extensively used in the purification of biopharmaceutical products to avoid risk and follow through with the safety norms laid by regulatory bodies. Pharmaceutical companies have upped investments in virus filtration as it will play a monumental role in the safety of biopharmaceutical drug products.
In laboratories, virus easily contaminates air, water, and test samples. Therefore, the need for virus filtration is imperative. Continuous bioprocessing is rapidly gaining momentum in mAb production, providing potential advantages such as smaller facility footprints, lower investment costs, flexibility, and process economy. Continuous downstream processing relies on virus filtration during this process. The virus filtration market method uses a membrane barrier to retain virus particles to maintain a contamination-free environment. It is a strong, dependable virus clearance technology used by various end-user verticals. The global virus filtration market growth is driven by increasing biologics and biopharmaceutical products' manufacturing, stringent regulatory norms, and increasing investments in R&D and outsourcing activities.
Drivers
Rapid Growth of Pharmaceutical and Biotechnology Industry
The pharmaceutical industry has been developing tremendously in the past few years. The demand for new medicines, advanced therapies, rapid digitalization, and changing regulations pose healthcare challenges to manufacturers and contract research organizations (CROs). As per the World Health Organization (WHO), the global population is increasing by 1.24% per annum, leading to the surplus requirement for drugs and medications. The pharmaceutical industry grew 30% more than its previous estimations till 2017, retaining its position among the top five industries and adding to the global economic value. Several drug manufacturers produce affordable medicines to cater to the middle-income population in developing economies. With every new drug formulation comes the mandatory virus clearance test to assess the elimination of known or unknown viral traces.
Stringent Regulatory Framework
Key regulatory authorities such as the food & drug administration (FDA), European Medicine Agency (EMA), and others consistently track and monitor the developments in the pharmaceutical and biotechnology industry. Manufacturers abide by the updated regulations to follow current good manufacturing practices (GMP) and good laboratory practices (GLP). Any deviations from the prescribed protocols can result in the termination of the clinical trials of the concerned manufacturer or outsourced organization. The US FDA released guidelines for pharmaceutical companies regarding virus safety evaluation of the products derived from human cell lines or of animal origin. Such stringent regulations enforced by the healthcare governing bodies mandate virus clearance tests during the drug development processes.
Restraints
Availability of Alternative Techniques for Viral Clearance
The adventitious viral agents possess the inherent risk of contamination in biological drug production. The regulatory bodies have already addressed these issues in advance. The success of virus filtration depends on the preference for a suitable method. The appropriate method is a function of various biological and clinical factors. Some prominent methods include adding low pH buffer, temperature hold, and detergent treatment that inactivates virus in the biological processing solutions. Of these viable methods, virus filtration techniques are deployed only when the solutions cannot be sterilized through autoclaving. This ceases the requirement for filtration, thereby hindering the growth of the global virus filtration market.
Strategic Insights
Report Coverage - Virus Filtration Market

| Report Coverage | Details |
| --- | --- |
| Market Size Value in | US$ 2,139.4 Million in 2017 |
| Market Size Value by | US$ 5,555.4 Million by 2025 |
| Growth rate | CAGR of 13.0% from 2018 to 2025 |
| Forecast Period | 2018-2025 |
| Base Year | 2018 |
| No. of Pages | 169 |
| No. of Tables | 80 |
| No. of Charts & Figures | 63 |
| Historical data available | Yes |
| Segments covered | Product, Application, End User and Geography |
| Regional scope | North America, Europe, Asia Pacific, Middle East & Africa, South & Central America |
| Country scope | US, Canada, Mexico, UK, Germany, Spain, Italy, France, India, China, Japan, South Korea, Australia, UAE, Saudi Arabia, South Africa, Brazil, Argentina |
| Report coverage | Revenue forecast, company ranking, competitive landscape, growth factors, and trends |
| Free Sample Copy Available | |
Market Segmentation
By Product
High Degree of Filtration in Biopharmaceutical Processes Support the Segmental Dominance
Based on product, the global virus filtration market is split into filtration systems, kits and reagents, services, and others. Among these, the kits and reagents segment occupied a notable market share in 2017. During lab-scale testing and biopharmaceutical manufacturing, kits and reagents effectively remove viruses from recombinant proteins, monoclonal antibodies, and tissue extracts. The ready-to-use commercial kits are specially used for viral DNA purification, qPCR, and immunological applications. The membranes of these kits are designed to remove viruses of specific sizes from aqueous solutions and substrates. Notably, the kits and reagents are easy and safe with little expertise and simple protocol.
The filtration systems segment was the second-largest occupant of the global virus filtration market in 2017. These filtration systems are generally used to remove parvoviruses or other specific types containing a protein coat. Filtration systems are advantageous over other virus removal techniques as they do not denature the samples' proteins. Moreover, these systems help increase the total throughput and slay down the overall virus filtration costs. As a result, they are being enormously adopted in medical device manufacturing and formulating research procedures.
By Application
Pharmaceutical Companies Conducting Several Clinical Tests Fuel the Segment's Market Share
According to the application, the virus filtration market domain is split into biologics, medical devices, water purification, and air purification. Among these, the biologics segment led the market in 2017, with the largest revenue share. Under biological treatment therapies, a few substances are either naturally available in the body or cultivated in laboratories. These processes involve several instances leading to viral contamination. Hence, virus safety associated with plasma-derived therapeutics is assessed through virus clearance tests before submitting test results to regulatory bodies. All the pharmaceutical companies and CROs conducting the tests for clinical trials are expected to enhance the growth of the concerned segment over the coming years.
The water purification segment is anticipated to expand considerably throughout the forecast period. Enteric viruses in water can pose severe health hazards to humans and animals. They are highly resistant to the aquatic environment and cause water contamination. Filtration is a cost-effective and lucid method that produces excellent disinfection and prevents viruses from thriving in the water. It also becomes essential to purify the virus antigen from culture media that includes high volumes of water. Elimination of viral bodies from the water leads to optimum vaccination results.
Regional market
North America is the largest market for virus filtration, with the US holding the largest market share, followed by Canada. Biopharmaceutical and biotechnology companies, key market players, and various academic and research institutes have raised the demand for virus filtration systems, further stimulating the growth of North America's global virus filtration market.
Europe occupies a significant position in the global virus filtration market and is expected to register a robust growth rate owing to government and private funding for research in biologics and pharmaceuticals. Additionally, the launch of innovative technologies is likely to be the major factor driving the growth of this market in Europe. Germany is the biggest hub for biotechnology worldwide in Europe, owing to the presence of large biotech players, high-tech research labs, and massive funding for research and development.
Lucrative Regions for Virus Filtration Market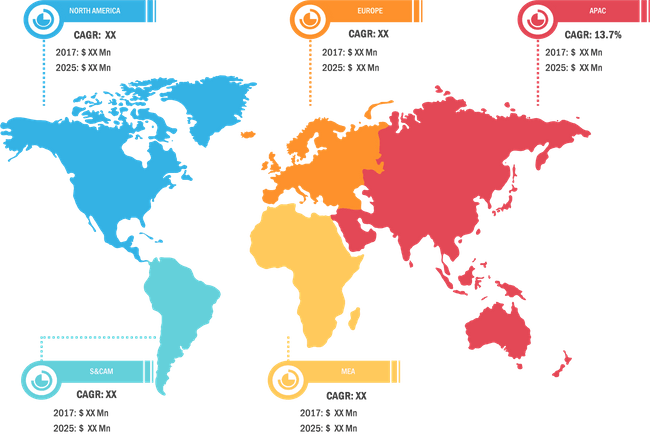 Get more information on this report :
Many developments have been witnessed in Europe and North America. This is the probable reason the market is expected to do so well in these regions during the prediction period.
Increasing research centers and government funding in Asia Pacific fuel the market's growth in the region. The government bodies provide grants to increase the participation of young researchers.
The Middle East & Africa consist of three major countries: United Arab Emirates (UAE), Saudi Arabia, and South Africa. The market in this region is driven by extensive research projects undertaken by several research institutes and the availability of infrastructure, as well as facilities for research. Government initiatives toward research and development, healthcare, and the availability of technologically advanced devices fuel the virus filtration market's growth.The South & Central America virus filtration market has grown due to recent technological developments. The low-cost advantage and higher work efficiency are the major attracting points for manufacturing companies to establish bases in South America.
Key Market Players:
MERCK KGAA (Germany)
Sartorius AG (Germany)
Danaher (Pall Corporation) (US)
Thermo Fisher Scientific Inc (US)
General Electric (US)
Charles River (US)
Wuxi Apptec (China)
Lonza (Switzerland)
Asahi Kasei Corporation (Japan)
Clean Cells (France)
Key Developments:
February 2018:

Merck launched Viresolve Barrier capsule filters to reduce bioreactor contamination risk. These capsules remove viruses, mycoplasma, and bacteria from cell culture media.

September 2017:

Sartorius commenced a new facility center in Goettingen to manufacture laboratory instruments such as balances, ultrapure water systems, and moisture analyzers.

September 2016:

Pall Corporation launched Pegasus Prime virus removal filters to provide retention of small viruses for critical manufacturing processes.

April 2016:

Charles River Laboratories acquired WIL Research, a premier provider of safety assessment, contract development, and manufacturing services.
Report Coverage
The global virus filtration market research report provides detailed insights into market share, size, trends, and opportunities. It briefs the role of drivers and restraints impacting market fluctuations. Besides, the industrial landscape, market overview, and global business analysis have been elaborated to help determine future business investments. With their recent developments, dominant market players have been highlighted, mentioning product launches, expansions, and acquisitions.
Frequently Asked Questions
In 2017, the kits & reagents segment held a largest market share of 54.4% of the virus filtration market, by product. This segment is also expected to dominate the market in 2025 owing to increasing demand for kits and reagents in biotechnology and pharmaceutical companies.
The services segment is anticipated to witness the fastest growth rate of 14.9% during the forecast period, 2018 to 2025.
The growth of the Virus filtration in market is attributed to the rising application of Virus filtration, launch of new virus filtration system, adoption of inorganic strategies by market players and rising demand for virus filtration technologies in biotechnology and pharmaceuticals.