The data center construction market was valued at US$ 47,079.1 million in 2019 and is projected to reach US$ 89,961.1 million by 2027. The Data center construction market is expected to grow at a CAGR of 8.4% during the forecast period of 2020 to 2027.
Data centers these days have become more of the strategic asset than a mere office back – support. The historic bubble burst of big data and artificial intelligence led to massive shift from on – premises data centers to cloud – based database management systems. With the burgeoning demand for robust and resilient data centers the end users are focusing more upon the data center infrastructure, and therefore the data center construction market is expanding vigorously across the globe. Additionally, the data center RIETs are possessed to have impressive return on investment as compared to other categories of funds that are accomplishing more in single digits. The growth of data center construction is also highly influenced by the partnership between government and enterprises directed towards reduction of carbon footprints. Data center are now becoming a key assets contributing in the enhancement of a country's economy and thus, government all across the globe are supporting and offering services for both local as well as global enterprises. Rising popularity of standardization and modularization of large data center might lead to re – examination of typical data center in order to ensure adequate power and cooling provisions. Security of database management center will continue to remain the gravity center of data center construction planning and implementation. Additionally, the data center RIETs are possessed to have impressive return on investment as compared to other categories of funds that are accomplishing more in single digits.
The market for data center construction has been segmented on the basis of types of construction, tier standards, industry verticals, and geography. Based on types of construction, the market has been segmented into general construction, electrical design, and mechanical design. Based on tier standards, the data center construction market has been segmented into Tier 1 and Tier 2, Tier 3, and Tier 4. The market is further segmented on the basis industry verticals into BFSI, government, education, manufacturing, retail, transportation, media & entertainment, others. Geographically, the market is fragmented into five regions, including North America, Europe, Asia-Pacific, Middle East & Africa, and South America.
Lucrative Regions in Data Center Construction Market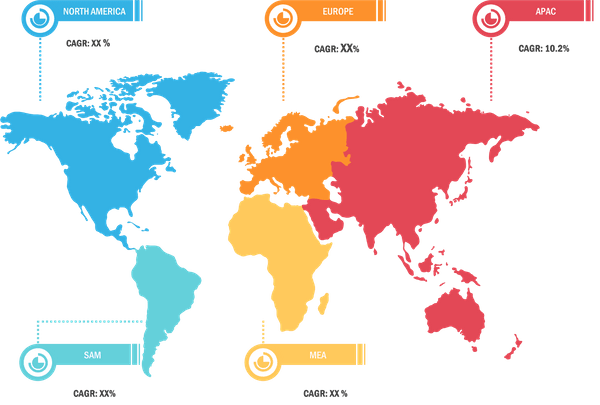 Sample PDF showcases the content structure and the nature of the information with qualitative and quantitative analysis.
Request discounts available for Start-Ups & Universities
Data Center Construction Market Insights
Emergence of distributed IT and edge computing saw an increase in the number of data center being used
Exponential growth in the data as a result of digital transformation has led to increased demand for edge computing. This rise in the edge computing has further resulted in rapid growth in the array of smaller data centers that are built closer to the population centers. As the edge computing processes, data and services in closer proximity of the end-user, its demand in a smaller emerging market are projected to grow significantly. The Tier-II and Tier-III markets have given rise to the entirely novel category of data centers (edge-data centers). The smaller data centers are characterized to have relatively low well-funded competitors than Tier I markets and have a low barrier to entry, particularly to those high-quality data centers offering colocation. This enables them to gain the stand in market quickly.
Types of Construction -Based Market Insights
Data center construction by types of construction is categorized into electrical design, mechanical design and general construction. Regardless of the tier level and size, the basic characteristics required to ensure smooth functioning of business is similar for each data center. The redundancy level required is one of the crucial factor which determines the cost of data center and is therefore responsible for the revenue share for each of the sub-segment. For instance, surge in redundancy increases the demand for additional back-up power supply in a way increasing the cost contribution of electrical design sub-segment for a data center. This at the same time requires additional cooling equipment on order to ensure proper functioning of electrical equipment.
Data center construction Market, by Types of Construction - 2019 and 2027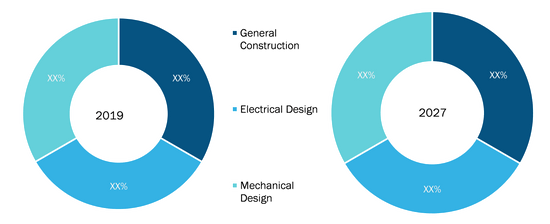 Sample PDF showcases the content structure and the nature of the information with qualitative and quantitative analysis.
Request discounts available for Start-Ups & Universities

Industry Vertical -Based Market Insights
Data center construction by industry vertical is categorized into (Banking, Financial, Securities and Insurance) BFSI, Government, Technology, Telecom Media & Entertainment, Retail, Healthcare, and Others. The characterization is based on the major sectors where data center finds majority of applications. Data center are now widely used among variety of industries. Major industries are using data center technology to stay flexible as well to modernize their IT architecture to create key insights. The institutions deal with storing and processing a lot of data regularly. Data center help financial institutions by providing greater security, flexibility, compliance, and scale. With expanding services such as mobile banking, financial institutions have to keep pace with dynamic customer demands and an appropriate data center id is required for meeting the needs.
Tier Standards -Based Market Insights
Data Center Construction by tier standards is categorized into tier 1 & 2, tier 3 and tier 4 data centers. Quality and reliability of data center server hosting ability is evaluated by data center standards. These standards are developed by Uptime Institute, LLC, an advisory organization focused on the development of IT infrastructure. The ratings begin with Tier 1 data center and ends with Tier 4 data center. Tier level increases with the cost of infrastructure and operational complexities. Selecting a suitable Tier level data center is dependent upon the enterprise as per their business needs.
Customize Research To Suit Your Requirement

We can optimize and tailor the analysis and scope which is unmet through our standard offerings. This flexibility will help you gain the exact information needed for your business planning and decision making.

Data Center Construction Market: Strategic Insights

| | |
| --- | --- |
| Market Size Value in | US$ 47,079.1 Million in 2019 |
| Market Size Value by | US$ 89,961.1 Million by 2027 |
| Growth rate | CAGR of 8.4% from 2020-2027 |
| Forecast Period | 2020-2027 |
| Base Year | 2020 |

Naveen

Have a question?

Naveen will walk you through a 15-minute call to present the report's content and answer all queries if you have any.

Speak to Analyst
Players operating in the Data center construction market focus on strategies, such as market initiatives, acquisitions, and product launches, to maintain their positions in the data center construction market. A few developments by key players of the data center construction market are:
In December 2019, Fujitsu Announced Next Generation Quantum-Inspired Digital Annealer Service. With this new service, servers are supporting the second generation of Digital Annealer technology which are installed across customer datacenter.
In April 2018, The data center is built to gratify Merck's design and performance-based certification process to produce ENERGY STAR data center. ENERGY STAR sis the first licensed data center for Merck with the collaboration of DPR, and Gensler and CCG.
Data Center Construction Market – by Types of Construction
General Construction
Electrical Design
Mechanical Design

Data Center Construction Market – by Tier Standards
Tier 1 and Tier 2
Tier 3
Tier 4

Data Center Construction Market – by Industry Verticals
BFSI
Telecom Media & Entertainment
Technology
Healthcare
Government
Retail
Others

Data Center Construction Market – by Geography
North America
Europe

France
Germany
Spain
UK
Italy

Asia Pacific (APAC)
MEA

Saudi Arabia
UAE
South Africa
Rest of MEA

SAM

Brazil
Argentina
Rest of SAM

Data Center Construction Market – Company Profiles
Dpr construction, Inc.
Fujitsu Limited
AECOM
Holder Construction company
Rittal GmbH & Co. KG
Tripp Lite
Turner Construction
The Whiting-Turner Contracting Company
Schneider Electric SE
Hitachi Vantara Corporation.

Report Coverage
Revenue forecast, Company Analysis, Industry landscape, Growth factors, and Trends

Segment Covered
Types of Construction ; By Tier Standards ; and By Industry Verticals

Regional Scope
North America, Europe, Asia Pacific, Middle East & Africa, South & Central America

Country Scope
US, Canada, Mexico, UK, Germany, Spain, Italy, France, India, China, Japan, South Korea, Australia, UAE, Saudi Arabia, South Africa, Brazil, Argentina
The List of Companies
1. Dpr construction, Inc.
2. Fujitsu Limited
3. AECOM
4. Holder Construction Company
5. Rittal GmbH & Co. KG
6. Tripp Lite
7. Turner Construction
8. The Whiting-Turner Contracting Company
9. Schneider Electric SE
10. Hitachi Vantara Corporation
The Insight Partners performs research in 4 major stages: Data Collection & Secondary Research, Primary Research, Data Analysis and Data Triangulation & Final Review.
Data Collection and Secondary Research:
As a market research and consulting firm operating from a decade, we have published many reports and advised several clients across the globe. First step for any study will start with an assessment of currently available data and insights from existing reports. Further, historical and current market information is collected from Investor Presentations, Annual Reports, SEC Filings, etc., and other information related to company's performance and market positioning are gathered from Paid Databases (Factiva, Hoovers, and Reuters) and various other publications available in public domain.
Several associations trade associates, technical forums, institutes, societies and organizations are accessed to gain technical as well as market related insights through their publications such as research papers, blogs and press releases related to the studies are referred to get cues about the market. Further, white papers, journals, magazines, and other news articles published in the last 3 years are scrutinized and analyzed to understand the current market trends.
Primary Research:
The primarily interview analysis comprise of data obtained from industry participants interview and answers to survey questions gathered by in-house primary team.
For primary research, interviews are conducted with industry experts/CEOs/Marketing Managers/Sales Managers/VPs/Subject Matter Experts from both demand and supply side to get a 360-degree view of the market. The primary team conducts several interviews based on the complexity of the markets to understand the various market trends and dynamics which makes research more credible and precise.
A typical research interview fulfils the following functions:
Provides first-hand information on the market size, market trends, growth trends, competitive landscape, and outlook
Validates and strengthens in-house secondary research findings
Develops the analysis team's expertise and market understanding
Primary research involves email interactions and telephone interviews for each market, category, segment, and sub-segment across geographies. The participants who typically take part in such a process include, but are not limited to:
Industry participants: VPs, business development managers, market intelligence managers and national sales managers
Outside experts: Valuation experts, research analysts and key opinion leaders specializing in the electronics and semiconductor industry.
Below is the breakup of our primary respondents by company, designation, and region:

Once we receive the confirmation from primary research sources or primary respondents, we finalize the base year market estimation and forecast the data as per the macroeconomic and microeconomic factors assessed during data collection.
Data Analysis:
Once data is validated through both secondary as well as primary respondents, we finalize the market estimations by hypothesis formulation and factor analysis at regional and country level.
3.1 Macro-Economic Factor Analysis:
We analyse macroeconomic indicators such the gross domestic product (GDP), increase in the demand for goods and services across industries, technological advancement, regional economic growth, governmental policies, the influence of COVID-19, PEST analysis, and other aspects. This analysis aids in setting benchmarks for various nations/regions and approximating market splits. Additionally, the general trend of the aforementioned components aid in determining the market's development possibilities.
Various factors that are especially aligned to the country are taken into account to determine the market size for a certain area and country, including the presence of vendors, such as headquarters and offices, the country's GDP, demand patterns, and industry growth. To comprehend the market dynamics for the nation, a number of growth variables, inhibitors, application areas, and current market trends are researched. The aforementioned elements aid in determining the country's overall market's growth potential.
The "Table of Contents" is formulated by listing and analyzing more than 25 - 30 companies operating in the market ecosystem across geographies. However, we profile only 10 companies as a standard practice in our syndicate reports. These 10 companies comprise leading, emerging, and regional players. Nonetheless, our analysis is not restricted to the 10 listed companies, we also analyze other companies present in the market to develop a holistic view and understand the prevailing trends. The "Company Profiles" section in the report covers key facts, business description, products & services, financial information, SWOT analysis, and key developments. The financial information presented is extracted from the annual reports and official documents of the publicly listed companies. Upon collecting the information for the sections of respective companies, we verify them via various primary sources and then compile the data in respective company profiles. The company level information helps us in deriving the base number as well as in forecasting the market size.
3.4 Developing Base Number:
Aggregation of sales statistics (2020-2022) and macro-economic factor, and other secondary and primary research insights are utilized to arrive at base number and related market shares for 2022. The data gaps are identified in this step and relevant market data is analyzed, collected from paid primary interviews or databases. On finalizing the base year market size, forecasts are developed on the basis of macro-economic, industry and market growth factors and company level analysis.
Data Triangulation and Final Review:
The market findings and base year market size calculations are validated from supply as well as demand side. Demand side validations are based on macro-economic factor analysis and benchmarks for respective regions and countries. In case of supply side validations, revenues of major companies are estimated (in case not available) based on industry benchmark, approximate number of employees, product portfolio, and primary interviews revenues are gathered. Further revenue from target product/service segment is assessed to avoid overshooting of market statistics. In case of heavy deviations between supply and demand side values, all thes steps are repeated to achieve synchronization.
We follow an iterative model, wherein we share our research findings with Subject Matter Experts (SME's) and Key Opinion Leaders (KOLs) until consensus view of the market is not formulated – this model negates any drastic deviation in the opinions of experts. Only validated and universally acceptable research findings are quoted in our reports.
We have important check points that we use to validate our research findings – which we call – data triangulation, where we validate the information, we generate from secondary sources with primary interviews and then we re-validate with our internal data bases and Subject matter experts. This comprehensive model enables us to deliver high quality, reliable data in shortest possible time.