[Research Report] The operational and business support system market is expected to grow from US$ 54.72 billion in 2022 to US$ 131.35 billion by 2030; it is estimated to grow at a CAGR of 11.6% from 2022 to 2030.
Analyst Perspective:
The operational and business support system market has witnessed significant growth in recent years, driven by technological advancements, the deployment of 5G services, and the increasing demand for solutions to drive business growth.
Today's telecommunication industry is experiencing rapid changes driven by a changing ecosystem in the telecom infrastructure, IT services, and a rise in digitalization. To integrate advanced technology into the existing ecosystem and introduce new solutions to the customers, telecom operators are widely adopting operational and business support systems to support billing, fulfillment, and assurance functions, develop new products, address regulatory requirements, and increase their competitive edge in today's marketplace. The operational and business support system helps telecommunication providers carry out their business operations with analytics, cloud computing, automated business processes, and software-defined business rules by ensuring consistent network capacity and stable quality of service.
The demand for cloud-based operational and business support systems has gained traction due to the growing need for streamlined billing processes, enhanced customer experiences, fueling business agility, and others. Thus, the onset of cloud digital operational and business support system solutions fuels the market growth.
Market Overview:
The rise in focus of telecommunication providers to improve their business efficiency has led to the adoption of operational and business support systems.
Operation Support System (OSS): The OSS solution consists of specialized software tools that help the telecom operators assess and maintain the health of telecommunications networks. These solutions are used to deploy, monitor, analyze, and configure all the operational aspects linked with telecom site management.
Business Support System (BSS): The BSS solution enables telecom infrastructure providers to handle all the business and customer-facing characteristics of telecom site management. This solution helps them in defining billing parameters, revenue management, service fulfillment, customer management, product catalogs, order management, charging, and more. It helps them to deal with things such as billing and customer relations.
OSS generally passes several service orders and service assurance information to the BSS, which manages the business characteristics associated with telecom site management to protect revenue and sustain quality. The operational and business support system also supports many business functions, which include marketing, contracting, product offerings, sales, and delivery of services. Thus, such features of OSS and BSS together foster the adoption of this solution and act as the catalyst for the market growth.
Strategic Insights
Market Driver:
Deployment of 5G to Drive Growth of Operational and Business Support System Market
The digital payments ecosystem has gained traction in recent years. The internet penetration and the rise in the usage of smartphones are some of the prominent factors fueling digital payments. The rise in online shopping and e-commerce sector has also increased in the pandemic, which has led to the growth of online financial transactions. According to the information by The World Bank in 'Global Findex Database 2021', about 40% of adults in the developing economies, excluding China, made a digital merchant payment by phone, card, or the internet, and over one-third of adults in developing economies paid a utility bill directly from an account. These transactions were made for the first time after the start of the pandemic.
Thus, the growing number of online transactions generates the need to authenticate and secure payment processing. The rise in online transactions creates a huge number of complex databases of subscribers that need to be collected, processed, and analyzed. It creates complexity in the charging and billing for voice and data, creating customers' invoices, payment processing, and collection of debt. Thus, to carry out efficient billing and transaction processes, the demand and adoption for operational and business support systems rise among the communication service providers. For example, in May 2020, CSG Systems International Inc. was selected by Namibia's leading mobile operator, Mobile Telecommunications Ltd (MTC), to lead its business transformation efforts. CSG provides a comprehensive solution that includes real‐time charging, convergent billing, product catalog, and customer and revenue management to MTC. Thus, the rise in online transactions fuels the market growth.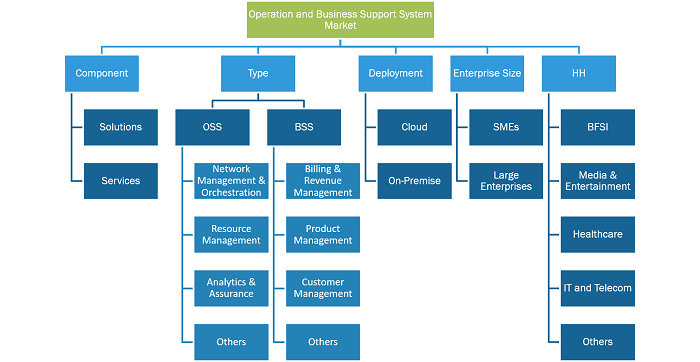 Segmental Analysis:
Based on components, the operational and business support system market is segmented into solution and services. The solution segment held the largest share of the operational and business support system market in 2022 and is anticipated to register the highest CAGR in the operational and business support system market during the forecast period. The operational and business support system market solutions help telecommunication customers accelerate new network revenue with automation. It provides cost-efficient automation of processes and resource provisioning across technologies, domains, vendors, and services. Thus, the benefits of such solutions lead to their adoption by the telecom providers to gain a competitive advantage over others, thereby fueling the operational and business support system market growth.
Moreover, the microservices offered by the operational and business support system market players accelerate digital transformation for communication service providers (CSPs). Microservices are small and independent services offered in an application architecture. By providing these microservices, the operational and business support system market players are able to create and manage the multiple and independent components flexibly. The popularity of these microservices is increasing among telecommunication providers as they offer flexibility in adding and extending functionalities in the system without the need to shut down the entire system. This type of flexibility enables faster deployments of developments and updates, leading to the adoption of advanced digital solutions such as OSS and BSS by the customers and thereby fostering the operational and business support system market growth.
Regional Analysis:
The North American operational and business support system market is projected to grow at a CAGR of 10.7% during the forecast period. There is a rise in demand from consumers for high-speed internet and better connectivity of devices. Small and large businesses are digitalizing their business to increase output and simplify their processes and workflow. Due to the rise in demand for better connectivity, governments of several countries are investing in strengthening their telecom sector. For instance, in December 2021, the US president announced an investment of US$ 1.2 trillion under the infrastructure package. A large portion of this package was used to boost the broadband infrastructure and affordability initiatives. This package was also focused on remodeling its aging infrastructure. Moreover, there is a rise in the telecom industry in the developing economies. Thus, such a rise in the telecom industry demands the use of digital solutions for efficient business operations, leading to the adoption of operational and business support systems in the region. For example, in November 2021, Amdocs was selected by AT&T, an American multinational telecommunication holding company, to leverage Amdocs' CES cloud-native platform to support its business support systems evolution (BSSe) program. Amdocs also provided AT&T with its next-generation cloud operations for BSSe under a long-term agreement. Thus, such use of digital solutions in the growing telecommunication industry fosters operational and business support system market growth in North America.
The technological innovation by telecom providers worldwide is one of the major driving factors fueling the global operational and business support system market. The rise in the focus of the telecom provider to establish an efficient infrastructure, provide enhanced services and satisfaction to their customers, and improve IT services has generated the demand for operational and business support system solutions and services, thereby fostering operational and business support system market growth. The cloud-based operational and business support system solutions provide a streamlined and highly efficient system to carry out automated system operations. It reduces licensing cost and, automates the server configuration, monitors operations, and enhance productivity, propelling the adoption of a cloud-based solution, thereby acting as a catalyst for operational and business support system market growth.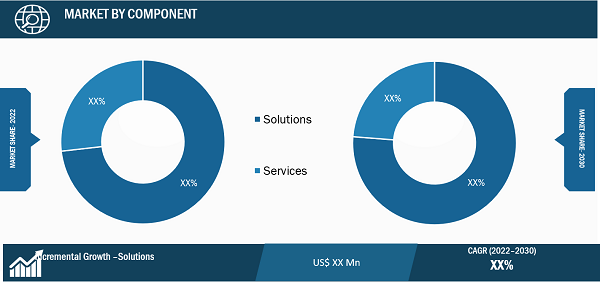 Key Player Analysis:
The operational and business support system market consists of players such as Amdocs Management Limited, Cisco Systems Inc, CSG Systems International Inc, Hewlett Packard Enterprise Development LP, Huawei Technologies Co Ltd, Netcracker Technology, Nokia Corporation, Optiva Inc, Oracle Corporation, Telefonaktiebolaget LM Ericsson, and ZTE Corporation.
Recent Developments:
Inorganic and organic strategies such as mergers and acquisitions are highly adopted by companies in the operational and business support system market. A few recent key operational and business support system market developments are listed below:
In September 2021, Amdocs announced that Orange had selected them to provide the business support systems for Europe's first 5G Stand Alone (SA) experimental cloud network introduced in July in Lannion, France. Amdocs' 5G expertise and cloud-native digital ordering, catalog, revenue management, and charging capabilities helped Orange to roll out the 5G experimental network.
In March 2023, Nokia was selected by Orange and the Administrative Capital for Urban Development (ACUD) company owned by the Egyptian government for its innovative operational and business support system (OSS/BSS) software solutions. These solutions support Orange and ACUD for developing a smart capital city in Egypt. This software helps smart city dwellers to use the internet to order, activate, and pay for utilities.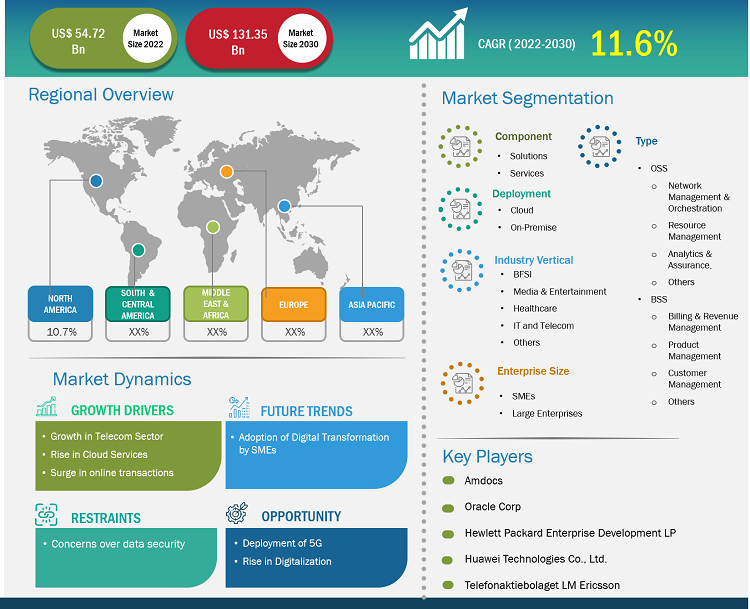 Sample PDF showcases the content structure and the nature of the information with qualitative and quantitative analysis.
Request discounts available for Start-Ups & Universities
REGIONAL FRAMEWORK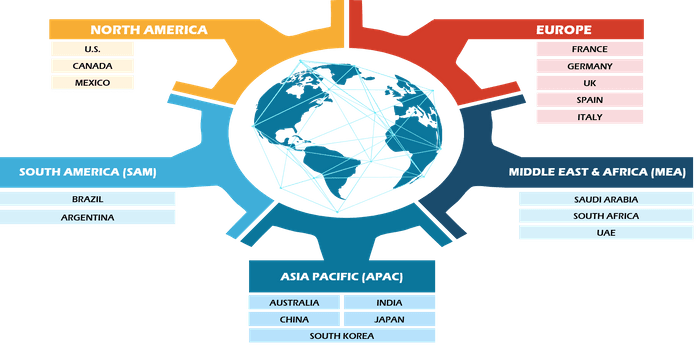 Have a question?

Naveen
Naveen will walk you through a 15-minute call to present the report's content and answer all queries if you have any.

Speak to Analyst
Sample PDF showcases the content structure and the nature of the information with qualitative and quantitative analysis.
Request discounts available for Start-Ups & Universities
MARKET PLAYERS
Sample PDF showcases the content structure and the nature of the information with qualitative and quantitative analysis.
Request discounts available for Start-Ups & Universities

Report Coverage
Revenue forecast, Company Analysis, Industry landscape, Growth factors, and Trends

Segment Covered
This text is related
to segments covered.

Regional Scope
North America, Europe, Asia Pacific, Middle East & Africa, South & Central America

Country Scope
This text is related
to country scope.
Amdocs Management Limited
Cisco Systems Inc
CSG Systems International Inc
Hewlett Packard Enterprise Development LP
Huawei Technologies Co Ltd
Netcracker Technology
Nokia Corporation
Optiva Inc
Oracle Corporation
Telefonaktiebolaget LM Ericsson
ZTE Corporation
The Insight Partners performs research in 4 major stages: Data Collection & Secondary Research, Primary Research, Data Analysis and Data Triangulation & Final Review.
Data Collection and Secondary Research:
As a market research and consulting firm operating from a decade, we have published many reports and advised several clients across the globe. First step for any study will start with an assessment of currently available data and insights from existing reports. Further, historical and current market information is collected from Investor Presentations, Annual Reports, SEC Filings, etc., and other information related to company's performance and market positioning are gathered from Paid Databases (Factiva, Hoovers, and Reuters) and various other publications available in public domain.
Several associations trade associates, technical forums, institutes, societies and organizations are accessed to gain technical as well as market related insights through their publications such as research papers, blogs and press releases related to the studies are referred to get cues about the market. Further, white papers, journals, magazines, and other news articles published in the last 3 years are scrutinized and analyzed to understand the current market trends.
Primary Research:
The primarily interview analysis comprise of data obtained from industry participants interview and answers to survey questions gathered by in-house primary team.
For primary research, interviews are conducted with industry experts/CEOs/Marketing Managers/Sales Managers/VPs/Subject Matter Experts from both demand and supply side to get a 360-degree view of the market. The primary team conducts several interviews based on the complexity of the markets to understand the various market trends and dynamics which makes research more credible and precise.
A typical research interview fulfils the following functions:
Provides first-hand information on the market size, market trends, growth trends, competitive landscape, and outlook
Validates and strengthens in-house secondary research findings
Develops the analysis team's expertise and market understanding
Primary research involves email interactions and telephone interviews for each market, category, segment, and sub-segment across geographies. The participants who typically take part in such a process include, but are not limited to:
Industry participants: VPs, business development managers, market intelligence managers and national sales managers
Outside experts: Valuation experts, research analysts and key opinion leaders specializing in the electronics and semiconductor industry.
Below is the breakup of our primary respondents by company, designation, and region:

Once we receive the confirmation from primary research sources or primary respondents, we finalize the base year market estimation and forecast the data as per the macroeconomic and microeconomic factors assessed during data collection.
Data Analysis:
Once data is validated through both secondary as well as primary respondents, we finalize the market estimations by hypothesis formulation and factor analysis at regional and country level.
3.1 Macro-Economic Factor Analysis:
We analyse macroeconomic indicators such the gross domestic product (GDP), increase in the demand for goods and services across industries, technological advancement, regional economic growth, governmental policies, the influence of COVID-19, PEST analysis, and other aspects. This analysis aids in setting benchmarks for various nations/regions and approximating market splits. Additionally, the general trend of the aforementioned components aid in determining the market's development possibilities.
Various factors that are especially aligned to the country are taken into account to determine the market size for a certain area and country, including the presence of vendors, such as headquarters and offices, the country's GDP, demand patterns, and industry growth. To comprehend the market dynamics for the nation, a number of growth variables, inhibitors, application areas, and current market trends are researched. The aforementioned elements aid in determining the country's overall market's growth potential.
The "Table of Contents" is formulated by listing and analyzing more than 25 - 30 companies operating in the market ecosystem across geographies. However, we profile only 10 companies as a standard practice in our syndicate reports. These 10 companies comprise leading, emerging, and regional players. Nonetheless, our analysis is not restricted to the 10 listed companies, we also analyze other companies present in the market to develop a holistic view and understand the prevailing trends. The "Company Profiles" section in the report covers key facts, business description, products & services, financial information, SWOT analysis, and key developments. The financial information presented is extracted from the annual reports and official documents of the publicly listed companies. Upon collecting the information for the sections of respective companies, we verify them via various primary sources and then compile the data in respective company profiles. The company level information helps us in deriving the base number as well as in forecasting the market size.
3.4 Developing Base Number:
Aggregation of sales statistics (2020-2022) and macro-economic factor, and other secondary and primary research insights are utilized to arrive at base number and related market shares for 2022. The data gaps are identified in this step and relevant market data is analyzed, collected from paid primary interviews or databases. On finalizing the base year market size, forecasts are developed on the basis of macro-economic, industry and market growth factors and company level analysis.
Data Triangulation and Final Review:
The market findings and base year market size calculations are validated from supply as well as demand side. Demand side validations are based on macro-economic factor analysis and benchmarks for respective regions and countries. In case of supply side validations, revenues of major companies are estimated (in case not available) based on industry benchmark, approximate number of employees, product portfolio, and primary interviews revenues are gathered. Further revenue from target product/service segment is assessed to avoid overshooting of market statistics. In case of heavy deviations between supply and demand side values, all thes steps are repeated to achieve synchronization.
We follow an iterative model, wherein we share our research findings with Subject Matter Experts (SME's) and Key Opinion Leaders (KOLs) until consensus view of the market is not formulated – this model negates any drastic deviation in the opinions of experts. Only validated and universally acceptable research findings are quoted in our reports.
We have important check points that we use to validate our research findings – which we call – data triangulation, where we validate the information, we generate from secondary sources with primary interviews and then we re-validate with our internal data bases and Subject matter experts. This comprehensive model enables us to deliver high quality, reliable data in shortest possible time.
Trends and growth analysis reports related to Operational and Business Support System Market
---