The Cloud PBX market was valued at US$ 5,068.1 million in 2018, It is expected to grow at a CAGR of 15.5% during the forecast period, 2019–2027.
The Internet is one of the most revolutionary innovations after the evolution of artificial light. It has changed how we function, work, think, and conduct our professional and personal lives. Cloud PBX development is an advancement that is dependent on the support of the internet, and that is arguably the biggest reason for its brilliance. The PBX system is a system to answer calls and routes them to the desired department or user extension. The traditional PBX systems are bulking physical machines and require large storage space. The financial commitment behind these monstrosities is considerable, limiting their user interface to the big shots. The cloud version is the much-needed upgrade in the PBX system, which provides fabulous call management, routing functions, storage capacity, and other added features but without the hassle and cost of a human-operated, on-site PBX machine. The growth of the global cloud PBX market is attributed to the growing adoption of this trendy technology by many small companies that have been unable to enjoy the benefits provided by a PBX system until now.
Future Trends
Any technology-related launches have a strong tendency to turn heads and pique the interest of technologically savvy people. As the cloud services enter a growth phase, moving on from an initial introductory phase when nobody was aware of this marvel, now many companies have come to know and admire the brilliance of the cloud PBX services, welcoming the innovation with open hands. Though we do not entirely know the response it will receive, and we cannot anticipate the effect it will have on the future of the corporations that integrate this into their regular functioning model; experts are holding out for favorable outcomes, and going by the sales of its infancy years, they might be right on the money. All in all, we can make an educated guess on the market doing well.
Drivers
The Increasing Need for Effective Communication in Enterprises
Communication is integral to any organization hosting several departments with numerous employees constantly collaborating to produce quality output. Communication can help bring forth ideas and initiate the process of their implementation, which could revolutionize the trajectory of the company's growth. With the understanding of how important dialog can be in such a system, we can all understand the need for a PBX system in any enterprise. Cloud PBX has taken this a step further with its cutting-edge technology and resultant speed, attributed to its internet-based system. The cost-effectiveness, which allows many small enterprises and start-ups a taste of the technology, and the omission of physical space requirement, has put the product in the limelight.
The Reduced Cost of Operation is Driving the Adoption of Cloud PBX
The most enticing feature of cloud PBX that makes it superior to similar products in the market is its array of communication options (audio, video, text, messaging). The IP address makes this a cakewalk and proceeds to provide myriad other benefits. Despite the alluring advantages of cloud services, cost-effectiveness has been quoted as the main reason for its immense success in the market. It has opened up the box of opportunities for large and small enterprises alike, making the competitive ground level for them.
Restrains
Security Concerns due to Increasing Cybercrime
With great innovations come greater threats. The Internet is an all-inclusive platform and thus vulnerable to intruders. Since the cloud operates through the Internet, cloud PBX has some drawbacks where cyber safety is concerned. There are known instances of eavesdropping strangers gaining access to sensitive information and, in extreme cases, gaining authority to manipulate the monitoring tools. This major concern has precipitated hindrances to the cloud PBX market growth.
Strategic Insights
Report Coverage - Global Cloud PBX Market
Report Coverage
Details
Market Size Value in
US$ 5,068.1 Million in 2018
Market Size Value by
US$ 18,227.9 Million by 2027
Growth rate
CAGR of 15.5% from 2019-2027
Forecast Period
2019-2027
Base Year
2019
No. of Pages
157
No. of Tables
56
No. of Charts & Figures
65
Historical data available
Yes
Segments covered
Enterprise Size, and End-User
Regional scope
North America, Europe, Asia Pacific, Middle East & Africa, South & Central America
Country scope
US, Canada, Mexico, UK, Germany, Spain, Italy, France, India, China, Japan, South Korea, Australia, UAE, Saudi Arabia, South Africa, Brazil, Argentina
Report coverage
Revenue forecast, company ranking, competitive landscape, growth factors, and trends
Free Sample Copy Available
Market Segmentation
By Enterprise Size:
The Wide Usage of Cloud Based Services by Large Enterprises Established the Segment as the Front Runner
Based on enterprise size, the global cloud PBX market is bifurcated into small & medium enterprises (SMEs) and large enterprises. In 2018, the large enterprises' segment held the largest market share by product. 75% of businesses worldwide have succumbed to the pull of cloud services. Any large company with a substantial number of employees, 800 or more, faces many problems. Speaking of coordination, since the employees may be based in several different locations, it is sometimes hard to get a message across without any miscommunication. In such a situation, a PBX system becomes an absolute necessity. The traditional PBX systems require maintenance and repair. The setup of such systems is costly to start with. So, the cloud PBX services seems like the better option because better capital goods used usually has a direct impact on the productivity of the employee, which leads to increased profits. This is the main attraction point of cloud-based PBX for bigger enterprises.
By End User:
Major Investments from Market Players Have Raised the Segment to the Top
Based on the end-user spectrum, the global cloud PBX market is divided into IT & telecom, BFSI, healthcare, retail, manufacturing, and others. In 2018, the IT & Telecom segment held the largest share of the market. The competition is nothing short of cutthroat for companies operating in the IT and technology sectors. Laging behind in any aspect of the business is not an option. Strengthening communication between the staff is more important than many people anticipate for the enterprise's success. Cloud PBX has provided a platform for instant and effective collaboration. In a bid to be more prudent about their shortcomings and beat the competition, IT companies have readily adopted cloud services.
Rest of Asia Pacific Cloud PBX Market by End-user

Get more information on this report :
Regional Analysis
The global cloud PBX market is segmented into North America, Europe, Asia Pacific, Middle East & Africa, and South & Central America.
North America holds the largest market for the cloud PBX. The United States held the largest cloud PBX market and is expected to grow further in the foreseeable future. The United States is the pioneer of development, which has been heavily attributed to the ready adoption of technological adoptions. Companies also prefer to use Cloud-based communications to help them keep a record of any important communications, which can easily be used later as a reference, especially when creative ideas are concerned. The fact that many big industries are based in the US contributes to the prominent use of Cloud PBX in the region, as it is heavily used in large industries and enterprises.
Asia Pacific is expected to account for the fastest growth in the cloud PBX market. In Japan and South Korea, the market is expected to grow tremendously, owing to the increasing number of people adopting cloud services and the technological advancements by key players in cloud technology.
Cloud PBX Lucrative Regional Markets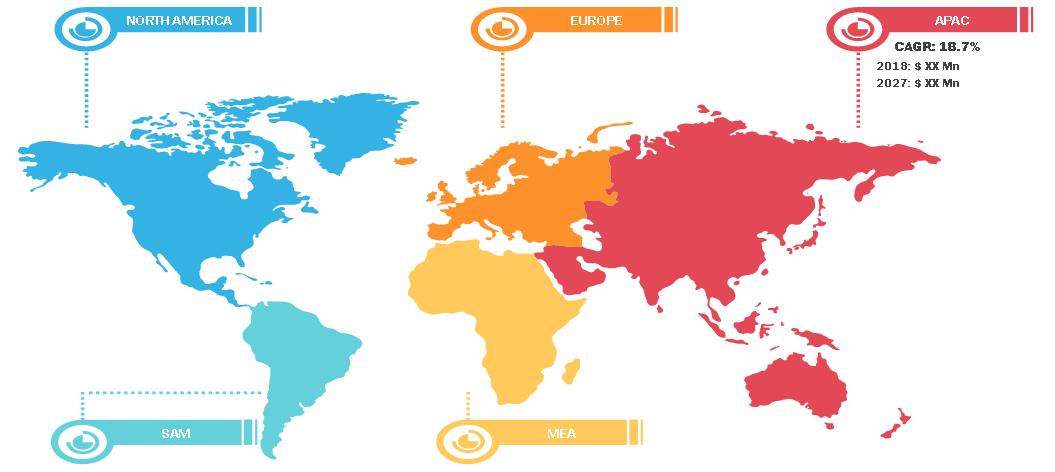 Get more information on this report :
Key Market Players
3CX (US)
8X8, Inc (US)
AT&T, Inc (US)
Avaya Inc (US)
Cisco Systems, Inc (US)
Comcast Corporation (US)
Microsoft Corporation (US)
Ringcentral, Inc (US)
Voyce, Ltd (UK)
Sors Global (US)
Key Developments:
May 2019:

Zoom Video Communications, an enterprise video-first unified communications solutions provider, and RingCentral signed a multi-year partnership extension. This extension will enable RingCentral customers to continue replacing their legacy, on-premise communications infrastructure with a best-in-class solution that leverages the combined power of RingCentral's cloud PBX and Zoom's video communications platform.

July 2018:

8x8, Inc. announced the availability of its next-generation intelligent cloud solutions for video conferencing, contact center, voice, and team messaging, among other services. The solution was developed by integrating a contact center and a unified communication environment, especially for large enterprises. The solutions are aimed especially at the retail, healthcare, manufacturing, technology, and utility sectors.

October 2017:

BroadSoft, a leading cloud-based calling and contact center service provider, agreed with Cisco for its acquisition. The acquisition is expected to boost Cisco's capabilities for enabling robust cloud-based PBX solutions suites for their small and large empire owners.

July 2017:

RingCentral announced the expansion of TELUS' cloud communications portfolio for Canadian businesses with the introduction of TELUS Business Connect Mobile. The new cloud-based mobile offering makes the features of an enterprise-grade PBX phone system available on smartphones and tablets – eliminating the need for a landline or expensive on-premise equipment.
Report Coverage
The global cloud PBX market research report provides detailed insights into market share, size, trends, and opportunities. It briefs the role of drivers and restraints impacting market fluctuation. Besides, the industrial landscape, market overview, and global business analysis have been elaborated to help determine future business investments. Leading market players with recent developments have been highlighted, mentioning product launches, expansions, and acquisitions.